Showdown at Williams Creek (1991)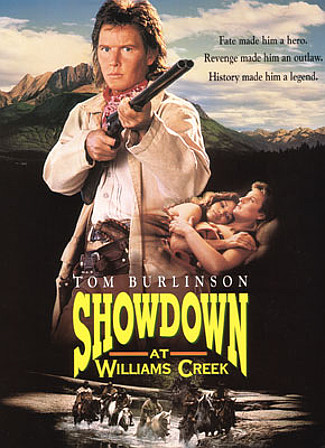 Tom Burlinson is John "Kootenai" Brown, a British soldier who heads to North America with a friend named Arthur Vowell. He's convinced they'll find adventure and fortune in the gold fields and return to Europe as gentlemen.
But he and his partners – including American Jim Blessing — never seem to be able to hold onto the gold they find. Eventually, only Brown and a new partner, the conniving McTooth (Donnelly Rhodes) are left.
And when Indians attack, McTooth leaves Brown for dead. He's nursed back to health by a mixed band of French Canadians and Indians and finds true happiness and love with a young woman named Olivia.
But the closing of the West — including the disappearance of the buffalo — threaten his new way of life and he finds himself repeatedly aligned with McTooth, who will do just about anything to turn a buck.
Finally, Brown snaps. He's not a gentleman. He's a man jailed on a murder charge and facing a hangman's noose if convicted.

Review:
Well done little film that's different enough to hold your interest and, according to the opening credits, was based on an actual story.
Donnelly Rhodes is particularly effective in the role of McTooth. Brown's weak-willed partner Arthur Vowell tries to warn him that McTooth isn't a friend to be trusted; Brown misses all the warning signs until it's too late.
Tom Burlinson rose to stardom as Jim Craig in the two "Snowy River" films. This movie also features a guest appearance from Raymond Burr, who plays the judge presiding over Brown's trial.
Directed by:
Allan Kroeker
Cast:
Tom Burlinson … Kootenai Brown
Donnelly Rhodes … McTooth
Dale Wilson … Gilcrest
John Gray … Bill Barker
Patti Allan … Fanny
John "Bear" Curtis … Turner
Brent Stait … Jim Blessing
John Pyper-Ferguson … Arthur Vowell
Michelle Thrush … Olivia D'Lonais
Pascal Bernier … Olivia's child
Raymond Burr … The Judge
William Samples … Ezra
Runtime: 96 min.
Memorable lines:
Vowell to Brown, as the latter heads off to another mining camp: "I think I've had enough adventure for one lifetime."
Brown, with an arrow in his back that won't come out: "Push it through."
McTooth: "No, laddy, it might hit something important." Whereupon he stands on top of Brown, one foot on his back, one on his butt to get enough leverage to yank out the arrow.
McTooth: "You can be the first or the last. You can have the cream or the crumbs. Depending on what you're made of."
Brown: "You said that in Williams Creek. And all I got was an arrow in my back."
Frenchman: "Make a whore of her (Olivia), and I'll cut off your balls and make you eat them."
Brown: "Well, your English has improved."
Brown to the judge: "Sir, I came here to become a gentleman. And in the end I became …
Judge: "You became a savage."
Brown: "I did what I had to do to survive. Nothing survived. Nothing."
Tagged with:
Allan Kroeker
•
Brent Strait
•
Dale Wilson
•
Donnelly Rhodes
•
John "Bear" Curtis
•
John Gray
•
John Pyper-Ferguson
•
Michelle Thrush
•
Pascal Bernier
•
Patti Allan
•
Raymond Burr
•
Showdown at Williams Creek (1991)
•
Tom Burlinson
•
William Samples