Silver City (1951)
Larkin Moffatt (Edmond O'Brien) is a mining engineer blamed for the theft of a valuable assay and branded untrustworthy by partner Charles Storrs.
He finds refuge as an assayer in Silver City, where Dutch Surrency and his pretty daughter Candace (Yvonne DeCarlo) have struck it rich.
The problem — they've got a short-term lease on their mine, courtesy of R.R. Jarboe (Barry Fitzgerald), and if he learns of the assay, he'll do his best to keep the Surrencys from mining the silver until the lease runs out.
Candace wants Moffatt to serve as mining engineer. Though fearful that his past will come back to haunt everyone involved, he reluctantly agrees.
Whereupon the old partner and an old love (Kasey Rogers as Josephine) show up in Silver City to further complicate matters.
And by that time, Jarboe suspects the silver mine is very rich, and has henchmen Bill Taff resort to every dirty trick to keep Jardoe from becoming "poorer by the hour."

Review:
Directed with more flair that most mining films, this benefits from the love triangle between the characters played by Edmund O'Brien, Kasey Rogers and Yvonne DeCarlo.
Rogers is O'Brien's spoiled former lover, the woman he was willing to steal for. DeCarlo is the daughter of the man leasing the rich silver mine, the woman who knows having a man with O'Brien's experience will be crucial if they're going to cash in on its riches quickly. Richard Arlen plays Rogers' husband and the odd man out.
Ironically for a mining film, two of the best action scenes would seem better suited for a logging movie. In the opening scene, Larkin Moffatt chases two bandits trying to make their getaway on a train hauling logs. The final shootout takes place in a sawmill.
A year later, Rogers would play the female lead in "The Denver and Rio Grande," another O'Brien vehicle. She'd later appear in 33 episodes of the hit TV series "Bewitched" as Louise Tate, the wife of Darren's boss.
Cast:
Edmond O'Brien … Larkin Moffatt
Yvonne DeCarlo … Candace Surrency
Richard Arlen … Charles Storrs
Barry Fitzgerald … R.R. Jarboe
Gladys George … Mrs. Barber
Kasey Rogers … Josephine
as Laura Elliott
Edgar Buchanan … Dutch Surrency
Michael Moore … Bill Taff
John Dierkes … Arnie
Myron Healey .. Bleek
Frank Fenton … Creede
Robert Anderson … Ruckeer
Paul E. Burns … Ed Paxton
Runtime: 90 min.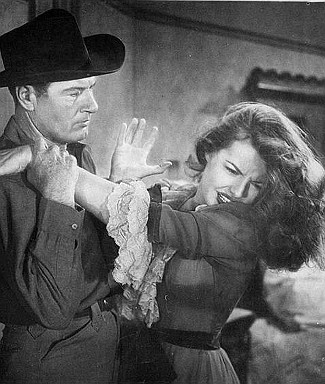 Memorable lines:
Bill Taff: "You've got a long nose."
Larkin Moffatt: "It gets longer when I smell something rotten. Keep your nose out of my business."
Josephine Storrs: "How old is she?"
Larkin Moffatt: "Candace? She's about 21, I guess."
Josephine, smiling a smile of satisfaction: "Just a baby."
Larkin: "There are no baby women, like there are no baby tigers."
Josephine: "Yes, I've noticed that about her too. She's hard and catty."
Larkin: "She can take care of herself, if that's what you mean."
Josephine Storrs to her husband: "If you hurt him (Moffatt), I'll kill you. I'll see you hanged and I'll dance on your grave."
Tagged with:
Barry Fitzgerald
•
Byron Haskin
•
Edgar Buchanan
•
Edmond O'Brien
•
Frank Fenton
•
Gladys George
•
John Dierkes
•
Kasey Rogers
•
Laura Elliott
•
Michael Moore
•
Myron Healey
•
Paul E. Burns
•
Richard Arlen
•
Robert Anderson
•
Silver City (1951)
•
Yvonne DeCarlo