Singing Guns (1950)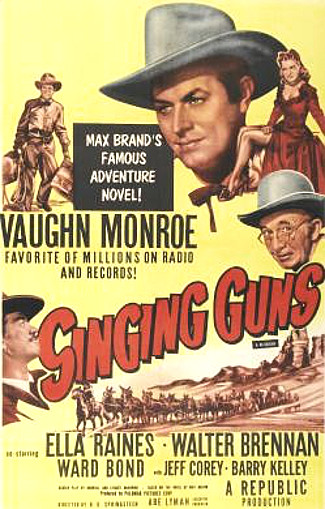 Vaughn Monroe plays Rhiannon, a miner who had two claims stolen out from underneath him by a wealthy mining company and is trying to even the score by swiping every gold shipment in sight.
He's doing a pretty good job, too. But when he wounds Sheriff Jim Caradoc (Ward Bond) and takes him to a doctor rather than allowing him to die, Dr. Johnathon Mark (Walter Brennan) comes to the conclusion that this thief has a heart of gold.
He convinces the town leaders in Goldville to give Rhiannon, now going by the name John Guinn, a chance to serve as town sheriff while Caradoc recuperates. The taste of the honest life will turn Rhiannon around, he figures.
It almost works. Saloon singer Nan Morgan (Ella Raines) is tugging on Rhiannon's heart, even if she is playing hard to get. Guinn does such a good job as interim sheriff, Caradoc wonders if he isn't creating boots too big to step back into.
But then Nan figures out Guinn's real identity. And from that point on, she and the sheriff can't seem to forget that he has $1 million in stolen gold hidden somewhere in Hangman;s Mountain. And there's a $50,000 reward just waiting for the person who locates his hideout.

Review:
When you take a look at the name of the director of this Western, then realize it marks orchestra leader Vaughn Monroe's film debut … well, your expectations aren't likely to be very high.
But you're in for a pleasant surprise. R.G. Springsteen and company serve up a neat little Western with an even neater ending.
Monroe comes off as a bit wooden in the lead role, but producers wisely surrounded him with top-notch vets like Ward Bond and Walter Brennan. Ella Raines also turns in a fiery performance as owner of the Silver Queen saloon.
Heck, the only thing slowing down the film are the three songs Monroe sings. Of course, those were probalby a selling point in 1950. In fact, his version of "Mule Train" became a Top 10 hit.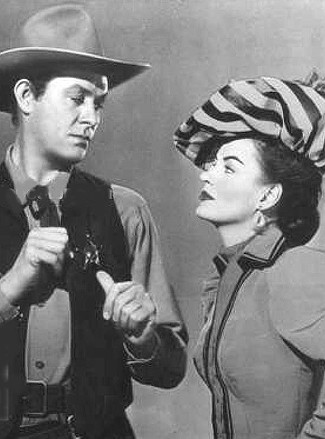 Directed by:
R.G. Springsteen

Cast:
Vaughn Monroe … Rhiannon
Ward Bond … Sheriff Jim Caradoc
Ella Raines … Nan Moran
Walter Brennan … Dr. Jonathan Mark
Jeff Corey … Richards
Barry Kelly … Mike Murphy
Harry Shannon … Judge Waller
Rex Lease … Stage driver
Tom Fadden … Express agent
Ralph Dunn … Traveler
George Chandler … Piano player
Billy Gray … Albert
Mary Bear … Albert's mother
Jimmie Dodd … Stage guard
Runtime: 91 min.
Songs by Vaughn Monroe:
"Mule Train"
"Singing My Way Back Home"
"Mexicali Trail"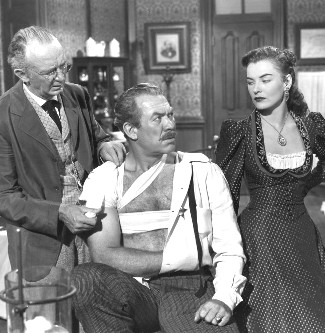 Memorable lines:
Nan to Rhiannon, at his first sign of interest in her: "Whoa, boy, you can go further at a trot than at a gallop."
Rhiannon, figuring his time as sheriff is coming to an end: "I don't have time to trot."
Stage passenger to Nan, who's tucked her cash into her stocking, just in case the stage is robbed: "That's a right good lookin' bank you have there, lady. How 'bout lettin' my hide my money in the other branch 'til we get to town."
Nan: "This is a private bank, and I'm right chosey about my depositers."
Sheriff Caradoc, when Rhiannon forces him to walk down Main Street in Goldville in women's clothing: "I'll get you if I have to eat every rock in Hangman's Mountain."
Rhiannon: "Come up anytime. I'll feed them to you."
Rhiannon, carting the wounded sheriff: "You the doctor?"
Dr. Jonathan Mark: "That's right. Specializing in bone breaks, belly-aches and bullet holes. What you got there?"
Rhiannon: "Bullet hole."
Dr. Mark: "Oh. Come this way."
Rhiannon, flirting with Nan: "The best horse I ever had was the hardest one to break."
Nan: "If I was you, I'd stick to horses."
Rhiannon: "Funny. I've got the urge to branch out."
Rhiannon, about his true identity: "Why didn't you tell Caradoc?"
Dr. Jonathan Mark: "Wasn't interested in jailing an outlaw when I saw a chance to save a man."
Rhiannon: "Soul saving. Yeah, that's right. It is your sideline, isn't it?"
Dr. Mark: "Doctoring is my sideline. Soul saving is my business."
Dr. Mark to Sheriff Caradoc, who's on a two-day drunk: "It's not going to solve anything, turning yourself into a whiskey bottle."
Tagged with:
Barry Kelly
•
Billy Gray
•
Ella Raines
•
George Chandler
•
Harry Shannon
•
Jeff Corey
•
Jimmie Dodd
•
Mary Bear
•
R.G. Springsteen
•
Ralph Dunn
•
Rex Lease
•
Singing Guns (1950)
•
Tom Fadden
•
Vaughn Monroe
•
Walter Brennan
•
Ward Bond