Stagecoach: The Texas Jack Story (2016)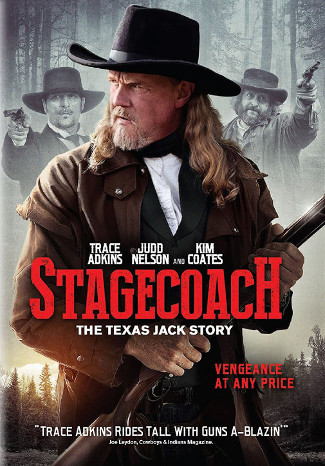 Trace Adkins is Nathaniel Reed, a former outlaw living a lawful life with his wife Laura Lee (Michelle Harrison) and dreaming of starting a family someday when trouble comes calling.
Former gang member Frank Bell (Claude Duhamel) shows up with bad news. A stage guard — a man who had an eye shot out in one of their holdups — is now a U.S. marshal. And he's determined to get even by tracking down every member of the old Nathaniel Reed Gang.
Worse yet, he's already killed one member of that old gang, a man who was likely tortured into telling where the others are hiding.
Sure enough, U.S. Marshal Woody Calhoun shows up with his sidekick, feisty female bounty hunter Bonnie Mudd. In the gunfight that ensues, Laura Lee is presumably shot dead and Nathaniel is wounded before Frank helps him get away.
With his new lawful life in tatters, Nathaniel decides to turn outlaw again, adopting the name Texas Jack and pulling a series of stage holdups with Frank and a former gang member named Sid (Judd Nelson). One of Nathaniel's rules: No one gets killed.
Calhoun, of course, is still on his trail and lives by no such rules.
And as it turns out, when facing death, not all of Texas Jack's gang members can be counted on to remain loyal.

Review:
In 2014's "The Virginian," Trace Adkins proved he can do a serviceable job as the lead in a Western, given a strong supporting cast, solid production and a decent script.
This time, he doesn't stand a chance. Not with a script fill with holes you could drive — hmm, pardon the pun — a stagecoach through.
Take the opening gunfight. One minute, Nathaniel vows to protect his wife at all costs, even if it means turning himself in. Moments later, he's flinging lead at lawmen.
Oh, it gets better. At one stage job, he somehow: 1) knows there's a combination safe inside; 2) knows the stage driver has he combination; 3) knows the name of the shotgun guard. Huh?
Then there's the gang member who pronounces that a stage is coming down the road hard. Cut to a single pair of white horses pulling said stage. And not moving very fast at all.
Best of all, Nathaniel finally returns home after what must have been an absense of five or six years judging from the size of the son he's never met. Guess what? Not a single character has aged in that time. Some are even still wearing the same clothes!
Add a wrinkle at the very end that makes no sense whatsoever, and you have a Western suitable for only the most diehard of fans.
Directed by:
Terry Miles
Cast:
Trace Adkins … Nathaniel Reed
Kim Coates … Woody Calhoun
Judd Nelson … Sid Nelson
Michelle Harrison … Laura Lee Reed
Helena Marie … Bonnie Mudd
Claude Duhamel … Frank Bell
John Emmet Tracy … Hank Holliday
Gary Chalk … Doc Forrester
Artine Brown … U.S. Marshal Adams
Greg Rogers .. Judge York Foley
Runtime: 90 min.
Memorable lines:
Stage guard: "Drive over."
Stage driver: "Bad luck driving over the dead."
Frank Bell to Nathaniel: "There's a man coming. And he wants to bury you."
Sid: "It's going to take a lot more than dyin' to kill Sid Dalton."
Nathaniel to Sid: "There's a U.S. marshal after us, Sid. He's a bad homre and he aims to kill us. We could churn butter in an orphanage til he showed up, but it doesn't matter. He's gonna kill us anyway. Might as well work. Make some money. So we can pay the devil."
Frank Bell, offering to lead the marshal to Texas Jack: "What's in it for me?"
Marshal Calhoun: "What's in it for you is you don't get your privates blown off by the end of Bonnie's gun
Frank Bell: "I know a thing or two."
Sid: "Two might be pushin' it."
Tagged with:
Artine Brown
•
Claude Duhamel
•
Gary Chalk
•
Greg Rogers
•
Helena Marie
•
John Emmet Tracy
•
Judd Nelson
•
Kim Coates
•
Michelle Harrison
•
Stagecoach -- The Texas Jack Story (2016)
•
Terry Miles
•
Trace Adkins