Strange Lady in Town (1955)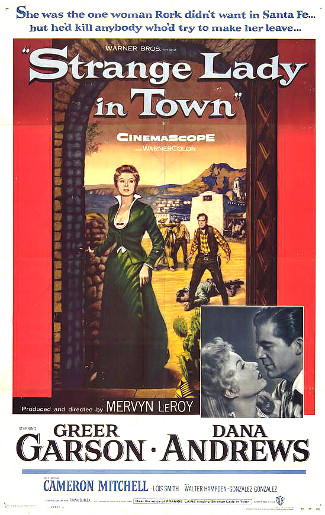 Greer Garson is Julia Garth, a determined woman who leaves Boston to set up shop in Sante Fe, figuring a female doctor might be better accepted in the West.
Her presence doesn't sit well with the lone doctor around, the chauvanistic Rourke O'Brien (Dana Andrews). He doesn't appreciate Julia's new-fangled approach to medicine and hates the fact that she's able to help some patients he couldn't.
Most of all he hates the fact that she winds up helping out at Father Mendoza's mission hospital, where he's been volunteering for years, helping the poor who couldn't otherwise afford medical care.
But Julia has no trouble winning over O'Brien's daughter, a tomboy nicknamed "Spurs" (Lois Smith), who looks up to the older woman. She also happens to be a young girl in love with Julia's brother, Lt. David Garth (Cameron Mitchell).
Her father comes around as well. For some reason, he just can't put the female doc out of his head.
But no sooner has Julia gained acceptance in the community than a new problem arises. Her brother David just can't stay out of trouble, whether it's selling stolen cattle, dealing from the bottom of a deck or staging a bank robbery.

Review:
A Western different enough to be worth a watch, especially thanks to the performances of Cameron Mitchell and the spirited Lois Smith in support roles.
In fact, the subplots that involve them — her infatuation with the older man and his inability to steer clear of trouble — keep this from becoming a boring and predictable film.
Because with the way they spar as physicians, the romance between the characters played by Dana Andrews and Greer Garson is a bit difficult to swallow. And the ending isn't much better.
A former Academy Award winner, Garson was 51 when this film was released and her career was winding down. Lois Smith would go on to enjoy a long career in TV, film and stage. In fact, she played a major support role in the 1996 hit film "Twister."
Cast:
Greer Garson … Julia Garth
Dana Andrews … Rourke O'Brien
Cameron Mitchell … David Garth
Lois Smith … Spurs O'Brien
Walter Hampden … Father Mendoza
Pedro Gonzalez-Gonzalez … Martinez
Joan Camden … Norah Muldoon
Anthony Numena … Tomascito Diaz
Jose Torvay … Bartolo Diaz
Adele Jergens … Bella Brown
Robert J. Wilke … Karg
Frank DeKova … Anse Hatlo
Russell Johnson … Shadduck
Gregory Walcott .. Scanlon
Douglas Kennedy … Slade Wickstrom
Paul Birch … Sheriff
Nick Adams … Billy the Kid
Runtime: 112 min.
Title tune: "Strange Lady in Town"
performed by Frankie Laine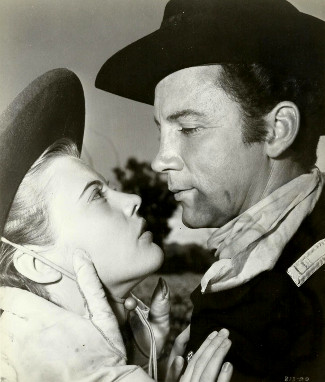 Memorable lines:
Martinez: "Senora, I must tell you, a woman for a doctor — it's a very strange thing — maybe like a chicken with two heads."
Spurs O'Brien: "Nineteen years old and he's killed nineteen men. The trouble with Billy is he's too sensitive. You don't know how many people don't understand him."
Julia Garth: "Well, I can think of at least 19."
Spurs O'Brien, telling Julia her father's views on a female doctor: "Want to hear any more?"
Julia Garth: "Oh, I can hardly wait."
Spurs: "Well, he bet me a new saddle that you'd be flat-chested and have big feet. Three months, he said, and you'd be laughed out of town."
Dr. Rourke O'Brien on his first meeting with Dr. Julia Garth: "Do me a favor — keep out of the mission hospital. Those poor devils die quick enough without any help from you."
Julia Garth: "I want David to go out and give himself up before it's too late. Before that mob gets out of hand."
Spurs O'Brien: "Have you seen a mob take command. I saw it happen tonight in town. A man in a red shirt. His horse went down. A vaquero roped him like a calf, dragged him through town, a tin can on a dog's tail. They found a tree and shot him to bits as he hung there. Is that what you want for David?"
Tagged with:
Adele Jergens
•
Anthony Numena
•
Cameron Mitchell
•
Dana Andrews
•
Douglas Kennedy
•
Frank DeKova
•
Frankie Laine
•
Greer Garson
•
Gregory Walcott
•
Joan Camden
•
Jose Torvay
•
Lois Smith
•
Mervyn LeRoy
•
Nick Adams
•
Paul Birch
•
Pedro Gonzalez Gonzalez
•
Robert J. Wilke
•
Russell Johnson
•
Strange Lady in Town (1955)
•
Walter Hampden