Stranger at My Door (1956)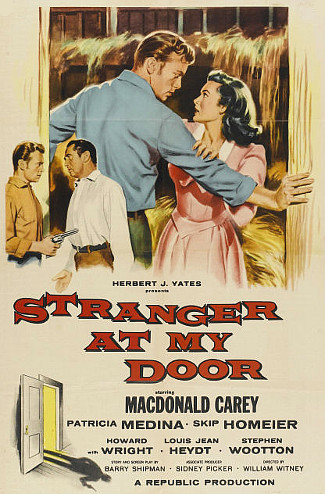 Skip Homeier plays Clay Anderson, leader of an outlaw gang who flees after a bank robbery and stumbles upon the home of a backwoods preacher (Macdonald Carey as Hollis Jarret).
He lies about his identity to the preacher's son (Stephen Wootten) and his pretty wife (Patricia Medina as Peg). But Jarret isn't fooled; he quickly suspects the young man was part of the holdup gang. He knows it when Anderson tries to steal one of his horses.
Caught in the act, with a posse roaming the countryside, Anderson decides a preacher's home might not be a bad place to hide from the law after all.
That's fine with the preacher isn't fooled; he welcomes the chance to bring the outlaw closer to God.
But there's a chance this stranger might lure the preacher's much younger wife and son closer to the devil instead.

Review:
Well done B Western with Carey turning in probably his best performance in the genre and Homeier making the most of a role much larger than he normally enjoyed.
Sure, the ending becomes a bit too melodramatic and Medina's performance is full of hysteria, but the film also includes one of the wildest horse taming sequences you'll find in a Western.
Carey would eventually enjoy stardom as Dr. Tom Norton on the NBC soap opera "Days of Our Lives;" he played the role for three decades.
Wootton, his son here, appeared in several movies and on a number of TV shows before leaving acting in the early 1960s. He later enjoyed a career in insurance and management.
Cast:
Macdonald Carey … Hollis Jarret
Patricia Medina … Peg Jarret
Skip Homeier … Clay Anderson
Stephen Wootton … "Dodie" Jarret
Louis Jean Heydt … Sheriff Tatum
Howard Wright … "Doc" Parks
Slim Pickens … Ben Silas
Fred Sherman … Mr. Winslow
Malcolm Atterbury … Rev. Hastings
Runtime: 85 min.
Memorable lines:
Hollis Jarret to Clay Anderson: "You don't have to threaten me. I'm glad you've decided to stay with us. It isn't every day a preacher gets a chance to save the soul of an all-fired big sinner like Clay Anderson."
Peg Jarret: "I love my husband."
Clay Anderson: "How do you know if you never tried anything different?"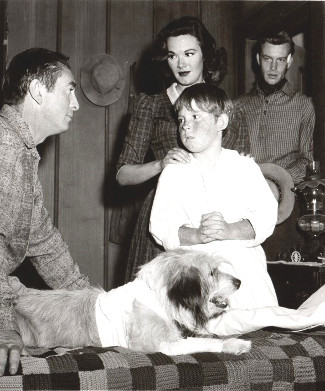 Rev. Jarret: "I see you have no objection to working on a church."
Clay Anderson: "Seems to be made out of the same material as any other building. Besides I need the exercise. You never can tell when I might have to leave here in a hurry."
Rev. Jarret: "Don't you believe in salvation?"
Clay: "Yeah. I suppose it's different for everybody. For a lot of people, it's going to be this church we're building. All the prayers and repentances and trimmings that go with it. For me, salvation is a clean pistol and a good horse. Cheer up, preacher. It's not your fault. You did a bang-up job of trying."
Peg Jarret, of her husband: "You're making a fool of him."
Clay Anderson: "No. A man has to do that by himself."
Tagged with:
Fred Sherman
•
Howard Wright
•
Louis Jean Heydt
•
Macdonald Carey
•
Malcolmn Atterbury
•
Patricia Medina
•
Skip Homeier
•
Slim Pickens
•
Stephen Wootten
•
Stranger at My Door (1956)
•
William Whitney