Sutter's Gold (1936)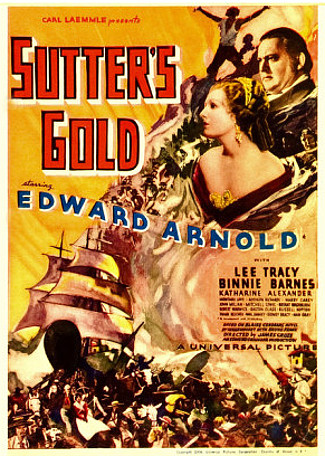 Edward Arnold plays Johan Sutter, who flees Switzerland for the New World to escape a possible murder charge after being tricked into playing his flute for a supposedly sleeping man who's really been stabbed to death.
Leaving behind a wife and two children, he winds up in a New York; then in a hospital after being beaten by striking workers he was hired to replace. It's there that he meets lifelong companion Pete Perkin (Lee Tracy).
Hearing tall tales about California's riches, Sutter decides to find out for himself, dragging Perkin along. After stops in Missouri, Vancouver and the Sandwich Islands, they find their way to Monterey where Mexican government officials grant Sutter permission to settle near Fort Ross, an area controlled by their enemy, the Russians.
Sutter and a growing legion of followers create a community named New Helvetia (New Switzerland), but it's a community on the verge of starvation until the Russians decide to abandon the area because the sea otter has become extinct. Sutter gains control of that land, as well as the Russians' much-needed provisions and creates what becomes known as Fort Sutter.
After that, his new community flourishes. Until a worker named Marshall finds gold nuggets at the site of a water mill. Soon, those who followed Sutter abandon him for the gold fields, staking claim to land he believed was his. He spends the rest of his life trying to regain his lost riches.

Review:
Highly fictionalized, but nevertheless interesting account of the man who helped settle California, only to lose his empire when he believed he was on the verge of becoming rich beyond imagination.
Much of his inspiration comes from Russian Countess Elizabeth Bartoffski (Binnie Barnes), who's ready to leave her husband and marry Sutter — she was unaware he had a wife in Switzerland — until she realizes his empire is crumbling.
Silent film star Harry Carey has a minor role as Kit Carson. Nan Grey, who plays Sutter's grown daughter, would marry singer Frankie Laine — well known for his Western theme songs — in 1950 and retire from acting.
Cast:
Edward Arnold … Johan (John) Sutter
Lee Tracy … Pete Perkin
Binnie Barnes … Elizabeth Bartoffski
Katharine Alexander … Anne Sutter
Montagu Love … Capt. Kettleson
Addison Richards … James Marshall
John Miljan … Gen. Alvarado
Harry Carey … Kit Carson
William Janney … John Sutter Jr.
Nan Grey .. Ann Eliza Sutter
Robert Warwick … Gen. Rotscheff
Morgan Wallace … Gen. Fremont
Allen Vincent … Juan Alvarado Jr.
Mitchell Lewis … King Kamehameha
Runtime: 94 min.
Memorable lines:
Hospital doctor, of California: "Great place. Potatoes grow as large as watermelons. A quart of cider in each apple. Corn grows 20 feet high. Sun shines all the time. And they get four crops of everything each year."
Mr. Brown, Vancouver trading post owner: "California? That's a great place. The sun shines 365 days a year. Just like a great big pasture. Strawberries at Christmas-time. They can grow everything there. Why if they want a canoe, they just split a cucumber. It takes four squirrels to roll a walnut into a hole."
Perkins: "Do Russian women wear silk petticoats?"
Elizabeth: "Yes."
Perkins: "We need a piece of silk about two axe handles long and one axe handle wide."
Elizabeth: "You want my petticoat. What do you want it for?"
Perkins: "A nation is being born. We need a flag."
Kit Carson: "Well, I reckon I'll be leaving California sooner than I thought. I can't serve under no petticoat."
Sutter to Elizabeth: "I'll have the whole world at your feet before I get through."
Sutter, as his gold field is overrun: "Order will come of this. There are laws."
Elizabeth: "There will be laws. But you won't make them."
Tagged with:
Addison Richards
•
Allen Vincent
•
Binnie Barnes
•
Edward Arnold
•
Harry Carey
•
James Cruze
•
John Miljan
•
Katharine Alexander
•
Lee Tracy
•
Mitchell Lewis
•
Montagu Love
•
Morgan Wallace
•
Nan Grey
•
Robert Warwick
•
Sutter's Gold (1936)
•
William Janney