Tepepa (1969)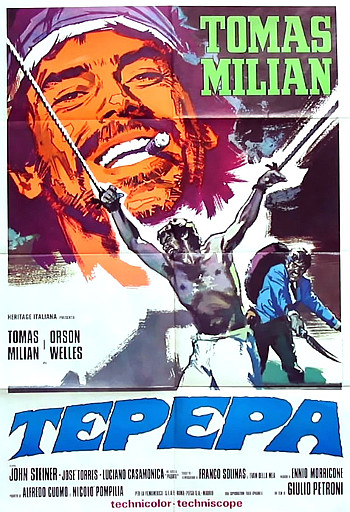 Tomas Milian plays Jesus Maria Moran, a revered revolutionary known as Tepepa. Problem is, he's been captured by Col. Cascorro (Orson Welles) and has a date with a firing squad.
That's when English doctor Henry Price (John Steiner) shows up. He pretends to want to study Tepepa's face. He's examining a theory about how one can tell a criminal by the shape of his skull.
In truth, Price wants to rescue Tepepa. He does that, with the help of his horseless carriage. But it's hardly an act of mercy. Price has rescued Tepepa to kill him; he blames the revolutionary for his fiance's death.
His revenge will have to wait. Col. Cascarro, after all, is determined to recapture Tepepa and to take his life as an example to all the peons who consider him a hero.
And as he spends more time with Tepepa, Price begins to wonder if he's been trailing the right man.
As for Tepepa, he's trying to figure out what happened. He and his fellow revolutionaries won a war. They made Madero president of Mexico.
But nothing seemed to change. The rich still own the land; the poor still have nothing.
Perhaps, he decides, it's time for a new revolution.

Review:
Absolutely one of the best revolution-themed Spaghetti Westerns. Far superior, for instance, to Spaghetti master Sergio Leone's "Fistful of Dynamite."
Milian turns in another stellar performance as the charismatic revolutionary with a soft spot — sometimes misguided — for those close to him.
Ennio Morricone provides a brillaint soundtrack. The plot has enough twists and turns that it's seldom predictable. And, yep, that's the Orson Welles a the villain of the piece.
We also get solid performances from Jose Torres as a friend of Tepepa who has lost both hands as punishment for stealing, Luciano Casmonic as his son Paquito and one of the best final lines in any Spaghetti Western.
Anna Maria Lanciaprima plays Consuelo, the woman whose death has Dr. Price on the vengeance trail. Paloma Cela plays Marieta, a gun-wielding female revolutionary and Tepepa's current lover. George Wang is Mr. Chu, a gun salesman whose allegiance follows the money.
Directed by:
Giulio Petroni
Cast:
Tomas Milian … Jesus Maria Moran aka Tepepa
Orson Welles … Col. Cascorro
John Steiner … Dr. Henry Price
Jose Torres … Pedro Pereira / El Piojo
Luciano Casamonic … Paquito
Anna Maria Lanciaprima .. Consuelo
Paloma Cela … Marieta
George Wang … Mr. Chu
Francisco Sanz … Madera
as Paco Sanz
Clara Colosimo … Sergeant's wife
Rafael Hernandez … Francisco
Giancarlo Badessi … Sergeant
Angel Ortiz … Urelio
Runtime: 125 min.
aka:
Blood and Guns
Long Live the Revolution
Composer: Ennio Morricone
End song: Al Messico che Vorrel
Performed by Maria Cristina Brancucci
Memorable lines:
Col. Cascorro: "All this food for your precious Tepepa. He's only got two hours to live."
Col. Cascorro: "From a distance, they all looked alike. Only Tepepa was different. Like a crazy ego. From a scarecrow."
Dr. Henry Price: "Colonel, could you arrange for my consultations with the prisoner to be in more suitable surroundings?"
Col. Cascorro: "How about the cemetery? He's going there tonight, 6 o'clock."
Tepepa, when told land reform isn't taking effect: "No, no, that is not possible, senor. First because we fought the revolution. And second because we won it."
Col. Cascorro: "Times have changed. I am the law, chico. And you? You are nothing. And you are starting to bore me."
Mexican peasant: "Tepepa, he betrayed us — El Piojo!"
Tepepa: "No, not him. Someone more important, unfortunately. And in a much higher position."
Trivia:
Tagged with:
Angel Ortiz
•
Anna Maria Lanciaprima
•
Blood and Guns (1969)
•
Claral Colosimo
•
Francisco Sanz
•
George Wang
•
Giancarlo Badessi
•
Giulio Petroni
•
John Steiner
•
Jose Torres
•
Long Live the Revolution (1969)
•
Luciano Casamonic
•
Orson Wells
•
Paco Sanz
•
Paloma Cela
•
Rafael Hernandez
•
Tepepa (1969)
•
Tomas Milian