The Beast (1970)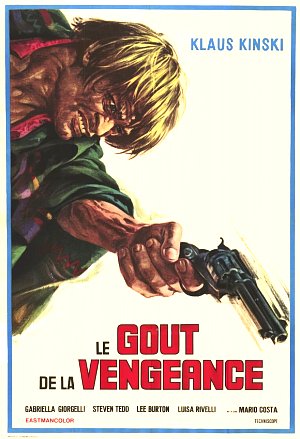 Klaus Kinski plays Johnny Laster, a sex-crazed bandit who's never seen a woman he won't try to molest. He and two partners — Riccardo (Steve Tedd) and Juanita (Gabriella Giorgella) — hatch an ingenious plan for getting rich.
Juanita, a dark-haired beauty, will switch places with a young blonde named Nancy Powers who's set to inherit a fortune. While Laster kidnaps the blonde, Juanita will pose as that woman and collect the inheritance.
Riccardo and Juanita see the theft as a chance to finance the life in the big city that the latter desires. Desire is also primary in Laster's motivation. With $50,000, he can "buy all the best women."
All goes well until Laster tries to rape the blonde, then kills her when she tries to escape. From that point on, the law and a bandit named Machete, who finds out about the money, are on the trail of all three.

Review:
The opening scene sets the stage for what's to come. Johnny, Kinski's character, sees a young woman washing clothes by a stream. She's leaning over and showing lots of cleavage, so Johnny tries to rape her before being driven off.
From that point on, Johnny starts leering at saloon girls. And leers some more. He pretty much leers at every woman who shows up on screen. That about sums up Kinski's performance in this film.
The primary plot twist isn't bad, but this second-rate cast isn't up to pulling it off. For laughs, watch Juanita's near death scene with fiance Ricardo late in the film. Perhaps it comes off better in Italian.
The extra 10 minutes not included in the video version of the film might help, but I doubt it.
Directed by:
Mario Costa
Cast:
Klaus Kinski … Johnny Laster
Gabriella Giorgella … Juanita
Steve Tedd … Ricardo
Giovanni Pallavicino … Machete
Paolo Casella … Glen
Luisa Rivella … Nancy Powers
Andrew Aureli … Ricardo's foster father
Grazia Di Marza … Ricardo's foster mother
Pilu … Juan
Giuliano Raffaelli … Gary Pinkerton
Remo Capitani … Sheriff Jack
Guido Lollobrigida … Bowen
Ivana Novak … Maud
Gioia Garson … Maud's friend
Cristina Isoani … Woman washing clothes
Fiona Florence … Conchita
aka:
The Bell
Rough Justice
La Belva
Music: Stelvio Cipriani
Runtime: 95 min. (video version 84 min.)
Memorable lines:
Johnn Laster, showing his cards: "Four kings."
Fellow poker player: "That's strange. I've got one, too."
Johnny, smiling at him: "Looks like you've been cheating."
Riccardo: "Why should we trust a gringo?"
Juanita: "For $100,000 it's worth the risk, and you've got to realize this."
Pinkerton: "You dirty killers. You dirty killers. You're a pack of wild beasts … I
won't rest til you've been hung."
Kinski, as he shoots Pinkerton at point blank range: "Mister, you bore me."
Machete: "Listen closely, gringo. My name is Machete because I know how to cut a man's throat."
Machete to Juanita after taking her captive: "That's funny, senorita. You steal the money, then you call me nasty names cause I want to steal the money from you."
Trivia:
The following quote is attributed to Kinski: "One should judge a man mainly from his depravities. Virtues can be faked. Depravities are real."
Because of Crazy Johnny's lecherous ways — wow, don't show this guy the slightest hint of cleavage — this film includes more female parts than most Spaghetti Westerns. In addition to Nancy Powers and Juanita, the women Johnny tries to molest include a woman washing clothes, a ranch girl named Maud and her friend Katy and a saloon girl named Conchita. Poor Johnny winds up one of the most frustrated characters in Spaghetti film history because his attempts at molestation keep being interrupted.
Gabriella Giorgelli, the female lead here, had roles in several Spaghetti Westeerns, with parts both large and small. Her other major roles included "My Name is Mallory … M Means Death" (1971), "Two Faces of the Dollar" (1967) and "Long Days of Vengeance" (1967). She'd also appear in the Italian comedy "Excuse Me, Padre, Are You Horny?" (1975).
Tagged with:
Andrew Aureli
•
Cristina Isoni
•
Fiona Florence
•
Gabriella Giorgella
•
Gioia Garson
•
Giovsnni Pallavicino
•
Giuliano Raffaelli
•
Grazia Di Marza
•
Guido Lollobrigida
•
Ivana Novak
•
Klaus Kinski
•
La Belva (1970)
•
Luisa Rivella
•
Paolo Casella
•
Pilu
•
Remo Capitani
•
Rough Justice (1970)
•
Steven Tedd
•
The Beast (1970)
•
The Bell (1970)