The Beguiled (2017)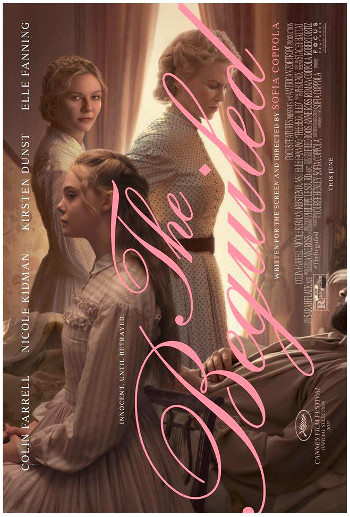 Amy, a young girl attending Martha Farnsworth's Seminary for Young Ladies, comes across a wounded Union soldier while collecting mushrooms.
At first frightened, she decides to help the young man make his way back to the seminary where he's taken in and his leg wound is treated by Miss Martha (Nicole Kidman).
At first wary of the "blue belly," the young women at the seminary become fascinated with the handsome, smooth-talking stranger, Corporal McBurney (Colin Farrell).
After all, he's is only fighting against their cause because he accepted $300 to take another man's place.
Soon, they're competing for his affection, especially the flirtaceous Alicia (Elle Fanning) and the love-stricken Edwina (Kirsten Dunst).
Even Miss Martha isn't immune to the young man's charms. She has a chance to turn the wounded man over the Confederate soldiers. Instead, she decides he should be given a chance to heal at her seminary.
Trouble erupts when Edwina, expecting a nighttime visit from the corporal, instead finds him in bed with Alicia.

Review:
If you want to see Nicole Kidman in a Civil War period piece, watch "Cold Mountain." If you want to see a film by Sofia Coppola, daughter of Francis Ford Coppola, try the Academy Award winning "Lost in Translation."
And, by all means, if you're fascinated by the plot summary above, search out the very well done original version of the film from 1971, starring Clint Eastwood as the wounded soldier, Geraldine Page as the mistress of the school and a group of actresses you've probably never heard of as her students.
It's a film filled with sexual tension and touches of horror.
This remake?
A total snooze-fest. The film clocks in at 93 minutes. It seems much longer. The fact that nearly the entire film is shot in low lighting doesn't help. Even viewers unfamiliar with the surprising plot twists in the original aren't likely to be impressed.
Directed by:
Sofia Coppola
Cast:
Colin Farrell … Cpl. McBurney
Nicole Kidman … Miss Martha
Kirsten Dunst … Edwina
Elle Fanning … Alicia
Oona Laurence … Amy
Angourie Rice … Jane
Addison Riecke … Marie
Emma Howard … Emily
Wayne Pere … Captain
Matt Story … Confederate soldier
Joel Albin … Cavalryman
Runtime: 93 min.
Memorable lines:
Jane: "He's a real blue-belly. You know they rape every southern wman they come across."
Miss Martha: "Would you stop that nonsense, Jane?"
Martha Farnsworth: "You're our most unwelcome visitor, and we do not propose to entertain you."
John McBurney: "You'll find I'm easily amused."
Martha Farnsworth: "You won't be here long enough for that."
Miss Martha: "Miss Alicia, can you tell me what you think we might learn from his presence here."
Alicia: "Maybe the sight of him will remind us there's something else in the world, besides lessons."
John McBurney: "A toast to you, Miss Martha. You must be the bravest woman I've ever known."
Martha Farnsworth: "No. No. All bravery is, is doing what's needed at the time."
Miss Martha: "Corporal McBurney's stay here has taught us all a very important lesson. That the enemy, as an individual, is not what we believed."
Tagged with:
Addison Riecke
•
Angourie Rice
•
Colin Farrell
•
Elle Fanning
•
Emma Howard
•
Joel Albin
•
Kirsten Dunst
•
Nicole Kidman
•
Oona Laurence
•
The Beguiled (2017)
•
Wayne Pere Matt Story