The Big Bonanza (1944)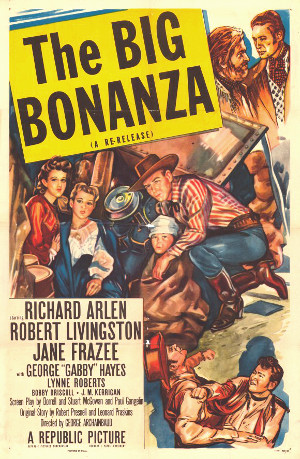 Richard Arlen plays Jed Kilton, a Union captain falsely accused of cowardice and court-martialed. He heads West to Nevada Springs to check on his much-younger brother, Spud.
He finds the boy in the care of an old best friend, Sam Ballou (Robert Livingston), and a dance hall singer named Chiquita (Jane Frazee). But the happy reunion is short-lived. In addition to owning the Silver Queen saloon, Ballou is doing his best to cheat the miners out of their land, and he has his eyes set on the Big Bonanza, owned by Adam Parker.
Kilton quickly switches sides, organizes the small miners, is arrested when Ballou finds out about the court-martial, is broken free by sidekick Hap Selby (Gabby Hayes), saves Spud after the youth runs away from home when learning of his idol's court-martial, and, finally, rallies the miners a second time for a final showdown with Ballou and the baddies.

Review:
Quick-paced, but routine family Western, though it's a bit difficult to swallow Arlen and Driscoll as brothers, considering their 40-year age difference.
The best part belongs to Frazee, who's torn between her allegiance to Ballou and his dreams of riches and her love for the young boy Ballou's willing to kill if necessary to save his hide. She delivers a spirited performance and sings a couple songs as well.
Other highlights include a final showdown in a mine shaft and a cute ending with Driscoll and Gabby Hayes as fellow students of school teacher Judy Parker, who Kilton romances throughout the film.
This was just the second credited role for Driscoll, who won an Academy Award in 1949 and starred in Disney's "Treasure Island" in 1950. He also provided the voice of the lead character for Disney's animated "Peter Pan" (1953). But he died in New York at age 31, failing to find a spot in film or TV after becoming an adult.
Directed by:
George Archainbaud
Cast:
Richard Arlen … Jed Kilton
Robert Livingston … Sam Ballou
Jane Frazee … Chiquita McSweeney
Gabby Hayes … Hap Selby
Lynne Roberts … Judy Parker
Bobby Driscoll … Spud Kilton
J.M. Kerrigan … Ballou's Lawyer
Russell Simpson … Adam Parker
Frank Reicher … Dr. Ballou
Cordell Hickman … Abraham
Hayward Soo Hoo … Jimmy
Roy Barcroft … Sheriff Dan Pendleton
Fred Kohler Jr. … Roberts
Monte Hall … The singer
Runtime: 70 min.
Memorable lines:
Disgruntled man named Daly, holding a gun on Sam Ballou: "I'm willing to go, provided I take you with me."
Sam: "I'm a little too busy to die right now, so I'll listen to any proposition you want to make."
Sam Ballou: "Good work, judge."
Judge: "Thank you, son. I think I can say, without undo egotism, there isn't another lawyer this side of the Rockies who can manipulate the law with, shall I say, equal dexterity."
Chiquita, introducing herself to Jed Kilton: "The full name's Chiquita McSweeney. It's a funny combination, I know. But then you find funny combinations out here."
Jed Kilton: "I don't think this is the right place for (his much younger brother) Spud."
Sam Ballou: "Well, Jed, he couldn't get better treatment anywhere in the world."
Jed: "Oh, I don't mean the treatment, I mean the environment. Drinking, gambling, rough talk, dance hall girls. You can't rub up against dirt and not get some of it on you."
Tagged with:
Bobby Driscoll
•
Cordell Hickman
•
Frank Reicher
•
Fred Kohler Jr.
•
Gabby Hayes
•
George Archainbaud
•
Hayward Soo Hoo
•
J.M. Kerrigan
•
Jane Frazee
•
Lynne Roberts
•
Monte Hall
•
Robert Livingston
•
Roy Barcroft
•
Russell Simpson
•
The Big Bonanza (1944)