The Fighting Kentuckian (1949)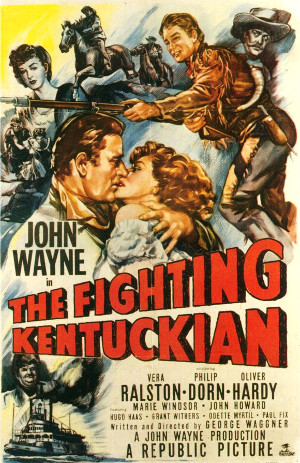 John Wayne plays John Breen, the fighting Kentuckian of the film's title. But in opening scene, he tries to delay rejoining his fellow Kentuckians on their 800-mile march by riding around Mobile, Alabama, in a carriage with pretty Fleurette De Marchand (Vera Ralston), whom he's just met.
It's pretty much love at first sight for the two. And though Breen tries to talk himself out of such foolishness, he finds himself guiding the militia out of their way so he can visit Fleurette in the French community of Demopolis.
She's one of the French refugees and former followers of Napoleon attempting to build a new home in Alabama after the Battle of Waterloo sent his generals into exile. The refugees have received a great amount of help from Blake Randolph (John Howard). So much so that Fleurette's father, Gen. Paul De Marchand, has agreed to a marriage between Randolph and Fleurette.
Breen hangs around anyway, first because he wants to whisk Fleurette off before she can marry Randolph, later because he stumbles upon a plot to rob the French of their land.
Seems Randolph was being so helpful to the French that he helped them settle on the wrong land, later planning to push them off it as part of a conspiracy with George Hayden (Grant Withers) and pretty Ann Logan (Marie Windsor). Randolph decided not to go through with the plan after falling in love with Fleurette; Hayden isn't nearly as willing to scuttle those plans.

Review:
One of several Wayne Westerns from the 1940s that certainly isn't a classic, but mixes comedy and action to deliver an entertaining film.
In this case, the comedy is helped along by a sidekick — Oliver Hardy in the role of Willie Paine. It marked one of only two films Hardy made without partner Stan Laurel, who was reportedly ill at the time and prodded Hardy to accept the role.
The plot has Wayne and Hardy pose as surveyors at one point, as fiddlers at another in an attempt to stay close to Fleurette. During their stint as fiddlers, each musician is expected to deliver a solo. You can guess how Wayne's goes.
This marked the second time Wayne and Ralston starred together; they're better as a couple in 1945's "Dakota." He later called her the worst actress he ever had the misfortune of working alongside. Oh, well, as usual, she looks lovely.
As for the plotline about French followers of Napoleon taking exile in Alabama, that is indeed true. The U.S. government approved a grant giving them four townships, each of six square miles, hoping to spur a wine and olive industry in America. There was also a community of Demopolis, erroneously constructed outside the area included in the land grant.
Cast:
John Wayne … John Breen
Vera Ralston … Fleurette De Marchand
Philip Dorn … Col. Georges Geraud
Oliver Hardy … Willie Paine
Marie Windsor … Ann Logan
John Howard … Blake Randolph
Hugo Haas … Gen. Paul De Marchand
Grant Withers … George Hayden
Odette Myrtil … Madame De Marchand
Paul Fix … Beau Merritt
Mae Marsh … Sister Hattie
Jack Pennick … Capt. Dan Carroll
Mickey Simpson … Jacques
Fred Graham … Carter Ward
Mabelle Koenig … Marie
Runtime: 125 min.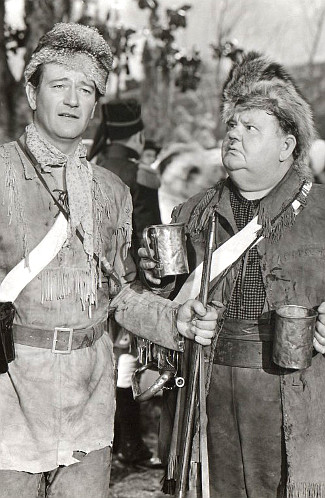 Memorable lines:
John Breen to Fleurette: "You're downright discouragin' to romance, ma'am. Couldn't you act just a little frightened to save my pride?"
John Breen to Fleurette: "You look beautiful with your eyes shining like that."
Fleurette: "Mr. John Breen of Kentucky, can you please …"
Breen: "You're also inclined to talk too much."
Willie Paine, as he and John Breen pretend to be surveyors: "How much longer do we have to do this?"
Breen: "Until something happens."
Beau Merritt, offering John Breen a drink: "Have a shot?
John Breen, holding his wounded arm: "Just had one."
Blake Randolph: "You see, Mr. Breen, you're a hero. And in the heroic tradition, you must wait for me to make the first move. Personally, I think that's rather foolish. In your position, I wouldn't hesitate. Strange, isn't it? The very think that makes you a hero is the very thing that makes you vulnerable to a man like me."
Tagged with:
Fred Graham
•
George Waggner
•
Grant Withers
•
Hugo Haas
•
Jack Pennick
•
John Howard
•
John Wayne
•
Mabelle Koenig
•
Mae Marsh
•
Marie Windsor
•
Mickey Simpson
•
Odettte Myrtil
•
Oliver Hardy
•
Paul Fix
•
Philip Dorn
•
The Fighting Kentuckian (1949)
•
Vera Ralston