The Hateful Eight (2015)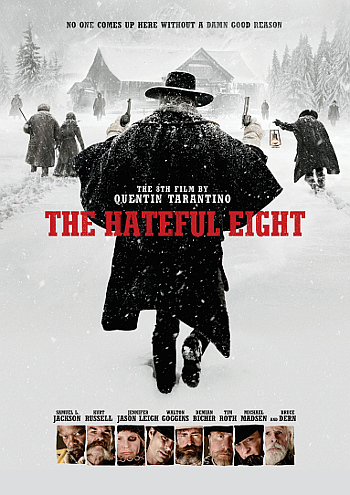 Kurt Russell is John "Hangman" Ruth, a bounty hunter taking killer Daisy Domergue (Jennifer Jason Leigh) to Red Rock to collect the $10,000 bounty on her head, then watch her hang.
He hires a private coach for the trip, but the stage doesn't stay private for long.
First to board is Maj. Marquis Warren (Samuel L. Jackson), a black bounty killer who prefers to take his men in dead and has three bodies to collect on at the moment.
Next in need of a ride is Chris Mannix, who fought with his father's band of South Carolina renegades in the Civil War and is also bound for Red Rock. He's to become the town's new sheriff.
Ruth is suspicious of the newcomers, wondering if their real mission isn't to somehow pry Daisy and a $10,000 bountry from his hands.
With a Wyoming blizzard bearing down on them, the stage stops at Minnie Mink's Haberdashery, where the bounty killers find plenty more reasons to be suspicious.
Minnie isn't around. Nor is Sweet Dave, who normally occupies his favorite chair at Minnie's.
In their place, Ruth and Warren find a cowpoke who says he's visiting his mom for Christmas (Michael Madsen), a man claiming to be the hangman (Tim Roth), an ex-Confederate general (Bruce Dern) and a Mexican who says Minnie's left him in charge while she visits with her own mother.
Thing is, Minnie hates Mexicans.
And someone just poisoned the coffee, confirming that Daisy isn't the only killer in the room.

Review:
First off, this is not a sequel to Django, a superior film with a stronger story line. It is a fresh, very well done Western, welcome news for fans of the genre starved for entertainment of the ilk.
The downside: The early part of the film drags. You might wonder if it really had to be three hours long. You might wonder if the flashback chapter was necessarily.
The upside: Tarantino has served up some wonderful characters — Samuel L. Jackson, Walton Goggins and Jennifer Jason Leigh come off especially well — thrown them in a room together in a sort of murder mystery. A murder mystery punctuated by surprising fits of his trademark violence.
Poor Daisy is slapped around and punched so much, it's a wonder she has a face left by the end of the film. But she's not exactly a meek petticoated little lady herself.
After all, she spends the last several minutes of the film dragging around the arm of one character after hacking it off because they were handcuffed together.
Ennio Morricone provided the score, his first for a Western in more than 30 years. Unfortunately, it's far from one of his most memorable.
The film, on the other hand, you'll probably wind up watching more than once if you're a fan of Westerns.
Directed by:
Quentin Tarantino
Cast:
Samuel L. Jackson … Maj. Marquis Warren
Kurt Russell … John Ruth
Jennifer Jason Leigh … Daisy Domergue
Walton Goggins … Sheriff Chris Mannix
Demian Bichir … Bob
Tim Roth … Oswaldo Mobray
Michael Madsen … Joe Gage
Bruce Dern … Gen. Sandy Smithers
James Parks … O.B.
Dana Gourrier … Minnie Mink
Zoe Bell .. Six-Horse Judy
Lee Horsley … Ed
Gene Jones … Sweet Dave
Keith Jefferson … Charly
Craig Stark … Chester Charles Smithers
Belinda Owino … Gemma
Channing Tatum … Jody
Runtime: 187 min.
Memorable lines:
John Ruth, after slugging Daisy: "How you like the sound of them bells, bitch? They real pretty, ain't they?"
John Ruth, about bounty hunting and taking them in alive: "No one said the job's supposed to be easy."
John Ruth: "You only hang mean bastards, but mean bastards need to hang."
O.B., the stage driver, on a haberdashery door that won't stay shut in a blizzard: "Jesus Christ. That door's a whore."
John Ruth; "That's the problem with old men. You can kick 'em down the stairs and say it's an accident, but you can't just shoot 'em."
Oswaldo Mobray, expressing his feelings about hanging women: "Well, 'til they invent a trigger a woman can't pull, if you're a hangman, you're going to hang women."
Daisy Domergue: "When you get to hell John, tell them Daisy sent you."
Daisy, after being shot in the foot: "Oh, Jesus Christ!"
Maj. Warren: "Oh, you believe in Jesus, now, huh, bitch? Good, 'cause you're 'bout to meet him."
Maj. Warren, after the coffee has been poisoned and he's lined his three suspects up against a wall: "Move a little strange, you're gonna get a bullet. Not a warning, not a question — a bullet."
Tagged with:
Belinda Owino
•
Bruce Dern
•
Channing Tatum
•
Craig Stark
•
Dana Gourrier
•
Demian Bichir
•
Gene Jones
•
James Parks
•
Jennifer Jason Leigh
•
Keith Jefferson
•
Kurt Russell
•
Lee Horsley
•
Michael Madsen
•
Quentin Tarantino
•
Samuel L. Jackson
•
The Hateful Eight (2015)
•
Tim Roth
•
Walton Goggins
•
Zoe Bell