The Last Gunslinger (2017)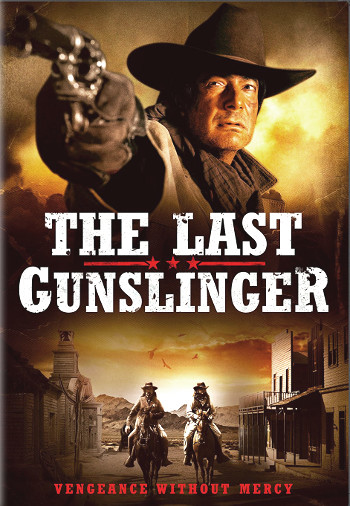 Toward the of the Civil War, a band of Union renegades under Animus Smythe happen upon Charles Holley's plantation while he's off fighting in the Civil War.
His wife, Victoria, gets Smythe to promise not to burn down the home her husband has just built for his family. The Union commander spares the house, but ties the woman to a tree and sets it ablaze, then kills Holley's daughters when they rush to her rescue.
Holley spends 10 years tracking down the Union soldiers responsible. His trail finally leads to Restless Hills, N.C., where Symthe has set himself up as mayor and sheriff and runs an illegal gambling operation with the female owner of a saloon in town.
But he's not the only one after Smythe.
The North Carolina government sends two men to Restless Hills to stop the gambling operation. The federal government sends two agents to arrest Smythe for war crimes.
Will they reach Smythe before Holley can get his revenge?

Review:
Another Grade Z Western from Christopher Forbes, so bad it might make you howl if laughter if you haven't just wasted $10 on such a turkey of a film.
We have overweight cowboys, fake beards, a cast filled with actors who might not be able to hold their own in community theater and some characters who are introduced and disappear with no reason at all.
It's a mess — with good (The Rev. McKenzie) and evil (Carlos) engaged in a battle for Holley's soul to cap it all off.
And it isn't even a well-filmed mess. Check out the inconsistency in tone on your TV screen.
The only redeeming quality: McCarver's tune "Run & Hide" which plays over the opening credits.
Directed by:
Christopher Forbes
Cast:
Cody McCarver … Charles Holley
Jerry Chesser … Animus Smythe
Carlo Martini … Carlos
Joseph Zuchowski … The Rev. McKenzie
Saul Brooks … Deputy
Jezibell Anat … Lenora
Clarence Bernard Nalley … Nalley, the card dealer
William Wylie … N.C. Commissioner Reed
Dave Long … Reed's agent
Stan Fink … Reed's agent
Viola Hobbs … Victoria Holley
Willard Lewis … Benjamin Lewis of justice department
William Adams … Lewis' agent
John Hudson … Lewis' agent
Charlie Glotzbach … Thief
Heath McDaniel … Thief
Runtime: 80 min.
Songs:
"Run & Hide" by Cody McCarver
"The Wayfaring Stranger" by Cody McCarver
"The Devil By My Side" by Heath McDaniel
"Queen of Diamonds" by Jezibill Anat
"The Wayfaring Stranger" by The Railroad Angels
""Vengeance Without Mercy" by Carlo Martini
Memorable lines:
The Rev. McKenzie: "You know, Jesus said it was wrong to harbor unresolved anger in your heart?"
Charles Holley: "Did he now? So how did it turn out with that Jesus fellar?"
Bushwacker: "You barkin' up the wrong tree, you son-of-a-bitch. You kill me, I got friends will track you down, make your life a living hell."
Charles Holly: "My life's been a living hell for the last 12 years."
And he blows the bushwacker's head off."
Madame Lorena : "You've been making some real good money."
Charlotte: "It's blood money. I ain't persnikity, but gambling — shooting — that's the devil's work … I'd rather be shovelin' horse shit."
Charles Holley: "You know, Smythe, I spent 10 years thinking of the perfect way to make you suffer. And every time I come up with that way, I figured out it wasn't enough for a bastard like you."
Tagged with:
Carlo Martini
•
Charlie Glotzbach
•
Christopher Forbes
•
Clarence Bernard Nalely
•
Cody McCarver
•
Dave Long
•
Heath McDaniel
•
James Chesser
•
Jezibell Ana
•
John Hudson
•
Joseph Zuchowski
•
Saul Brooks
•
Stan Fink
•
The Last Gunslinger (2017)
•
Viola Hobbs
•
Willard Lewis William Adams
•
William Wylie