The Last Tomahawk (1965)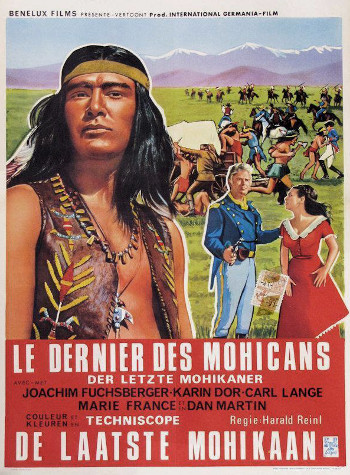 A bandit leader has struck a deal with an Indian chief named Paoway.
The whites will help the Indians wipe out a Mohican village; Paoway views them as enemies because they want peace with the white man. In return, Paoway will help the bandits capture a wagon full of gold bound for Fort Westerhill.
The attack on the Indian village goes as planned; only one Mohican, Unkas (Daniel Martin) survives. The attack on the gold wagon isn't quite as successful. The bandits capture a wagon loaded with gunpowder; the one loaded with gold makes it to Fort Munroe, constructed to protect ranchers in the area by Col. Munroe.
So the Indians and bandits lay siege to the fort, until a captured courier's message gives them an idea of how to break Munroe's willpower and get him to turn over the gold. Seems another detail is headed to Fort Munroe, and the colonel's two daughters are traveling with it.
So Paoway heads off with a plan to capture the two girls and trade them for the gold. Unkas and his sidekick Strongheart (Anthony Steffen) foil that plan.
But they still face a long and perilous trek to Fort Munroe with a depleted cavalry detail under the command of Capt. Bill Hayward. And even if they reach the fort, it remains under seige.

Review:
A well-done variant on the Last of the Mohicans tale, transporting the story to the American southwest of the late 1800s with enough departures from the oft-told tale to keep it fresh.
And even if the eventual showdown between Paoway and Unkas is predictable, it's well staged and offers its own surprises.
Adding to the film's appeal: fabulous scenery; the movie was filmed partly in Spain and partly in Germany.
Director Harald Reini also serves up several well-staged action scenes and two impressive large-scale sequences — the construction and destruction of a bridge over a deep canyon gourge and an avalanche that pretty much destroys Fort Munroe.
Directed by:
Harald Reini
Cast:
Daniel Martin … Unkas
Anthony Steffen … Strongheart
Joachim Fuchsberger … Capt. Bill Hayward
Karin Dor … Cora Munroe
Marie France … Alice Munroe
Carl Lange … Col. Munroe
Ricardo Rodriguez … Paoway
Stelio Candelli … Roger (bandit leader)
as Stanley Kent
Kurt Grosskurth … cook
Angel Ter … Jeff
Mariano Alcon … Tamenund
Mike Brendel … Chingachgook
Runtime: 93 min.
aka:
Last of the Mohicans
Der letzte Mohikaner
Memorable lines:
Bandit leader, about the plan to get a wagon full of gold: "Paoway, we want you to help us. If you do, you'll get a fair share."
Paoway: "Paoway wants no gold. The settlers steal our hurting ground. Paowau wants their heads."
Scout, complaining about Cora's music: "If we were to run into redskins, Cora could get her harmonium out and drive the Indians crazy. Hah!"
Capt. Hayward: "You know this area, Jeff?"
Jeff: "I heard all about it. And if I'm correct, pretty soon the wagons will get stuck in this sand and we'll be like flies in the honey pot."
Corporal: "And if they kidnap your girls?"
Col. Munroe: "I'll massacre that whole gang with my bare hands, you hear?"
Corporal: "And if they carry a white flag, what then?"
Col. Munroe: "My eyes will be color blind, corporal. I'll fire bullets!"
Trivia:
This was one of five Westerns directed by Harald Reini and the only one that wasn't a Winnetou film. In fact, it was sandwiched between "Winnetou: The Red Gentleman" (1964) and "Winnetou: The Last Shot" (1965).
At the time the film was made, Reini was married to Karin Dor, who plays the part of Cora. She was 30 years his junior; they divorced in 1968.
Yep, that's the Anthony Steffen as Strongheart. This marked his first of many European Westerns.
Tagged with:
Angel Ter
•
Anthony Steffen
•
Carl Lange
•
Daniel Martin
•
Det letzte Mohikaner (1965)
•
Harald Reini
•
Joachim Fuchsberger
•
Karin Dor
•
Kurt Grosskurth
•
Last of the Mohicans (1965)
•
Mariano Alcon
•
Marie France
•
Mike Brendel
•
Richardo Rodriguez
•
Stanley Kent
•
Stelio Candelli
•
The Last Tomahawk (1965)