The Last Traitor (1971)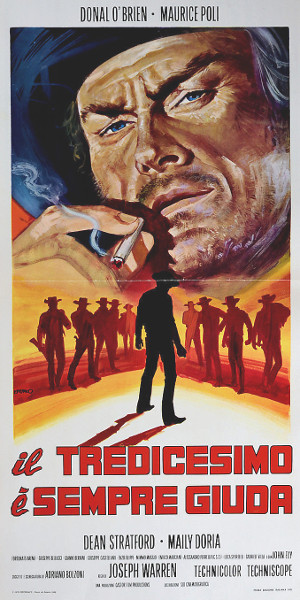 Donald O'Brien is Ned Carter, a former Confederate officer who returns to Sonora at the end of the Civil War and invites all is friends to celebrate his wedding to Mary Bell Owens.
Then one of the guests notice there are 13 people gathered around the dinner table, waiting for Mary Bell to arrive by stage from El Paso.
Sure enough, it's a bad omen. When the stage arrives, all three postal guards are dead. So it Mary Bell, sitting inside the coach, a bullet between her eyes.
Carter, of course, vows vengeance. But before he can act, three of his guests — the Ross brothers — are killed in an explosion. Looking for answers, Carter and his allies call on Judge Stump. They find him hanging from a beam in his home.
Meanwhile, two of Carter's wedding guest have gone missing. They include an explosives expert named Joe and a gambler named Tim.
Then comes the rumor that the silver mine Carter expected to inherit with his wedding might contain $200,000 in hidden Confederate goal.
And pretty saloon girl Emilia might complicate matters, because she'll flirt with anyone if it gets her closer to that money.

Review:
Yep, it's campy in spots, especially any time Emilia is on the screen.
Yep, some of the dialogue will make you chuckle. Like when the preacher warns Emilia that she might wind up with a couple more holes than she needs in her pretty body.
And, no, the special effects aren't very special. Check the perfectly severed foot following the blast the kills the Ross trio.
But a film that starts off as a straight-forward revenge flick serves up a plot with enough twists and turns to keep us guessing what will happen next.
And that's a pleasure to find in any 1970s Spaghetti after the hundreds that came before.
Directed by:
Giuseppe Vari
(as Joseph Warren)
Cast:
Donald O'Brien … Capt. Ned Carter
Maurice Poli … Tim
Dino Strano … Joe
as Dean Stratford
Adriana Giuffre … Mary Bell (???)
Maily Doria … Emilia
Fortuna Arena … Judge Stump
Giuseppe Castellano … Slim
Mimmo Maggio … Big Bottle
Franco Pesce … Photographer
Giuseppe Bellucci
Gianni Bernini
Emy Della Betta
Attilio Dottesio … Confederate general
Enzo Filippi
Luca Sportelli
Gabriele Villa
Alessandro Perella … Ross brother
Enrico Marciani
John Ely
Runtime: 93 min.
aka:
Il tredicesimo è sempre Giuda
Thirteenth is a Judas
Memorable lines:
Emilia to the serving girls as a fight breaks out: "Oh, don't be afraid. Haven't you ever seen men doing their exercises?"
Tim: "Every man's got a story, or he's not man. Our lives are like cards. The only thing is, we can't shuffle them by ourselves. The stakes are high, Joe, and there are no rules. But there's a system for winning."
Joe: "What?"
Tim: "You shouldn't ask a man who's living is gambling about the tricks of his trade."
Joe: "What the devil are you talking about? What kind of game? What kind of story? I'll be damned if I understand."
Preacher, at gravesite: "We know, oh, Lord, that a woman usually is only a demon without a tail. But not Mary Bell. She was different."
Tim: "Do you know where to find him (the preacher)?"
Joe: "Sure, at prayer. He'll be praying for some girl to keep him company in bed."
One of the captain's men: "When a seven becomes an ace (in poker), that's a miracle that beats the hell out of the resurrection."
Preacher Bellman to Emilia: "If Ned begins to catch on, someone might find this pretty body with a couple more holes than she's needs."
Emilia: "And that would be a pity, wouldn't it?"
Preacher: "When a girl's dead, she isn't much use for anything."
Trivia:
Donald O'Brien — given name Donal — traveled to Italy to star in 1968's "Run, Man, Run" and it turned out to spur a spate of Spaghetti Western appearance, including roles in some of the better known late films of the genre, including "Four of the Apocalypse" (1975), "Keoma" (1976) and "Silver Saddle" (1978).
One of seven Spaghetti Westerns directed by Giuseppe Vari as Joseph Warren. This was the next to last, followed by "Shoot the Living, Pray for the Dead." In that case, the title is better than the film.
Editor's Note: Cast lists are incomplete for many Spaghetti Westerns. This one is woefully so, and some sources don't agree on who plays what role. Photos of several other key characters in "The Last Traitor" follow. If anyone can help in matching cast names to character, just comment below.
Adriana Giuffre
•
Alessandro Prella
•
Attilio Dottesio
•
Dean Stratford
•
Dino Strano
•
Donald O'Brien
•
Emy Dlla Betta
•
Enrico Marciani
•
Enzo Filippi
•
FOrtuna Arena
•
Franco Pesce
•
Gabriele Villa
•
Gianni Bernini
•
Giuseppa Bellucci
•
Giuseppa Vari
•
Giuseppe Castellano
•
Il tredicesimo è sempre Giuda (1971)
•
John Ely
•
Joseph Warren
•
Luca Sportelli
•
Maily Doria
•
Maurice Poli
•
Mimmo Maggio
•
The Last Traitor (1971)
•
Thirteenth is a Judas (1971)