The Magnificent Seven (2016)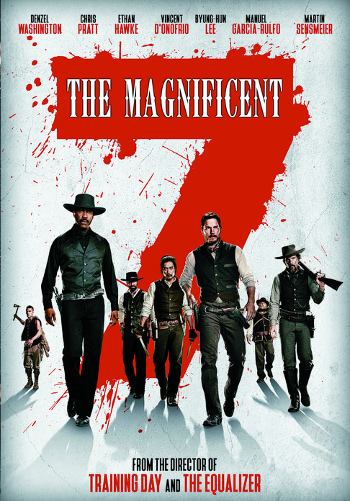 A land baron named Bartholomew Bogue (Peter Sarsgaard) has discovered gold in the hills outside Rose Creek so he wants all the surrounding land. And he wants it at a rock-bottom price.
Just to convince the hard-working folks of Rose Creek that he means business, he kills the one man who stand up to him, then has his men burn the church and kill a few more innocents.
The man he killed was the husband of Emma Cullen (Haley Bennett). So she collects funds from all those determined to stay in the homes they've built, then heads off to recruit someone to help free the town from Bogue's grip.
That someone turns out to be bounty man Sam Chisolm (Denzel Washington), who just so happens to have an old score to settle with Bogue.
Of course, he'll need some help. So he, in turn, recruits a fast gun named Farraday (Chris Pratts), a Mexican outlaw named Vasquez (Manuel Garcia-Rulfo), a strongman named Horne (Vincent D'Onofrio), a Comanche named Red Harvest (Martin Sensmeier) and a Confederate war hero named Goodnight Robicheaux (Ethan Hawke) and his knife-expert sidekick Billy Rocks (Byung-hun Lee).
Together, those seven ride off to defend Rose Creek and to help train the residents to defend themselves. And they rather easily dispatch of the small force Bogue has guarding the town.
But Bogue can afford to hire an army of men to do his bidding. He also has a secret weapon, just in case that army of men fails to do the job.

Review:
The over-the-top opening — far less believable than the Mexican bandit with a village of peasants under his thumb — is an early sign that this might not be in the same league as the Western classic it's trying to remake. Just why does Bogue need the town? Is there gold under them thar dirt streets?
Unfortunately, what follows is a $90 million disappointment. Not a terrible film, mind you, especially not when stacked up against most Westerns of the 21st century. But not nearly what you'd hope for with a budget that large.
Weak story-telling and character development is a primary problem. Why should we care about any of this Magnificent Seven? We barely know anything about them. For that matter, why did they sign onto this death mission?
The silliness reaches its zenith when Chisholm rides out into the wilderness with the five men he's already recruited to find Red Harvest. Why? We never find out. Red Harvest rides up with a dead deer slung over his horse. He throws down the deer, slits it open and cuts out its liver. Each man takes a bite. Presto, Red Harvest, with his magnificent bow-and-arrow skills, is part of the new Magnificent Seven.
Oh well, Red Harvest's presence does make the new "Seven" more ethnicly diverse. Good thing there's not a prejudiced bone in the body of any of these men in the 1870s West. Except perhaps for Farady; he's not super fond of Mexicans.
We do get fine performances from Denzel Washington in the lead role, Chris Pratt as the wise-cracking Faraday and Haley Bennett as the strong-willed defender of Rose Creek.
And a very high body count. Much higher than the original.
Sorry, I still prefer the original.
Directed by:
Antoine Fuqua
Cast:
Denzel Washington … Sam Chisolm
Chris Pratt … Josh Faraday
Ethan Hawke … Goodnight Robicheaux
Vincent D'Onofrio … Jack Horne
Byung-hun Lee … Billy Rocks
Manuel Garcia-Rulfo … Vasquez
Martin Sensmeier … Red Harvest
Haley Bennett … Emma Cullen
Peter Sarsgaard … Bartholomex Bogue
Luke Grimes … Teddy Q
Matt Bomer … Matthew Cullen
Jonathan Joss … Denall
Cam Gigandet … McCann
Emil Beheshti … Maxwell
Mark Ashworth … Preacher
Billy Slaughter … Josiah
Dodge Prince … Anthony
Matthew Posey … Hank Stoner
Carrie Lazar … Leni Frankel
Jody Mullins … Caleb Frankel
Clint James … Fenton
Dane Rhodes … Sheriff Harp
Runtime: 132 min.
Memorable lines:
Bartholomew Bogue: "This is no longer land. The moment I put a pin in the map, the day I descended into this God-forsaken valley and cast my gaze upon it, it ceased to be land and become — dust."
Bartholomew Bogue: "Let the bodies where they lay. Let them look at them a few days."
Faraday: "Money for blood is a peculiar business."
Chisholm: "So you seek revenge?"
Emma: "I seek righteousness, as should we all. But I'll take revenge."
Faraday: "I didn't want to kill him. He shouldn't have touched my guns."
Faraday, watching Emma approach with the other townsfolk for their training: "Oh, good. They brought their pitchforks. We may stand a chance after all."
Faraday: "You all go home. Polish your rifles. Maybe the glint will scare them off."
Bogue: "If God didn't want them sheared, he wouldn't have made them sheep."
Tagged with:
Antoine Fuqua
•
Byung-hun Lee
•
Cam Gigandet
•
Chris Pratt
•
Dan Rhodes
•
Denzel Washington
•
Emil Beheshti
•
Ethan Hawke
•
Haley Bennett
•
Jonathan Joss
•
Luke Grimes
•
Manuel Garcia-Rulfo
•
Mark Ashworth
•
Martin Sensmeier
•
Matt Bomer
•
Peter Sarsgaard
•
The Magnificent Seven (2016)
•
Vincent D'Onofrio