The Magnificent Texan (1967)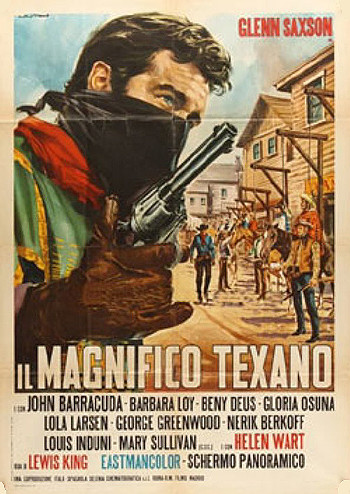 Glenn Saxon is El Desperado, a masked avenger who rights wrongs done to Mexicans by bandits and by the rich elitists in southern California.
His real name is Manuel Lopez, and he also has his own score to settle. When he was young, bandits attacked his parents' hacienda. He was the lone survivor. Now he's vowed to get even with the five men responsible.
One of those men is a notorious outlaw named Blackie Stark (Massimo Serato). In fact, he led the raid on the Lopez family.
But the man behind that raid was Judge Wilkins (Beni Deus), who wound up making a fortune off the Lopez land.
He's now determined to make sure that fortune stays in the Wilkins family by having pretty daughter Evelyn (Barbara Loy) marry her cousin William, who's every bit as racist against Mexicans as his father.
It matters not that Evelyn despises William. It matters not that the judge's wife Corrine intervenes on her daughter's behalf. The judge has gained power, not he's hellbent on preserving it.
Meanwhile, Evelyn remembers happier days with a childhood friend named Manuel Lopez. And when a dress maker named Pedro Madero shows up, she has no idea he's re-entered her life.
It's really El Desperado, of course, plotting his next move before warning those responsible for his parents' death that he intends to see they pay for their crimes.
And that's enough to get the judge and Blackie Stark working together again.

Review:
Well done Spaghetti — far better than you'd expect for one featuring a masked avenger — with a deep cast, plenty of subplots and a rousing score courtesy of Francesco De Masi.
That cast includes Luis Induni, a fair sheriff caught between the judge and El Desperado; Jose and Carmen Perera, friends of El Desperado who might pay a high price for that friendship; and Estella, a saloon owner who can't help loving William though he's promised to another woman and is prone to chase any other pretty skirt who shows up in town.
Only El Desperado's short stint as a dress maker with three models in tow strikes a false note. And if you're looking for action and a high body count — well, you're in luck.
Directed by:
Luiga Capuano
as Lewis King
Cast:
Glenn Saxon … Manuel Lopez
aka El Desperado / Pedro Madero
Barbara Loy .. Evelyn Wilkins
Beni Deus … Judge Wilkins
Anna Miserocchi … Corina Wilkins
as Helen Wart
Massimo Serato … Blackie Stark
as John Barracuda
Glauco Onorato … Jose Perera
as Richard Stark
Gloria Osuna … Carmen Perera
Luis Induni … Sheriff
Fulvia Franco … Estella
as Lola Larsen
Giorgio Cerioni … William
as George Greenwood
Nerio Bernardi … Cico
as Nerik Berkoff
Riccardo Pizzuti … Jimmy Stark
Mirella Pamphill … Corrine
as Mary Sullivan
Runtime: 99 min.
Score: Francesco De Masi
aka:
Desperado
Il magnifico Texano
Memorable lines:
Evelyn Wilkins: "There isn't anybody in this area who defends the cause of the Mexicans. No one bothers."
William: "Why should anyone bother? Why should we concern ourselves with a bunch of illiterate peasants. It's stupid to have the same laws for people like ourselves and for trash like that."
Evelyn Wilkins, after being scolded by her father: "Just because I'm a woman, papa, doesn't mean I have to play with dolls and hide the fact that I have a brain and a mind of my own, you know?"
Corina Wilkins, warning her husband about forcing Evelyn to marry William: "The good Lord will punish you."
Judge Wilkins: "I'll take my chances on enternal damnation as long as I keep the Wilkins' fortune in the Wilkins family. In this way, my glory will live forever."
Corina Wilkins, to her husband: "You ambition's an old story. You've been under its spell for so long, it's destroyed your soul."
Estella: "Joe, go get the sheriff. Hear? And do it quick, cause I think we're in for trouble."
Tagged with:
Anna Miserocchi
•
Barbara Loy
•
Beni Deus
•
Desperado (1967)
•
Fulvia Franco
•
George Greenwood
•
Giorgio Cerioni
•
Glauco norato
•
Glenn Saxon
•
Gloria Osuna
•
Helen Wart
•
Il magnifico Texano (1967)
•
John Barracuda
•
Lewis King
•
Lola Larsen
•
Luiga Dapuano
•
Luis Induni
•
Massimo Serato
•
Mirella Pamphill
•
Nerio Bernardi
•
Riccardo Pizzuiti
•
Richard Stark
•
The Magnificent Texas (1967)