The Ox-Bow Incident (1943)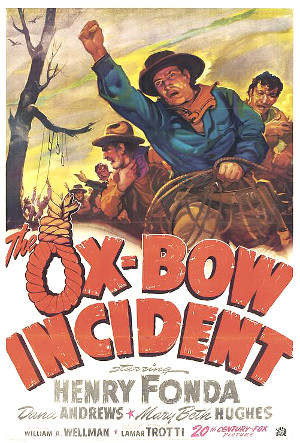 Solemn tale of a lynch mob that sets out after the men who killed a rancher. Led by a pompous deputy sheriff, a former Confederate colonel named Tetley and a rough-and-ready female rancher named Jenny Grier, the posse sets out, determined to take justice into its own hands.
The suspects are tracked down with relative ease — they're resting around a campfire with some of the slain man's cattle nearby. But Donald Martin (Dana Andrews) professes his innocence, and some among the posse believe him.
But there's evidence to the contrary. Martin doesn't have a bill of sale for the cattle grazing nearby. No one knows him, though he claims to have recently settled on a nearby ranch. And one of the man with him (Anthony Quinn as Juan Morez) just happens to be carrying the slain man's gun.
Still, local businessman Arthur Davies pleads with the posse to take the men back to town for a trial. Cowboys Gil Carter (Henry Fonda) and Art Croft (Harry Morgan) argue likewise; they're along for the ride partly so they won't be fingered as suspects. So does Tetley's coward of a son, Gerald. But their arguments fall on deaf ears. And they wind up hanging three innocent men.

Review:
In a tight 75 minutes, Wellman delivers us a cast of memorable characters, a searing indictment of mob violence and a Western that is still effective decades after its release.
It helps that he had a talented cast to work with. Sure there's Fonda, a common cowpoke here, who rides along with the lynch mob with his partner more to protect himself from suspicion more than for any other reason.
But the cast also includes Harry Morgan and Dana Andrews in early roles, as well as Anthony Quinn, who was still being cast as an Indian chief in most of the Westerns in which he appeared.
Fonda and Wellman apparently had to plead with 20th Century Fox to make this film. America was locked in World War II; escapist Westerns were the ones that did well at the box office, not a serious film like this one. Indeed, it wasn't a commercial success, but Fonda always considered it one of his favorites and it received an Academy Award nomination for best picture.
Cast:
Henry Fonda … Gil Carter
Dana Andrews … Donald Martin
Mary Beth Hughes … Rose Mapen
Anthony Quinn … Juan Martinez
William Eythe … Gerald Tetley
Harry Morgan … Art Croft
Jane Darwell … Jenny Grier
Harry Davenport … Arthur Davies
Frank Conroy … Major Tetley
Marc Lawrence … Jeff Farnley
Francis Ford … Halva Harvey
Leigh Whipper … Sparks
Matt Briggs … Judge Daniel Tyler
Paul Hurst … Monty Smith
Victor Killan … Darby
Willard Robertson .. Sheriff Risley
Runtime: 75 min.
Memorable lines:
Bartender: "It's my guess the married women run her (Rose Mapen) out. Oh, no tar and feathers. No rails. They just righteously made her feel uncomfortable. Not that she ever did anything. They just couldn't get over being afraid she might."
Jenny Grier, to Donald Martin: "Keep your head up, son. You can only die once."
Donald Martin: "Listen, why don't you stop this farce and take us in if you think we had anything to do with it?"
Farnley: "Cause the law's slow and careless around here sometimes. We're here to see it speeded up."
Major Tetley to his son, informing him he'll have to whip one of the horses at the triple hanging: "I'll have no female boys bearing my name. You'll do your part, and say no more."
Tagged with:
Anthony Quinn
•
Dana Andrews
•
Francis Ford
•
Frank Conroy
•
Harry Davenport
•
Harry Morgan
•
Henry Fonda
•
Jane Darwell
•
Leigh Whipper
•
Marc Lawrence
•
Mary Beth Hughes
•
Matt Briggs
•
Paul Hurst
•
The Ox- Bow Incident (1943)
•
Victor Killan
•
Willard Robertson
•
William Eythe
•
William Wellman