The Phantom Stagecoach (1957)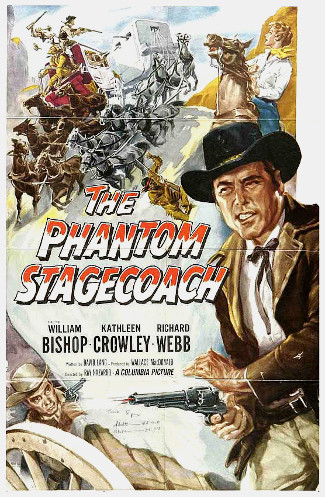 Someone is trying to shut down the Patterson Stageline by robbing its stages.
At least that's the thinking of Glen Hayden (William Bishop), who happens to be aboard one of those stages, signs on as a driver, then begins investigating.
He quickly suspects a rival freight line run by Martin Maroon might be involved, an uphappy prospect since he takes an immediate liking to Maroon's niece, Fran (Kathleen Crowley).
That puts him at odds with another stage driver, Tom Bradley, who figures to marry Fran and is acting mighty suspicious, too. That said, Tom's a man who hates violence. So much so that he drives the stage with an unloaded shotgun by his side.
Turns out that Maroon is fearful Patterson's contract with Wells Fargo will put him out of business. But he's a clever villain. He even throws some of his business Patterson's way to make himself look more like a friend than a foe.
The phantom stagecoach refers to an armoured stage the baddies use to pull some of their holdups.

Review:
Far short of great, but not as bad as the title might imply.
Marred by some silliness, like Maroon allowing Bradley to drive a lead wagon after he's lost faith in him; like the entire Maroon gang losing track of the captured sheriff after he's uncovered their sculduggery.
The smoky voiced Crowley makes for a feisty leading lady. A former Miss America contestant and busy TV actress, most of her feature films were Westerns, beginning with a supporting role in 1953's "The Silver Whip."
This marked a rare starring hero role for Bishop. His first credited role was as a supporting player in 1947's "The Romance of Rosy Ridge." He died of cancer at age 41, two years after this film was released.
Cast:
William Bishop … Glen Hayden
Kathleen Crowley … Fran Maroon
Richard Webb … Tom Bradley
Hugh Sanders … Martin Maroon
John Doucette … Harry Farrow
Frank Ferguson … Joe Patterson
Ray Teal … Sheriff Riorden
Percy Helton … Mr. Wiggins
Maudie Prickett … Mrs. Wiggins
Memorable lines:
Fran Maroon:, reacting to Glen's compliments about her being a pretty nurse: "Mr. Hayden, I'm not impressed by flattery."
Glen Hayden: "It's not flattery. You got a mirror. Pretty hair. Pretty eyes. Pretty smile. And …"
Fran: "And you're pretty persistent."
Hayden to Fran Maroon, after she's bandaged his arm: "Well, thank you, nurse. Of course, I think this should be looked at, at least twice a day."
Fran: "Well then, you look at it. It's all yours."
Worrisome Mrs. Wiggins to her husband, while a stage wheel is being changed. "How can you eat? I swear, you'd stuff yourself if you were getting hung."
Mr. Wiggins: "Well, if it was my last chance for a good meal …"
Tagged with:
Frank Ferguson
•
Hugh Sanders
•
John Doucette
•
Kathleen Crowley
•
Maudie Pickett
•
Percy Helton
•
Ray Nazarro
•
Ray Teal
•
Richard Webb
•
The Phantom Stagecoach (1957)
•
William Bishop