The Raid (1954)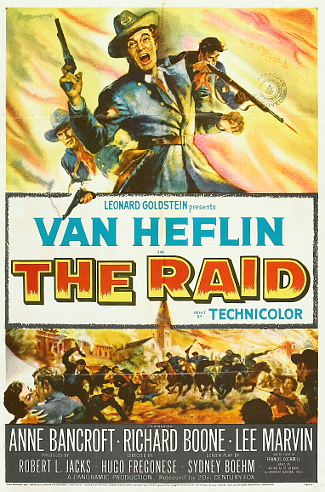 Van Heflin plays Maj. Neal Benton, a Confederate officer who breaks out of a Union prison camp near the Canadian border with about a half dozen other officers in September 1864.
His mission: Raid the town of St. Albans, Vermont, to show residents of the North how horrible war on the homefront can be, to rob the town's banks to provide some much needed cash for the Southern war effort and, hopefully, force the North to divert some troops to form home guards against any further such attacks.
Benton seems perfectly suited for the job; Northern troops burned his home. What he didn't bargain for, however, was the kindness of the folks of St. Albans.
For instance, there's Katie Bishop (Anne Bancroft), a pretty young widow who runs a boarding house Benton uses as his base of operations; and her son Larry, who immediately takes to the major.
At one point, one of Benton's men gets drunk, threatens to burn down the church and kill the preacher. Fearful that the man will ruin the surprise raid, Benton shoots him dead. The townsfolk reward his deed of bravery by purchasing him a lot of land, hoping he'll settle in town for good.
But will all that kindness be enough to convince Benton to show St. Albans more sympathy than Gen. Sherman is showing the south in his march through Georgia.

Review:
Nicely done film with a superior supporting cast, including Lee Marvin as the drunk Confederate soldier and Claude Akins and Peter Graves as officers serving under Benton.
Richard Boone also turns in a sterling performance as Capt. Lionel Foster, a Northern veteran who returned from the war missing an arm. Everyone assumes he was a war hero. In reality, he got hurt on purpose because he was afraid to fight.
But when the Confederates begin and burning and looting, he's the one resident of St. Albans who stands up to them.
Western fans are sure to recognize Tommy Rettig, the actor playing Anne Bancroft's son. He also had sizeable roles in three other well-known 1950s Westerns — "River of No Return" (1954), "At Gunpoint" (1955) and "The Last Wagon" (1956). During the same period, he was playing a lead role on "Lassie" on TV.
This film is loosely based on an actual incident during the Civil War.
Cast:
Van Heflin … Maj. Neal Benton
Anne Bancroft … Katie Bishop
Richard Boone … Capt. Lionel Foster
Lee Marvin … Lt. Keating
Tommy Rettig … Larry Bishop
Peter Graves … Capt. Frank Dwyer
Douglas Spencer … Rev. Lucas
Paul Cavanagh … Col. Tucker
Will Wright … Josiah Anderson
James Best … Lt. Robinson
Claude Akins .. Lt. Ramsey
John Dierkes … Cpl. Fred Deane
Helen Ford … Delphine Coates
Runtime: 83 min.
Memorable lines:
Neal Benton (Swayzee): "I didn't mean to stare, but Mr. Anderson mentioned the widow Bishop. I guess I was expecting to see someone older."
Katie Bishop: "Wars make younger widows."
Lt. Robinson: "I've always wanted to burn down a bank. Everything except the money."
Maj. Benton: "We're gonna burn more than their bank. We'll let them know what the stink of war is like. Rub their noses in it. Let them know what our homes meant to us."
Tagged with:
Anne Bancroft
•
Claude Akins
•
Douglas Spencer
•
Helen Ford
•
Hugo Fregonese
•
James Best
•
John Dierkes
•
Lee Marvin
•
Paul Cavanaugh
•
Peter Graves
•
Richard Boone
•
The Raid (1954)
•
Tommy Rettig
•
Van Heflin
•
Will Wright