The Road to Denver (1955)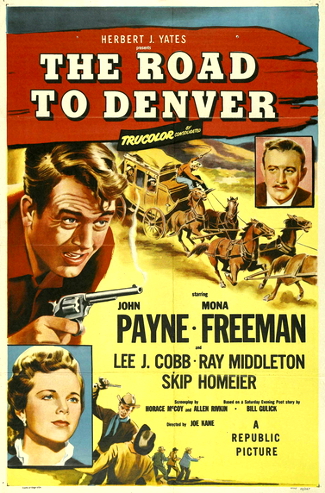 John Payne is Bill Mayhew, a cowpoke eage to settle down and make a decent life for himself.
Unfortunately, he's saddled with a brother wilder than any mustang (Skip Homeier as Sam). Bill bails Sam out of hot water time and again, until the brothers decide to part ways.
Bill winds up in Center City, working for a man named John Sutton who has dreams of running a stage from there to Denver.
Sure enough, Sam shows up, too, hiring out his gun to saloon ower Jim Donovan, who wants a piece of any business that looks like it will be profitable, and sets plans in motion to derail the new stage line.
When Donovan learns the new stage line will be carrying $24,000 in gold on its first trip, he comes up with a plan. He threatens to have Sam killed, unless Bill agrees to turn over the gold shipment to his henchmen.

Review:
Well-done, efficient little Western, even if saloon owner Donovan's motivation for wanting to destroy Sutton's stage line is a bit hazy.
The tension between brothers makes the film different enough to be interesting. In addition to Sam's wild ways, the two men find themselves competing for the affections of the same young lady, Sutton's pretty sister Elizabeth (Mona Freeman).
This marked one of oft-seen Homeier's better roles. And Lee Van Cleef, a henchman in oh so many 1950s Westerns, plays one of Donovan's less effective — and frequently wounded — gunhands.
Cast:
John Payne … Bill Mayhew
Mona Freeman … Elizabeth Sutton
Lee J. Cobb … Jim Donovan
Ray Middleton … John Sutton
Skip Homeier … Sam Mayhew
Andy Clyde … Whipsaw Elllis
Lee Van Cleef … Pecos Larry
Karl "Killer" Davis … Hunsaker
Glenn Strange … Big George
Robert "Buzz" Henry … Buzz
Dan White … Man in buckboard
Robert Burton … Pete
Anna Lee Carroll … Miss Honeywell
Tex Terry … Henchman
Runtime: 90 min.
Memorable lines:
Bill Mayhew: "You've overmatched yourself again, kid. You can't ride that horse."
Sam Mayhew: "You just stick around and get surprised."
Bill to Sam: "An empty head and a loaded gun are a bad combination."
Bill to Sam: "I've met a fair number of fast draws. They all have one thing in common: They're dead."
Sam to Bill's offer to join the stage line: "You don't offer me the deal cause you thought I could help. You're just doing me a big favor, like always. You're just being your noble big brother self. I don't like people who are being noble. Especially you."
Bill Mayhew: "How do I know you'll keep your word?"
Jim Donovan: "You don't. But I will."
Tagged with:
Andy Clyde
•
Anna Lee Carroll
•
Dan White
•
Glenn Strange
•
John Payne
•
Joseph Kane
•
Karl "Killer" Davis
•
Lee J. Cobb
•
Lee Van Cleef
•
Mona Freeman
•
Ray Middleton
•
Road to Denver (1955)
•
Robert "Buzz" Henry
•
Robert Burton
•
Skip Homeier
•
Tex Terry