The Secret of Convict Lake (1951)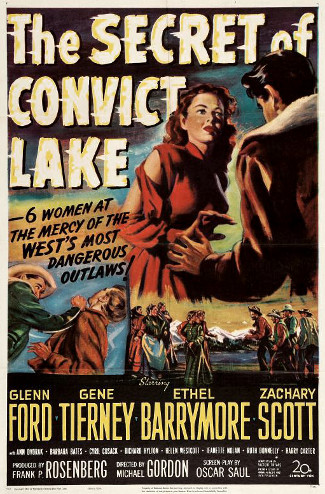 Twenty-nine convicts escape from the prison in Carson City, Nevada, in the winter of 1871. Twenty-three are either recaptured or killed. Six make it over the Sierra Nevada mountains into California, though one of those freezes to death.
The survivors include Jim Canfield (Glenn Ford), who is on a mission to clear his name by finding the man whose testimony got him convicted of murder.
The other four are hardened criminals, including Johnny Greer (Zachary Scott), who is convinced Canfield is searching for $40,000 in hidden loot, and young Clyde Maxwell, a psychopath put away for killing a young woman.
They find a small village inhabited only by women; their men are away, digging for silver. Without guns, without food and without horses, the five convicts figure they've stumbled upon the perfect place to take refuge from a raging storm, relax and resupply before continuing their escape.
But a tough old bird known as Granny (Ethel Barrymore) has organized the woman left in this lake-front community. And the women left behind include Marcia Stoddard (Gene Tierney), who's not exactly a slouch with a rifle in her hands.
Marcia is waiting for the return of Rudy Schaeffer so they can be married. One complication: He's the man who sent Jim Canfield to prison — the man whom Canfield is determined to kill.

Review:
A well done film with an unusual plot partially lifted from a real-life incident; there really is a Convict Lake in the Sierra Nevada range, so named because of a 1871 prison break.
In addition to Barrymore and Tierney, the largely female cast includes Barbara Bates as the young beauty Clyde Maxwell tries to seduce, and Ann Dvorak as the spinster Johnny Greer does seduce in order to gain access to the ladies' hidden guns.
This would mark the final feature film for Dvorak, daugther of silent film star Anna Lehr and leading lady in John Wayne's "Flame of the Barbary Coast" (1945) and Randolph Scott's "Abilene" (1946).
It also marked one of the final films of Ethel Barrymore, who died in 1959 at age 79.
And, yes, if you think you recognize the voice of the narrator, you're correct: That is Dale Robertson.
Cast:
Glenn Ford … Jim Canfield
Gene Tierney … Marcia Stoddard
Ethel Barrymore … Granny
Zachary Scott … Johnny Greer
Ann Dvorak … Rachel Schaeffer
Barbara Bates … Barbara Purcell
Cyril Cusack … Edward "Limey" Cockerell
Richard Hylton … Clyde Maxwell
Helen Westcott … Susan Haggerty
Jeanette Nolan … Harriet Purcell
Ruth Donnelly … Mary Fancher
Harry Carter … Rudy Schaeffer
Jack Lambert … Matt Anderson
William F. Leicester … Luke Haggerty
Ray Teal … Sheriff Cromwell
Runtime: 83 min.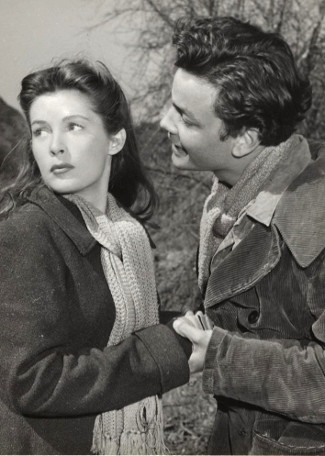 Memorable lines:
Jim Canfield: "You talk too much."
Johnny Greer: "You don't talk enough. But you will."
Older woman to Susan: "Trouble with you is, you just ain't calloused up to bein' married. Men will always be traipsing off for some reason of another. Ain't for silver, it'll be something else. Now my first husband, he wanted to stay young. Went lookin' for the fountain of youth. He was killed by buffaloes. He got what he wanted though. He never did grow old."
Jim Canfield to Marcia: "You're taking a lot on yourself, aren't you, ma'am? Judge. Jury. Hangman. All wrapped up in pretty skirts. Having yourself a ladies' lynching party."
Marcia: "You better move on."
Jim Canfield to Johnny Greer: "You know, I've seen hound dogs get on a trail that led nowhere and stick on it til they dropped. I didn't think a man could be that dumb."
Jim Canfield: "I came here to kill one man. I don't mind having to kill a couple of others if I have to."
Jim Canfield, about tracking down Rudy Schaeffer: "I've thought about this a long time. I know I'm right."
Marcia Stoddard: "My father was right. And my brother. They went out to get revenge. But after they were dead, it didn't make much difference who was right. Not to my mother. Or to me."
Tagged with:
Ann Dvorak
•
Barbara Bates
•
Cyril Cusack
•
Dale Robertson
•
Ethel Barrymore
•
Gene Tierney
•
Glenn Ford
•
Harry Carter
•
Helen Westcott
•
Jack Lambert
•
Jeanette Nolan
•
Ray Teal
•
Richard Hylton
•
Ruth Donnelly
•
The Secret of Convict Lake (1951)
•
William F. Leicester
•
Zachary Scott