The Spoilers (1956)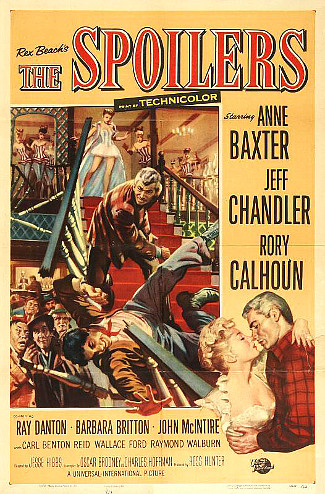 Jeff Chandler plays mine owner Roy Glennister and Rory Calhoun is Alex McNamara, the recently appointed gold commissioner in Nome, Alaska, near the dawn of the 20th century.
And miners are getting mighty anxious in Nome. The ownership of profitable mines is being challenged. McNamara pleads patience. After all, a judge (Carl Benton Reid) is on his way to sort out all the legal issues.
Then Glennister and partner Dextry return to Nome with pretty Helen Chester (Barbara Britton) in tow. She's related to the new judge. And her presence, and the attention Glennister is paying her, sends saloon owner Cherry Malotte (Anne Baxter) into a fit of rage. Glennister is her man. And no one jumps Cherry's claim.
Turns out that will be the least of Glennister's problems. Soon, the ownership of the profittable Miter Mine that he and Dextry operate is being challenged as well. The safe that holds their proof of ownership is being hauled off to jail. And they stand to lose $250,000 in the 90 days it will take to sort out the issue.
Glennister argues for a peaceful resolution of the dispute. Dextry isn't nearly as patient. Soon, Glennister realizes he just might be right.

Review:
Better than average version of this oft-told tale. It includes the big action scenes fans of the film have come to expect — our heroes using a train to break back into the mine they own and the climatic fist to fist showdown between Glennister and Calhoun. In this case, it begins in Cherry's room, winds up destroying the first floor of her saloon and ends in the mud-clogged streets of town.
Baxter makes for a spirited Cherry Malotte and the romantic interplay between her, Chandler, Clahoun and Britton keep the entertainment going when the action isn't. In fact, Cherry's preparation for Glennister's return and her reaction when he strides ashore carrying Helen Chester is among the film's best scenes.
The marked the fifth film version of Rex Beach novel, and the last to date. William Farnum played the original Roy Glenister way back in 1914. Gary Cooper (1930) and John Wayne (opposite Marlene Dietrich, 1942) also played the role. The 1942 version remains the best of the quintet.
Cast:
Anne Baxter … Cherry Malotte
Jeff Chandler … Roy Glennister
Rory Calhoun … Alex McNamara
Barbara Britton … Helen Chester
John McIntire … Dextry
Wallace Ford … Flapjack Simms
Forrest Lewis … Banty Jones
Carl Benton Reid … Judge Stillman
Ray Danton … Blackie
Raymond Walburn … Mr. Skinner
Ruth Donnelly … Duchess
Dayton Lummis … Wheaton
Willis Bouchey … Jonathan Struve
Roy Barcroft … The Marshal
Byron Foulger … Montrose
Eddie Parker … Berry
Runtime: 84 min.
Memorable lines:
Cherry Malotte, trying to calm down two miners whose claim has been jumped: "No, no, boys. When there's shooting, there's liable to be hitting. And I can't run the risk of losing my best customers."
Alex McNamara, as Cherry Malotte slides a mining claim into her silk stockings: "Very attractive filing cabinet. But not for my records. It's a question of access, Miss Malotte."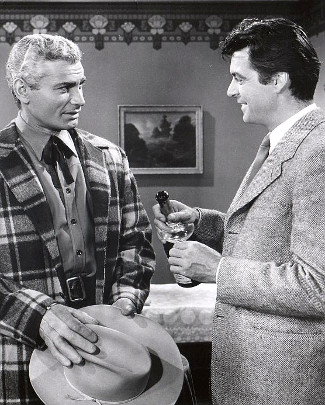 Cherry Mallotte as she slips into something sexy for Roy Glennister's return home: "Mr. Glennister has two weaknesses. One of them is hard-boiled eggs."
Duchess, her maid: "I suppose the other is brandy?"
Cherry pretends to throw a shoe at her.
Dextry, when he and Glennister arrive back in Alaska: "Stop bristling, Cherry."
Cherry Malotte, after watching Glennister carry Helen Chester ashore: "I learned something while you've been gone. When someone jumps your claim, you'd better bristle. Quick."
Dextry, about partner Roy Glennister: "It's a trap. And he's walking right into it. Or being led in by that Chester dame. She's picking his brains while the men pick his pockets. And mine."
Alex McNamara: "I admire Glennister. In many ways, we're a lot alike. I just happen to be endowed with a bit more larceny, that's all. I intend to steal his mine, his gold and his girl. But he's a great guy, isn't he?"
Tagged with:
Anne Baxter
•
Barbara Britton
•
Byron Foulger
•
Carl Benton Reid
•
Dayton Lummis
•
Eddie Parker
•
Forrest Lewis
•
Jeff Chandler
•
Jesse Hibbs
•
John McEntire
•
Ray Barcroft
•
Ray Danton
•
Raymond Walburn
•
Rory Calhoun
•
Ruth Donnelly
•
The Spoilers (1956)
•
Wallace ford
•
Willis Bouchey