The Tall Stranger (1957)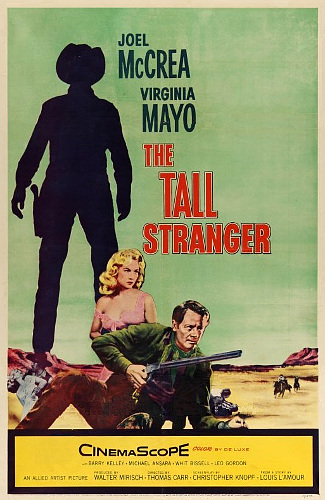 Joel McCrea is Ned Bannon, the tall stranger. When he happens upon some cattle being rustled, he's dry-gulched and left for dead.
But he's saved by members of a passing wagon train, made up mostly of ex-Confederates looking to start a new life in California.
One thing Bannon can't understand — the wagon train's trail boss (George Neise as Mort Harper) is leading them into Bishop Valley, not on a trail to California.
And Bishop Valley is run by his half-brother (Barry Kelly as Hardy Bishop), a man not likely to welcome a wagon train crossing his range.
Sure enough, Bishop reacts just as Bannon expected. He's determined to run the settlers off his land. Bishop convinces him to hold off until he can figure out Harper's motive.
Turns out Harper is in cahoots with a rustler named Zarata (Michael Ansara). And Harper is trying to convince the settlers to build homesteads on Bishop's range, just hoping to provoke the longtime rancher.
Then, as soon as Bishop's men attack the wagon train, Harper plans for Zarata and his men to charge in and take over Bishop's ranch and his herd so they can reap the spoils of the conflict between the aging rancher and the homesteadera.

Review:
If you don't think too long about Harper's convoluted, round-about scheme for getting control of Bishop's range, this is a solid McCrea Western, filled with all sorts of subplots.
Bishop blames Bannon for the death of his son; seems the son was in Quantrill's Raiders during the war, and Bannon helped track them down. Bishop has vowed to kill Bannon if he ever returns.
Virginia Mayo is the female lead, a former dance hall girl who pretends to be a displaced Virginian who lost her husband during the war. Bannon falls for her and her son, though Harper and Zarata also have designs on Ellen.
And when it looks like Bannon, Bishop and the settlers might come to a peaceful compromise, Harper and Zarata start shooting, setting the stage for a rousing showdown at the Bishop ranch.
Cast:
Joel McCrea … Ned Bannon
Virginia Mayo … Ellen
Barry Kelley … Hardy Bishop
Michael Ansara … Zarata
Leo Gordon … Stark
Ray Teal … Cap
Robert Foulk … Pagones
Jennifer Lea … Mary
Phil Phillips … Will
Michael Pate … Charlie
Adam Kennedy … Red
George N. Neise … Mort Harper
James Dodson … Dub
Whit Bissell … Adam Judson
Runtime: 81 min.
Memorable lines:
Hardy Bishop: "I don't care if a cow is 15 years old and three-legged if it's a Bishop cow. No one steals my cows."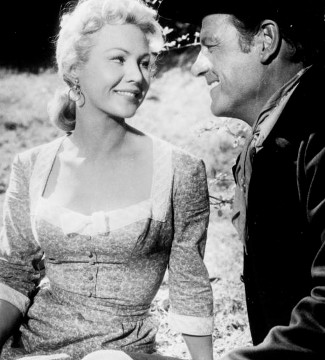 Hardy Bishop to Stark: "Like you said, one thing Bannon has is guts, and I plan to spill them all over this valley."
Ned Bannon: "There's just one thing doesn't figure. You being alone all this time. Like I said, you're not the type. You're a man's woman. I just haven't figured out which man yet."
Ellen, before stomping off: "Well, when you do figure it out, let me know."
Ned Bannon: "You try that (to homestead Bishop's Valley) and all you'll have is a pack of widows."
Tagged with:
Adam Kennedy
•
Barry Kelley
•
George N. Neise
•
James Dodson
•
Jennifer Lea
•
Joel McCrea
•
Leo Gordon
•
Michael Ansara
•
Michael Pate
•
Phil Phillips
•
Robert Foulk
•
Tay Teal
•
The Tall Stranger (1957)
•
Thomas Carr
•
Virginia Mayo
•
Whit Bissell