The Texans (1938)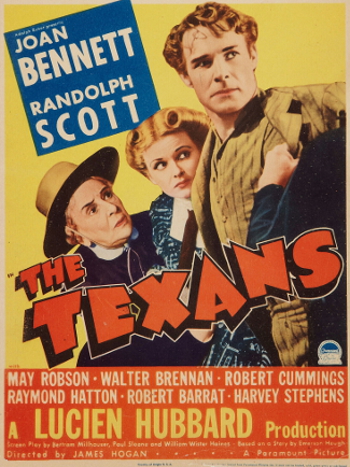 Carpetbaggers have taken control of Texas in the post-Civil War period, but stubborn and pretty young Ivy Preston (Joan Bennett) is doing her best to fight back.
She's smuggling stolen goods to former Rebels, including her fiance Alan Sanford (Robert Cummings). Those ex-Confederates plan to travel to Mexico to fight for Maximillian. Once the emperor has put down a revolt there, the plan is to return to Texas with his army and push out the Yankees.
Nearly caught, Ivy is rescued by Kirk Jordan. And when Carpetbagger Isaiah Middlebrack shows up at her ranch to collect a new tax on cattle, Jordan helps her herd disappear. She reluctantly goes along with his plan to drive the herd to the new cattle town of Abilene, Kansas.
Of course, getting there won't be easy. There will be a blizzard, Indians and a dust storm to deal with.
Sanford returns, after the Mexico venture ends in disaster. So does Middlebrack, this time with a troop of cavalry, intent on taking the Prestons, their herd of cattle and everyone with them into custody.
But Jordan avoids capture, and just might come to the rescue one more time. After all, he's determined to get those cattle to Abilene. And he wouldn't mind winning the heart of young woman with whom he finds himself constantly at odds.

Review:
Entertaining early Randolph Scott Western, even if the resolution seems rather fanciful considering what we've seen to that point.
A strong supporting cast includes May Robson as Ivy's grandmother, Walter Brennan as foreman of their ranch, Raymond Hatton as Scott's tomahawk-carrying sidekick and Francis Ford as a one-legged ex-Confederate soldier.
In one of the film's strongest scenes, the Indians has set a prairie fire that's raging as Middlebrack, the soldiers and the Preston outfit try to drive the cattle through to the safety of a river.
At one point, Ford's wooden leg catches fire. He simply spits at it, putting out the flames.
Cast:
Joan Bennett … Ivy Preston
Randolph Scott … Kirk Jordan
May Robson … Granna
Walter Brennan … Chuckawalla
Robert Cummings … Alan Sanford
Raymond Hatton … Cal Tuttle
Robert Barrat … Isaiah Middlebrack
Harvey Stephens … Lt. Nichols
Francis Ford … Uncle Dud
Bill Roberts … Singin' Cy
Runtime: 92 min.
Memorable lines:
Kirk Jordan, with a disapproving look, when he hears Ivy's plan for a new Southern uprising: "French and Mexican troops fighting against the United States?"
Ivy Preston: "United Yankees. But we'll show them."
Ivy Preston, after being rescued by Jordan: "I supposed you think I ought to thank you."
Kirk Jordan: "If it comes that hard, don't try."
Cal Tuttle, whose first look at Middlebrack makes his scalp-hunting tomahawk twitch: "Elegant head of hair that man's got."
Granna: "You're not eating."
Ivy Preston: "I can't seem to swallow with a troop of cavalry sticking in my throat."
Ivy to Jordan, about her fiance: "Some men will fight until they win."
Tagged with:
Bill Roberts
•
Francis Ford
•
Harvey Stephens
•
Joan Bennett
•
May Robson
•
Randolph Scott
•
Raymond Hatton
•
Robert Barrat
•
Robert Cummings
•
The Texans (1938)
•
Walter Brennan