The Tin Star (1957)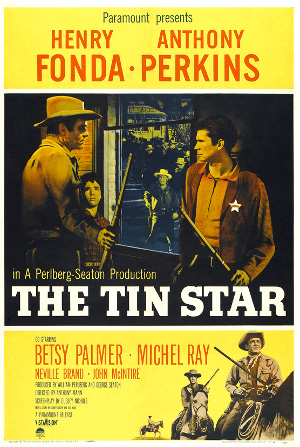 Bounty hunter Morg Hickman (Henry Fonda) turned his back on a career as a lawman when the town he served turned its back on him. He blames them for the death of his wife and child because they wouldn't help him pay for a move to a more suitable climate.
But when he rides into a small town with a temporary sheriff, he finds new purpose. This temporary sheriff (Anthony Perkins) is quite young and in need of some tutoring if he's going to survive.
Sheriff Ben Owens faces plenty of tests. There's a bully named Bogardus who wants his badge for a shooting license. Someone has been holding up the local stage. And now someone has killed the town's beloved doctor (John McIntire).
The two people Hickman boards with — a half-breed child named Kip who's scorned by most of the town and his widowed mom Nona — could use a helping hand too.

Review:
Director Anthony Mann serves up an intelligent, well-done Western. As Fonda's character finds new purpose, Perkins' tin-star wearing temporary sheriff comes of age. This marked the fourth film for Perkins, who had already appeared in two Westerns — "Friendly Persuasion" and "The Lonely Man."
McIntire has a great part as the town doctor and dispenser of wisdom. One of his primary goals is convincing Sheriff Owens and pretty young Millie Parker they belong together. Well, Owens needs no convincing. But Millie, daughter of the former sheriff, isn't eager to be tied to a man with such a dangerous occupation.
One of the film's most striking scenes has the doctor's buggy arriving in town for his 75th birthday celebration. The crowd sings "For He's a Jolly Good Fellow" until the song fades as they realize the buggy is carrying the doctor's dead body.
The villains of the piece are familiar faces, too — Neville Brand as Bogardus and Lee Van Cleef as one of the stagecoach-robbing McGaffey brothers.
This marked the only Western film for Betsy Palmer, best known for her role in Friday the 13th (1980).
Cast:
Henry Fonda … Morg Hickman
Anthony Perkins … Sheriff Ben Owens
Betsy Palmer … Nona Mayfield
Michel Ray … Kip Mayfield
Neville Brand … Bart Bogardus
John McIntire … Doc McCord
Lee Van Cleef … Ed McGaffey
Peter Baldwin … Zeke McGaffey
Mary Webster … Millie Parker
Richard Shannon … Buck Henderson
James Bell … Judge Thatcher
Howard Petrie … Mayor Harvey King
Russell Simpson … Clem Hall
Hal K. Dawson … Andy Miller
Jack Kenney … Sam Hodges
Runtime: 93 min.
Memorable lines:
Morg Hickman: "You don't like outlaws brought in dead?"
Townsman: "Our officers of the law bring in their prisoners alive."
Hickman: "Your officer of the law didn't bring in Jameson at all."
Morg Hickman, about Bogardus wanting to be sheriff: "He wanted it for a shooting license, huh?"
Temporary Sheriff Owens: "That's how come he didn't get it. Town don't want prisoners brought in dead."
Hickman: "Yeah, I know, they only want sheriffs brought in dead."
Morg Hickman: "When you grow up hating them (Indians), you don't get rid of it easy."
Millie Parker: "I know. They say the only good Indian is a dead Indian. When they find one with a man's pride and courage to stand up as an equal, they kill him. And it isn't called murder. They just made him a good Indian. And it doesn't even end there. Not when there's a boy to hate and a woman to take it out on."
Sheriff Owens: "I'm only temporary (sheriff)."
Hickman: "You're more temporary than you think."
Tagged with:
Anthony Mann
•
Anthony Perkins
•
Betsy Palmer
•
Hal K. Dawson
•
Henry Fonda
•
Howard Petrie
•
Jack Kenney
•
James Bell
•
John McIntire
•
Lee Van Cleef
•
Mary Webster
•
Michel Ray
•
Neville Brand
•
Peter Baldwin
•
Richard Shannon
•
Russell Simpson
•
The Tin Star (1957)