The Wicked Wicked West (1998)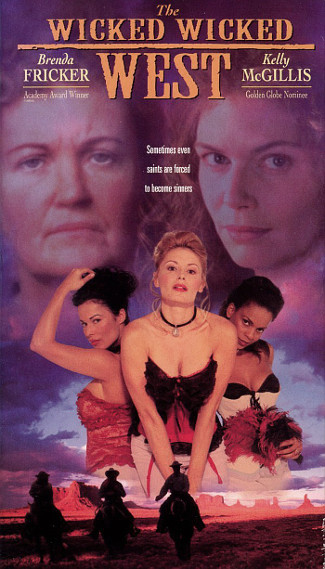 Welcome to a whorehouse in a small Western town. With the exception of the men being serviced, no one is thrilled to be here, though most of the working girls have nowhere else to turn.
Owner Annie Ryan (Brenda Fricker) is fighting to stay open. A local saloon owner named Frank is trying to have her place shut down, though he runs whores out of his business as well.
Her girls include petty young Georgie (Lisa Jukub), who knows all the men want her because she's "fresh meat). She dreams of working in a big-city house where she can sip wine from crystal glasses. Then there's Ada, who's trying to support three children and growing too old in the eyes of the clientele.
Eileen has just lost her best friend in the place; she was gunning down by a jealous ex-lover. Eileen dreams of returning to her homeland of Ireland. In the meantime, she finds a new friend in Katya, a former dancer who claims she can see into the future.
The survivor of the bunch is Nettie (Kelly McGillis). She has a son being raised by a drunken husband. For a while, she thinks the whorehouse would be a better place to raise him. Eventually, she changes her mind.

Review:
Lots of folks have probably looked at the title and the subject matter and figured they're in for a fun romp of a movie, old West style with a broad dash of sex added in for good measure.
If so, they've been mightily disappointed. This is a serious look at the women working inside the bordello, and theirs is not a happy or satisfying life. And it's difficult to perceive anything that happens in the movie as "sexy."
A film taking that approach is admirable, perhaps. The problem is that, outside the experiences of the women living inside Annie Ryan's house, there's no plot to follow. The result: the film is both bleak and boring.
Kelly McGillis was nearly a decade removed from her starring role in "Top Gun" (1986) when this film was made. You might also recognize Lisa Jakub in the role of Georgia; she played the daughter in Mrs. Doubtfire" (1993).
Directed by:
Jon Sanders
Cast:
Brenda Fricker … Annie Ryan
Kelly McGillis … Nettie
Meret Becker … Katya
Bronagh Gallagher … Eileen
Lisa Jakub … Georgie
Anna Mottram … Ada
Dwayne Brenna … Oscar
Bob Clout … Judge
Kent Allen … Dr. Belcher
aka: Painted Angels
Runtime: 110 min.
Memorable lines:
Ada: "Georgie, if I had your looks, I'd sell my soul. Or what's left of it."
Georgie: "Don't I know it. I'm wasting in this place. I should be in some smart city house, drinking wine out of crystal glasses."
Katya: "I knew a girl once. She was a dancer. Lost both her legs in a railroad accident. Only a pair of stumps left. They couldn't get enough of her. She was pretty special too."
Georgia: "German bitch."
Georgia, upset over Ada being forced out of the whorehouse, partly because she just bedded Ada's main client: "I never should have let him touch me."
Annie Ryan: "What do you think I got you here for in the first place? You're what they all want. You're fresh meat."
Katya: "I slit her throat, that bitch. Telling me to be quicker. If I could make them f— faster, she thinks I wouldn't? She should take on a few herself."
Eileen: "You know why she doesn't? That's where she keeps her money."
Georgia: "Last time I was in front of a preacher, I was on my knees."
Annie Ryan, upon finding one of her girls dead from suicide and another sickened: "Jesus Christ. Not again. Stupid, stupid girls."
Tagged with:
Anna Mottram
•
Bob Clout
•
Brenda Fricker
•
Bronagh Gallagher
•
Dwayne Brenna
•
Jon Sanders
•
Kelly McGillis
•
Kent Allen
•
Lisa Jakub
•
Meret Becker
•
Wicked Wicked West (1998)