Those Redheads from Seattle (1953)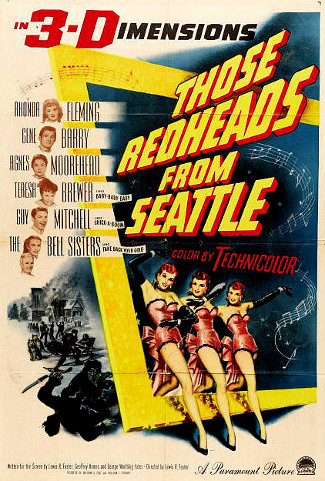 A newspaper editor named Vance Edmonds is pushing for the closure of The Klondike Club, a baldy house in Dawson, Alaska, owned by Johnny Kisco (Gene Barry).
Kisco isn't pleased by the constant criticism in the press, but his bar manager Mike Yurkil is the one who takes action. He sets fire to the newspaper's warehouse, then ambushes Edmonds when he points the finger right back at the Klondike Club.
Meanwhile, back in Seattle, Mrs. Edmonds (Agnes Morehead) has received a letter from her husband saying he can't afford to bring the rest of the family to Alaska yet. But she reads between the lines: Her husband needs help and supports.
So she whisks her four daugthers — Kathie (Rhonda Fleming), Pat (Teresa Brewer), Connie (Cynthia Strother) and Nellie (Kay Strother) — off to Alaska where they hitch a ride to Dawson on the sleds of none other than Johnny Kisco.
Kisco intends to tell the five woman that Vance Edmonds has been shot and is clinging to life. But he takes a quick liking to Kathie and doesn't have the heart to break the news to her family.
But trouble looms in Dawson: Vance Edmonds has died. His family decides to stay on, at least until they can sell the newspaper. Naturally, they learn about the rumored role The Klondike Club and its management played in the fire and in Edmonds' death.
That not only threatens Kisco's budding romance with Kathie, but also the growing love between Connie and Joe Keenan, who entertains at The Klondike Club.

Review:
This winds up being more of a musical comedy than a Western, even if there is a climatic shootout on the snow-covered cliffs of Alaska.
Director Lewis Foster finds time for five full-fledged musical numbers, which isn't surprising considering Teresa Brewer and the Srother sisters were better known as singers than actresses. In fact, this marked Brewer's only big-screen appearance and one of just two films for the Strother sisters, who performed musically as The Bell Sisters.
Most of the comedy stems from the family's attempts to earn enough money to live in Dawson. The mom becomes a dress maker, though not a very good one. Kathie tries making money by offering typing services, only to find most of her customers can't pay in cash. Nellie's cat has had a litter of kittens; she decides to sell them. Young Pat decides to sing at church, but finds that doesn't pay very well.
Connie does find viable employment as the nurse at the local infirmary. And Keenan convinces Pat to become a song and dance girl at The Klondike Club, a job she accepts even though it causes a split with her mom, who considers any such entertainly completely immoral.
Anges Moorehead, who plays the mom here, was 53 when the film was made. She'd land her best known role a decade later, as Endora on the hit TV show "Bewitched."
Cast:
Rhonda Fleming … Kathie Edmonds
Gene Barry … Johnny Kisco
Agnes Moorehead … Mrs. Edmonds
Guy Mitchell … Joe Keenan
Teresa Brewer … Pat Edmonds
Cynthia Strother … Connie Edmonds
Kay Strother … Nellie Edmonds
Jean Parker … Liz
Roscoe Ates … Dan Taylor
William Pullen … Rev. Petrie
John Kellogg … Mike Yurkil
Frank Wilcox … Vance Edmonds
Runtime: 90 min.
Songs:
"Mr. Banjo Man" by Teresa Brewer
"Take Back Your Gold" by The Bell Sisters
"Chick-a-Boom" by Guy Mitchell
"Baby, Baby, Baby" by Teresa Brewer
"I Guess It Was You All the Time" by Guy Mitchell and Teresa Brewer
Memorable lines:
Johnny Kisco to Kathie Edmonds: "If you want me, crook your little finger and I'll come running."
Connie Edmonds, nursing in the bitter cold of Alaska: "To relieve the pain, you might try holding your finger in a bucket of snow."
Joe Keenan: "Oh, I see. And if the finger drops off, it won't hurt any more."
Tagged with:
Agnes Moorehead
•
Cynthia Strother
•
Frank Wilcox
•
Gene Barry
•
Guy Mitchell
•
Jean Parker
•
John Kellogg
•
Kay Strother
•
Lewis R. Foster
•
Rhonda Fleming
•
Roscoe Ates
•
Teresa Brewer
•
Those Redheads from Seattle (1953)
•
William Pullen