Tomahawk (1951)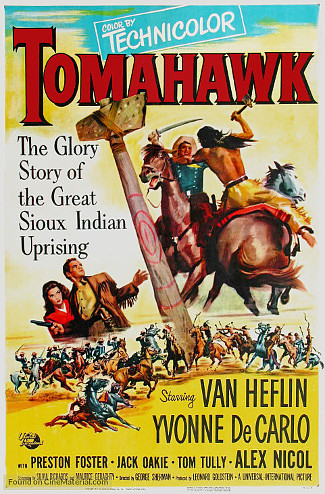 Van Heflin plays Jim Bridger, who warns against building a fort along the Boozeman Trail in Sioux territory, but agrees to scout for the cavalry once they've done so.
He feels an allegiance to the commanding officer, Col. Carrington (Preston Foster), but there's an ulterior motive behind his decision.
One of the junior officers is Lt. Rob Dancy (Alex Nicol), who boasts of serving under Chivington in the Sand Creek Massacre. Bridger's wife and son were killed in the incident; he's been tracking the man who killed them ever since.
Meanwhile, along the Boozeman Trail, Red Cloud and the Sioux vow not to attack — unless Sioux blood is shed once the fort is in place.
Naturally that's happens. First, Dancy shoots a young Indian boy trying to steal a pony, then tries to hide that fact. Then Bridger himself is forced to kill a brave after traveling entertainer Julie Madden (Yvonne DeCarlo) is attacked in an ill-advised horse ride outside the fort.
Once that happens, Bridger finds himself fighting on the side of the white's against a foe with whom he sympathizes. But he never forgets that old grudge with Darcy.

Review:
A decent entry into the sub-genre of cavalry versus Indians, with a well-filmed climatic showdown as troopers guide wagons filled with new breech-loading rifles back to the fort.
But the film heaps one implausible coincidence on top of another over the course of the last 30 minutes of so, making it less enjoyable than it should have been.
DeCarlo is fetching, of course, as a young lady wooed by Darcey, but who finds herself smitten with Bridger, a man she's unlikely to convince to settle down.
Susan Cabot plays the shapely sister of Bridger's late wife. She travels with him; he protects her. But he isn't the squaw man everyone — including DeCarlo — assumes him to be.
Cast:
Van Heflin … Jim Bridger
Yvonne De Carlo … Julie Madden
Alex Nicol … Lt. Rob Dancy
Preston Foster … Col. Carrington
Jack Oakie … Sol Beckworth
Tom Tully … Dan Castello
Rock Hudson … Cpl. Burt Hanna
Susan Cabot … Monahseetah
John War Eagle … Red Cloud
Arthur Space … Capt. Fetterman
Russ Conway … Major Horton
Ann Doran … Mrs. Carrington
Stuart Randall … Sgt. Newell
Runtime: 82 min.
aka: "Battle of Powder River"
Memorable lines:
Jim Bridger, after an outburst from Red Cloud at the Laramie Conference: "He said the white man's words are written in water. In other words, gentlemen, he said you're all a pack of liars and this peace conference is a fake."
Julie Madden: "You don't have to live wild like you do. You could be a big man."
Jim Bridger: "I have my own idea of bigness."
Col. Carrington, musing about command's indifference to his need for reinforcement: "Let's hope (the supplies) it's rifles and powder. It could be a new mowing machine for the parade ground lawn."
Female in fort: "Did you ever notice, trouble seems to make us women forget differences. With men, it turns them into snapping dogs."
Dan: "Julie, Julie, you don't honesty think I'm so blind that I don't know what ails you?"
Julie: "What ails me?"
Dan: "That way you've been slam-banging around here lately. You think I don't know why?"
Julie: "There's no special reason."
Dan: "Oh, yes there is. A man's got you surrounded. Only he's a man who won't be harnessed to your kind of life."
Julie Madden, upon hearing how Jim Bridger lost his Indian wife and son in Chivington's massacre of a Cheyenne village: "I'm sorry."
Bridger: "You sorry in the way you'd be if I told you my pet dog was killed. You're sorry for me. Not for her. Not for Nantah (his wife). She was only an Indian."
Col. Carrington, after the Fetterman Massacre: "Now they send the ammunition. Well, the wagons will be helpful for carrying our dead."
Tagged with:
Alex Nicol
•
Ann Doran
•
Arthur Space
•
George Sherman
•
Jack Oakie
•
John War Eagle
•
Preston Foster
•
Rock Hudson
•
Russ Conway
•
Stuart Randall
•
Susan Cabot
•
Tom Tully
•
Tomahawk (1951)
•
Van Heflin
•
Yvonne DeCarlo