Tonka (1958)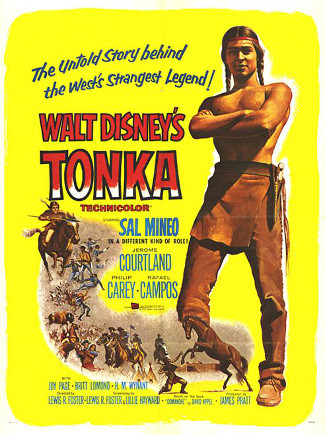 Sal Mineo is White Bull, a young Sioux eager to prove his manhood. So he borrows a rope he's forbidden from using and tries to catch a wild horse that catches his eye.
He fails, provokes the ire of Yellow Bull, leader of the hunting party and returns to his mother's camp in disgrace.
But he wonders back out into the wild looking for a bow and arrow he lost and discovers the wild horse has gotten tangled in the aforementioned rope. Slowly but surely, he tames the horse he names Tonka Waken — the Great One.
But trouble is on the horizon. Once back in camp, Yellow Bull exercises his authority and seizes the horse. Rather than see Tonka be mistreated, White Bull sits the horse free.
He winds up in possession of the U.S. Cavalry, then in the hands of Capt. Miles Keough, another man who appreciates the horse's strength, quickness and bravery.
He rides Tonka — now known as Comanche — into the Battle of the Little Bighorn with Custer. Only Tonka/Comanche would survive.

Review:
Disney takes the story of Comanche and turns it into an entertaining family Western, one that's quite solid as long as you keep in mind that the primary target audience was young adolescents.
The fight at the Little Bighorn is surprisingly well done. Sal Mineo, about 19 when the film was released, turns in a solid performance, as does Philip Carey in the role of Capt. Keough.
Longtime TV actor Britt Lomond gets the role of the blood-thirsty Custer. He's best remembered for playing Zorro's villain on TV in the early 1950s.
The roles of Tonka and White Bull at the Battle of the Little Big Horn are far-fetched, of course. But, again, remember the audience Disney had in mind.
Cast:
Sal Mineo … White Bull
Philip Carey … Capt. Keough
Jerome Courtland … Lt. Nowlan
Rafael Campos … Strong Bear
H.M. Wynant … Yellow Bull
Joy Page … Prairie Flower
Britt Lomond … Gen. Custer
Herbert Rudley … Capt. Benteen
Sydney Smith … Gen. Terry
John War Eagle … Sitting Bull
Gregg Martell … Cpl. Korn
Slim Pickens … Ace
Robert Buzz Henry … Lt. Crittenden
Runtime: 97 min.
Title tune: "Tonka"
Memorable lines:
Yellow Bull, after White Bull has "borrowed" and lost his prized rope: "From now on, you will walk with the women and the dogs."
Yellow Bull's mother: "Vengeance is a poor replacement or honest achievement, my son."
White Bull. after taming Tonka: "All that remains now is to go on a hunt — to kill a buffalo. And to take a scalp in battle. We will do these things together, Tonka. You'll take me to the hunt. And you'll ride me to the battle."
Capt. Keough: "That horse runs like a scared Comanche with a load of buckshot in his breeches."
Custer: "Capt. Benteen's putting together a small patrol to run down some Indians. They burned a wagon train, ran off with two white women. They must be caught and punished."
Capt. Keough: "And the women rescued."
Custer: "It's more important to teach those red savages who's running this country. They must learn quickly. Or be exterminated."
Tagged with:
Britt Lomond
•
Gregg Martell
•
H.M. Wynant
•
Herbert Rudley
•
Jerome Courtland
•
John War Eagle
•
Joy Page
•
Lewis R. Foster
•
Philip Carey
•
Rafael Campos
•
Robert "Buzz" Henry
•
Sal Mineo
•
Slim Pickens
•
Sydney Smith
•
Tonka (1958)