Ulzana's Raid (1972)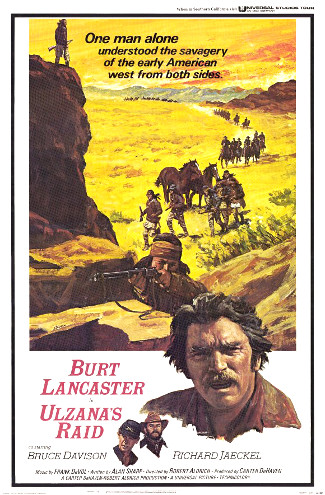 Burt Lancaster plays McIntosh, a scout the cavalry turns to when Ulzana and a handful of Apaches break reservation.
The major wants him to find out what Ulzana's intentons are. McIntosh already knows the answer: Ulzana intends to kill, rape and torture as much as possible, likely working his way toward the Mexican border as he does so.
So the major sends out a small patrol to bring Ulzana back. McIntosh finds himself and fellow scout Ke-Ni-Tay (Jorge Luke) providing advice to green Lt. Garnett DeBuin (Bruce Davison).
DeBuin is outraged by the savagery he encounters — burning men alive seems to be one of Ulzana's favorite pasttimes. The young officer wants to race to the defense of settlers in harm's way.
But McIntosh urges patience and caution. The first to make a mistake in this treacherous game of cat and mouse is likely to wind up doing the most burying.

Review:
The best of Lancaster's later Westerns, and you won't find many cavalry vs. Indian films handled better.
Yep, it's a bit violent. In one memorable scene, a trooper is escorting a buckboard carrying a mother and her son back to the fort when the Apaches show up.
Seeing he's outnumbered, he promptly shoots the woman between the eyes, swoops the boy out of the wagon and tries to make an escape. When that fails, the trooper blows his own brains out. His chest is then cut open by the Apaches, who toss around his heart.
But the violence adds to the film's realism, and the reality facing our young lieutenant. He always thought a lack of Christian charity on the part of whites was the reason for the trouble with the Apaches. He quickly comes to realize the Indians have their own ways and beliefs that have little to do with Christian charity.
Jorge Luke turns in a solid performance as Ke-Ni-Tay, the Apache scout who tries to explain those ways to DeBuin. Lancaster is at his subdued best as the scout who tries to keep the lieutenant alive.
Cast:
Burt Lancaster … McIntosh
Bruce Davison … Lt. Garnett DeBuin
Jorge Luke … Ke-Ni-Tay
Richard Jaeckel … Sergeant
Joaquin Martinez … Ulzana
Lloyd Bochner … Capt. Gates
Karl Swenson … Rukeyser
Douglas Watson … Maj. Cartwright
Dran Hamilton … Mrs. Riordan
John Pearce … Corporal
Gladys Holland … Mrs. Rukeyser
Richard Bull … Ginsford
Margaret Fairchild … Mrs. Ginsford
Aimee Eccles … McIntosh's Indian woman
Otto Reichow … Steegmyer
Dean Smith … Horowitz
Larry Randles … Mulkearn
Richard Farnsworth … Trooper
R.L. Armstrong … Trooper
Runtime: 100 min.
Memorable lines:
McIntosh: "How many troopers does the major intend to put out?"
Maj. Cartwright: "That's a decision I won't be able to make until I know the strength of the hostile force."
Capt. Charlie Gates: "And their probable intention."
McIntosh:" Their probable intention is to burn, maim, torture, rape and murder, Charlie."
Lt. Garnett DeBuin: "Sir, my father believes it's a lack of Christian feeling toward the Indian that it the root of our problems with them."
Maj. Cartwright: "From a pulpit in Philadelphia, that's an easy mistake to make."
Maj. Cartwright: "Do you know what Gen. Sheridan said of this country, lieutenant?"
Lt. DeBuin: "No, sir."
Maj. Cartwright: "He said if he owned hell and Arizona, he'd live in hell and rent out Arizona."
Lt. DeBuin: "I think he said that about Texas, sir."
Maj. Cartwright: "Maybe. But he meant Arizona."
Lt. DeBuin: "Do you hate Apaches, Mr. McIntosh."
McIntosh: "No."
Lt. DeBuin: "Well, I do."
McIntosh: "Well, it may not make you happy, lieutenant, but it sure won't make you lonesome. Most white folks around here feel the same way you do."
McIntosh: "Remember the rules, lieutenant. First one to make a mistake gets to bury some people."
Sergeant: "The army don't take very kindly to sergeants shooting their horses."
McIntosh: "Maybe not, but they'll take a lot less kindly to seven Apache bucks riding off on them."
Tagged with:
Aimee Eccles
•
Bruce Davison
•
Burt Lancaster
•
Dean Smith
•
Douglas Watson
•
Dran Hamilton
•
Gladys Holland
•
Joaquin Martinez
•
John Pearce
•
Jorge Luke
•
Karl Swenson
•
Larry Randles
•
Lloyd Bochner
•
Margaret Fairchild
•
Otto Reichow
•
R.L. Armstrong
•
Richard Bull
•
Richard Farnsworth
•
Richard Jaeckel
•
Robert Aldrich
•
Ulzana's Raid (1972)