Union Pacific (1939)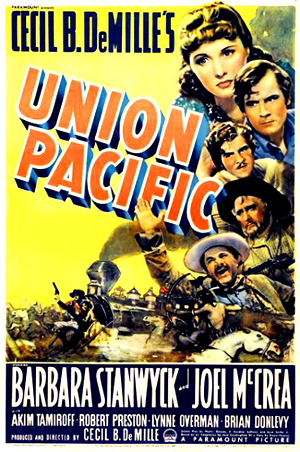 Joel McCrea is Jeff Butler, a troubleshooter hired by Gen. Dodge to keep peace and order as the Union Pacific races the Central Pacific to Ogden,
But financier Asa Barrows, a backer of the Central Pacific, figures there's big money to be made if the Central Pacific wins that race. And he has Sid Campeau (Brian Donlevy) to create all sorts of end-of-track troubles and temptations for Union Pacific employees.'
Among those under Campeau's employ — dashing young Dick Allen (Robert Preston), an old war buddy of Butler's. And it turns out they'll have more to fight over than the fate of the Union Pacific. They both come under the spell of the same girl, a spirited engineer's daughter named Mollie Monahan (Barbara Stanwyck).
All three wind up trapped in the same railroad car when Union Pacific's other major obstacle comes calling — warring Indians determined to stop the railroad in its march West.

Review:
Lots of making of the railroad Westerns would follow, including a glut of such films in the 1950s. None would top Cecil B. DeMille's 1939 classic.
The big set piece comes when marauding Indians topple a water tower, bringing it crashing down on an engine, wrecking an entire train, which just happens to be carrying Mollie, Jeff and Dick. For 1939, the special effects and the Indian attack that follows are impressive.
But what carries the film is the love triangle between the three stars. Stanwyck is a delight as the young woman who would marry a man she doesn't love to save the life of the one she does. And Preston, in just his fourth film, turns on the charm and charisma, providing a nice balance for McCrea's straight-forward, strong-willed hero.
Robert Barrat and Anthony Quinn play trouble makers under Campeau's employ; Akim Tamiroff played Fiesta, a whip-wielding sidekick who helps watch over Butler along with buddy Leach Overmile.
Cast:
Barbara Stanwyck … Mollie Monahan
Joel McCrea … Jeff Butler
Akim Tamiroff … Fiesta
Robert Preston … Dick Allen
Lynne Overman … Leach Overmile
Brian Donlevy … Sid Campeau
Robert Barrat … Duke Ring
Anthony Quinn … Cordray
Stanley Ridges … Gen. Casement
Henry Kolker … Asa M. Barrows
Francis McDonald … Gen. Dodge
Willard Robertson … Oakes Ames
Harold Goodwin … Calvin
Evelyn Keyes … Mrs. Calvin
Richard Lane … Sam Reed
William Haade … Dusky Clayton
Regis Toomey .. Paddy O'Rourke
J.M. Kerrigan … Monahan
Fuzzy Knight … Cookie
Harry Woods … Al Brett
Lon Chaney Jr. … Dollarhide
Joseph Crehan … Gen. Grant
Julia Faye … Mame
Sheila Darcy … Rose
Runtime: 135 min.
Memorable lines:
Gen. Dodge to Butler: "You're the law, and it's up to you to smash anything that threatens to delay us. That's all there is."
Dick Allen, after Butler has kicked one of Campeau's men off the train for shooting an Indian: "He's sure going to be unpopular."
Mollie Monahan: "Not with me."
Mollie Monahan, after the unarmed Paddy O'Rourke is shot playing poker: "And what will you tell his widow, you men who run this — this hell on wheels? That's what it is — a hell on wheels that claims a life for every day of the year."
Mollie: "Did you never know that flirting gets into a woman's blood like fighting gets into a man. Now a girl begins coquetting, to discover if she has the power. Then she goes looking, like a fighter after a bully for the hardest man to conquer. But it's never the man she wants, but the pleasure of bringing him to her feet."
Butler: "Til the right man comes along and gives her the spanking she deserves."
Dick Allen, about Mollie's request that he return the train payroll: "The first time I've ever discarded aces for a queen."
Butler about Campeau: "He called you a cut-throat, Fiesta."
Fiesta: "He knows me pretty well."
Dick Allen: "You're all aces, bucko. But you're in love with Mollie and don't you ever forget — she's my wife."
Butler: "I might. She wouldn't."
Butler to Mollie: "Some of your sweetest got into my blood. I guess it's there for life."
Tagged with:
Akim Tamiroff
•
Anthony Quinn
•
Barbara Stanwyck
•
Brian Donlevy
•
Cecil B. DeMille
•
Evelyn Keyes
•
Francis McDonald
•
Fuzzy Knight
•
Harold Goodwin
•
Harry Woods
•
Henry Kolker
•
J.M. Kerrigan
•
Joel McCrea
•
Joseph Crehan
•
Julia Faye
•
Lon Chaney Jr.
•
Lynne Overman
•
Regis Toomey
•
Richard Lane
•
Robert Barratt
•
Robert Preston
•
Sheila Darcy
•
Stanley Ridges
•
Union Pacific (1939)
•
Willard Robertson
•
William Haade