Valdez is Coming (1971)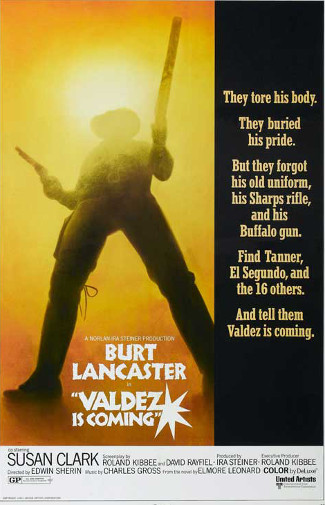 Burt Lancaster is Bob Valdez, a Mexican and town constable. He comes upon a standoff. Lawful citizens, led by cattleman Frank Tanner, have a black man and his woman holed up in a shack.
Tanner suspects the man of killing his lover's husband. Valdez tries to intervene, but instead winds up killing the man in self defense, only to discover he was innocent.
Determined to collect $200 to give to his widow, Valdez approaches the well-off Tanner for half of the money. If he gets that, town fathers have agreed to pitch in the other $100.
He's beaten instead, then sent off tied to a cross, presumably to die.
But Valdez is a determined man. He plans to get the $100 from Tanner, even if that means he has to capture Tanner's lover (Susan Clark) and hold her for ransom.
Besides, he previously served in the cavalry as an accomplished Apache killer, trained in the art of war, skillful with a buffalo gun.
He'd better be. Tanner has a small army of men, led by El Segundo, to track Valdez down. And R.L. Davis, a young gun itching for a chance to work for Tanner, also is eager to make a name for himself at Valdez's expense.

Review:
Well-done Western from later in Lancaster's career, even if his role as a Mexican constable seems a stretch.
He served as executive producer and hand-picked successful stage director Edwin Sherin to guide the project, though he had no film experience.
In addition to the main plot, the film attacks racism against Mexicans in the West. Valdez is constantly underestimated by Tanner, largely because he's "a greaser."
This movie marked the film debut for Jon Cypher in the role of Tanner and Richard Jordan as the young gunman, a role he would reprise in another Lancaster film, "The Lawman."
It was the final film for veteran actor Frank Silvera, who plays Diego, a Mexican rancher who pays a high price for being a friend to Valdez. In fact, Silvera died at age 55 of an accident electrocution a year before "Valdez is Coming" was released.
Cast:
Burt Lancaster … Bob Valdez
Susan Clark … Gay Erin
Frank Silvera … Diego
Jon Cypher … Frank Tanner
Richard Jordan … R.L. Davis
Barton Heyman … El Segundo
Phil Brown … Malson
Ralph Brown … Beaudry
Lex Monson … Rincon
Werner Hasselmann … Sheriff
Sylvia Poggioli … Segundo's girl
Jose Garcia Garcia … Carlose
Maria Montez … Anita
Runtime: 90 min.
Memorable lines:
Earl, a townsman, as Valdez takes up a collection for the widow: "Good idea. You got three or four dollars there."
Valdez: "It's not much."
R.L. Davis: "For Christ's sake, she'll be the richest squaw on the whole reservation."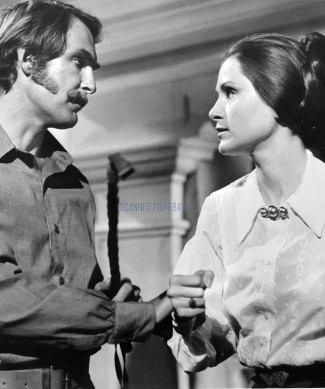 Gay Erin: "You've killed men without caring what people think."
Frank Tanner: "I don't like them thinking I had to kill one to get his wife. They're going to know you came to me because you wanted to."
El Segundo, watching Gay Erin on on Tanner's balcony: "She never smiles. If she were my woman, I would make her smile."
Frank Tanner, when Valdez requests $100 for the widow: "Look, you, I don't know how you horseshit those people into giving a greaser a tin star, but you don't horseshit Frank Tanner."
El Segundo: "You ever hunt buffalo?"
Valdez: "Apache."
Ed Segundo: "I knew it. When?"
Valdez: "Before I knew better."
Tagged with:
Barton Heyman
•
Burt Lancaster
•
Edwin Sherin
•
Frank Silvera
•
Jon Cypher
•
Jose Garcia Garcia
•
Lex Monson
•
Maria Montez
•
Phil Brown
•
Ralph Brown
•
Richard Jordan
•
Susan Clark
•
Sylvia Poggioli
•
Valdez is Coming (1971)
•
Werner Hasselmann