Way Out West (1937)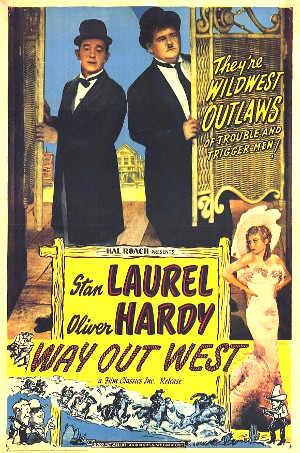 Stan and Ollie are headed West to deliver the deed to a gold mine to Mary Roberts, a young woman working as a maid in a local saloon.
But when Ollie slips and tells saloon owner Mickey Finn why they're in town, he decides to have his star performer, Lola Marcel, pose as Mary so they can swipe the gold mine.
Well, they succeed in getting the deed, but Stan and Ollie are determined to correct their mistake, if doing so doesn't kill them.
Run out of town by the sheriff, they slip back at night. They even manage to get back into the saloon after several bundled attempts. But will they get the deed back?
Review:
This being a Laurel and Hardy movie, the plot, of course, is merely an excuse to string together a bunch of gags, beginning with the opening when Ollie's efforts to hitchhike a ride into town aren't very successful. Until he reveals his leg, bringing the stage to a screeching halt — just as Claudette Colbert had done in the smash hit "It Happened One Night" (1934).

Decades later, some of those gags come off much funnier than others, including the prolonged scramble for the deed between Stan, Ollie, Lola and Mickey Finn. And while Stan might have trouble hitching a ride with his thumb, he has no trouble using that thumb as a match, a trick Ollie tries to duplicate throughout the film.
There are musical interludes too, including a performance by the Avalon Boys with Chill Wills as their lead singer. As for Dinah in the credits below — that's the mule who helps Stan and Ollie break back into the saloon. She also co-starred with the comedic duo in 1932's "Music Box."
Cast:
Stan Laurel … Stanley
Oliver Hardy … Ollie
Sharon Lynn … Lola Marcel
James Finlayson … Mickey Finn
Rosina Lawrence … Mary Roberts
Stanley Fields … Sheriff
Vivien Oakland … Sheriff's wife
Dinah … herself
Runtime: 67 min.
Memorable lines:
Stanley, when the bartender inquires about why they want to see Mary Roberts: "You see it's private. Her father died and left her a gold mine, and we're not supposed to tell anyone but her."
Micky Finn:, on whether she can pass herself off as Mary Roberts: "Think you can do it?"
Lola Marcel: "Can I do it? For a gold mine, I could be Cleopatra."
Stanley: "We'll get that deed or I'll eat your hat."
Oliver: "That's what I call determination."
Tagged with:
Dinah
•
James Finlayson
•
James W. Horne
•
Oliver Hardy
•
Rosina Lawrence
•
Sharon Lynn
•
Stan Laurel
•
Stanley Fields
•
Vivien Oakland
•
Way Out West (1937)