Why Go on Killing? (1965)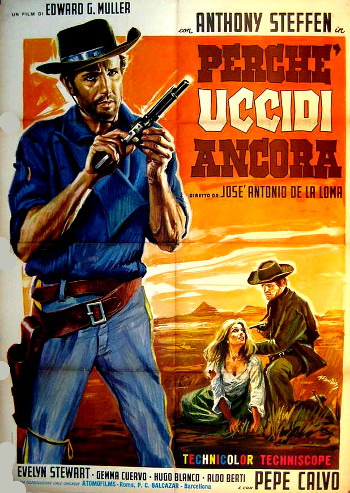 Anthony Steffen plays Steven McDougall, who deserts from the cavalry to return home and avenge the death of his father.
At some point in the past, his father was responsible for the crippling of a Mexican rancher named Lopez (Jose Calvo).
So Lopez has Donald McDougall tied to a tree. He fires the first shot into his body, then has each of his men do the same until McDougall is dead, riddled with bullets.
Now, hearing that Steven McDougall has returned and knowing his intent, Lopez dispatches three of his men to hunt him down and kill him.
They try to ambush McDougall during a visit to his father's grave. But McDougall manages to gun down all three.
And so a new round of killings begin, even though McDougall is in love with Lopez's daughter Pilar and even though he's warned the vengeance trail could endanger his sister Judy (Ida Galli) and their uncle.
After all, gun-running has left Lopez a rich man. And unlike Steven McDougall, Lopez can hire all the killers he needs.

Review:
This marked Steffen's first outing in an Italian Western and it's a straight-up, unadorned revenge story.
The women — Judy McDougall and Pilar Lopez — beg for the killing to stop. And the men go right on killing.
The opening is very well done. The ending is handled pretty well too.
In between, there's lot of riding around and almost non-stop action as the revengers and those hiding from the revengers seem to find one another way too conveniently.
In fact, the only person who can't seem to find Steven McDougall whenever hew wants is the cavalry lieutenant sent to bring him in for desertion.
Directed by:
Jose Antonio de la Loma
Cast:
Antonio De Teffe … Steven McDougall
as Anthony Steffen
Ida Galli … Judy McDougall
as Evelyn Stewart
Jose Calvo … Lopez
as Pepe Calvo
Aldo Berti … Gringo, hired killer
as Richard McMoore
Gemma Cuervo … Pilar Lopez
as Jennifer Crowe
Hugo Blanco … Manuel Lopez
Franco Pesce … Sam, the undertaker
as Frank Campbell
Stelio Candelli … Lt. Driscoll
as Stanley Kent
Franco Latini … Jose, Sam's helper
Armando Guarnieri … Andy & Donald McDougall
Nino Musco … John, the bartender
Ignazio Spalla … Rojo, Lopez's man
as Juan Sanchez
Runtime: 91 min.
aka
Perche uccidi ancora
Blood at Sundown
Blue Summer
Stop the Slayings
Score: Felice Di Stefano
Memorable lines:
Eddie McDougall to Steven: "Revenge, son, will only bring more sorrow for us."
Lopez to Judy McDougall: "Just don't give us any trouble, or I'll be forced to ruin that pretty face."
Lopez to his daughter Pilar, as she pleads for mercy for Judy McDougall: "My son was killed by a McDougall. So don't expect any pity from me!"
Gringo to Steven McDougall: "You take a deep breath, cause you ain't gonna be breathing much longer."
Trivia:
This film is also known as "Blood at Sundown," but "Why Go on Killing?" is closer to the direct Italian translation of the original title: "Why Kill Again." Most confusing of all is the fact that a 1966 film starring Anthony Steffen and Gianna Garko is also known as "Blood at Sundown."
Tagged with:
Aldo Berti
•
Anthony Steffen
•
Antonio de Teffe
•
Armando Guarnieri
•
Blood at Sundown (1965)
•
Blue Summer (1965)
•
Evelyn Stewart
•
Franco Latini
•
Franco Pesce
•
Frank Campbell
•
Gemma Cuervo
•
Hugo Blanco
•
Ida Galli
•
Ignazio Spalla
•
Jennifer Crowe
•
Jose Calvo
•
Juan Sanchez
•
Nino Musco
•
Pepe Calvo
•
Perche uccidi ancora (1965)
•
Richard McMoore
•
Stanley Kent
•
Stelio Candelli
•
Stop the Slayings (1965)
•
Why Go on Killing? (1965)