A Gunfight (1971)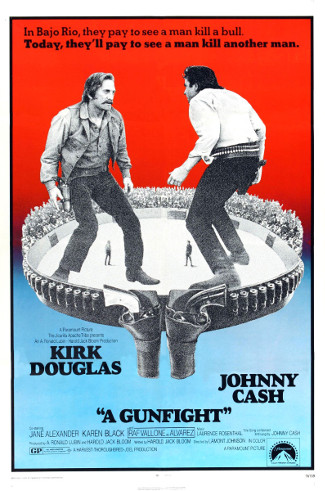 Kirk Douglas is Will Tenneray and Johnny Cash is Abe Cross in this tale of two legendary gunfighters past their prime.
Cross eeks out a living as a prospector. Tenneray is paid to hang out at the local saloon and talk of his past while convincing cowpokes to drink up.
But as soon as Cross rides into town, the locals start yapping about what might happen if they drew down on one another.
That gives Tenneray an idea — a staged gunfight to the death between the two men in a bull ring south of the border. They'd sell tickets — winner take all.
Reluctant at first, Cross relents when he discovers he can't even afford a horse to ride out of town.
Cross figures he has nothing to lose. Tenneray sees no future for himself, and is eager to impress the son he barely knows and the wife he recently returned to after years of wandering.

Review:
And so a staged gunfight it is, giving this Western a unique feel at a time when unique plots in American Westerns were about as rare as a buffalo on the plains in the late 1800s.
The film also benefits from its subplots. Tenneray has recently reconciled with his wife. During his absense, she took up with store owner Franco Alvarez, who still has feelings for her. He's the man who organizes the gunfight.
Then there's Jenny, the saloon girl Cross takes up with, the proverbial whore with a heart of gold, who worries over Cross, as much out of pity as affection.
One of the best scenes come when the gunfight is being organized and the men visit the arena where it will be held, in the middle of a bullfight. They watch the bull fight for its life. They watch it die. They watch it being dragged from the ring, a trail of blood left behind, knowing that a week later, one of them will meet the same fate.
The film was partly financed by the Jicarella Apache tribe, and Johnny Cash comes off better than you might imagine, though the scenes featuring he and Karen Black often strike a false note.
This marked the feature film debut for Keith Carradine, who has a great cameo as a young guman, and for Kirk Douglas' son Eric.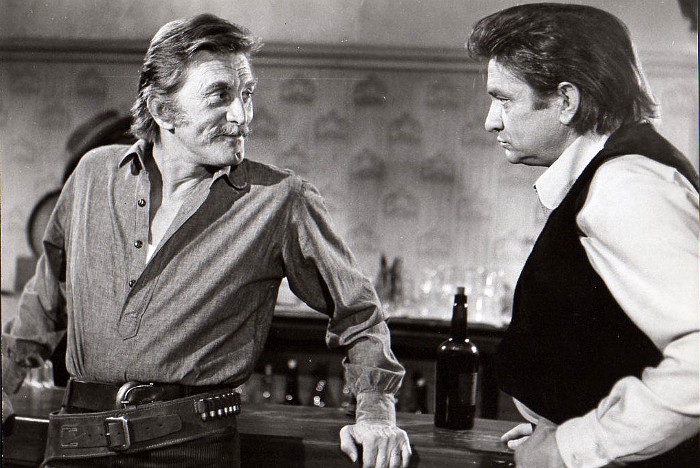 Directed by:
Lamont Johnson
Cast:
Kirk Douglas .. Will Tenneray
Johnny Cash … Abe Cross
Karen Black … Jenny Simms
Jane Alexander … Nora Tenneray
Dana Elcar … Marv Green
Robert J. Wilke … Marshal Tom Carter
Keith Carradine … Young gunfighter
Eric Douglas … Bud Tenneray
Raf Vallone … Franco Alvarez
James D. Cavasos … Newt Hale
Philip L. Mead … Kyle Briggs
George Le Bow …. Dekker
John J. Wallwork … Toby Leach
Neil Davis … Canbury
Runtime: 89 min.
Song: "A Gunfight"
by Johnny Cash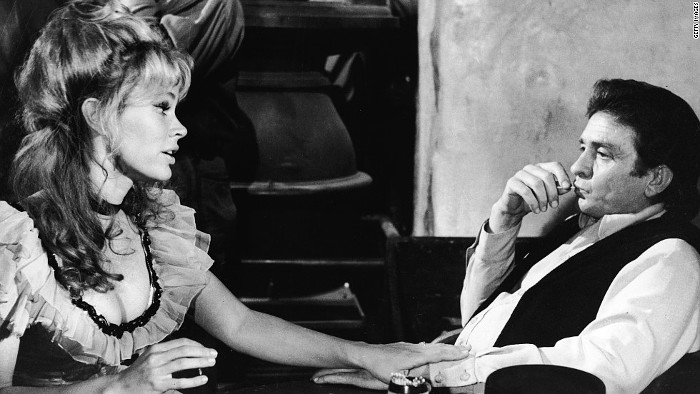 Memorable lines:
Will Tenneray: "Man goes on pretending long enough, he starts forgetting what he's become. Then he sees it in front of him."
Abe Cross: "I don't see you the same as me."
Tenneray: "Why? Because I got a wife and kid?"
Cross: "And a job."
Tenneray: "Job — suckering fools to buy drinks. Cept I wear my pants on the outside, I'm no different from Jenny you laid with last night."
Franco Alvarez, when Abe Cross and Will Tenneray propose their gunfight: "How can the winner live?"
Will Tenneray: "A lot better than he's living right now."
Will Tenneray, when his wife balks at the gunfight: "You can't lose a man if you ain't got one, and I ain't been much of that since I came back."
Will Tennerary: "Nora, for god's sake, what do you want from me?"
Nora Tenneray: "I want you to live. I want you to show your son that you don't have to kill somebody to live."
Will Tenneray: "Sounds fine in words. But it don't get a man what he wants."
Jenny to Abe Cross: "Oh, why do I fuss with a man who's likely to be buried tomorrow?"
Tagged with:
A Gunfight (1971)
•
Dana Elcar
•
Eric Douglas
•
George Le Bow
•
James D. Cavasos
•
Jane Alexander
•
John J. Wallwork
•
Johnny Cash
•
Karen Black
•
Keith Carradine
•
Kirk Douglas
•
Lamont Johnson
•
Neil Davis
•
Philip L. Mead
•
Raf Vallone
•
Robert J. Wilke