Colorado Territory (1949)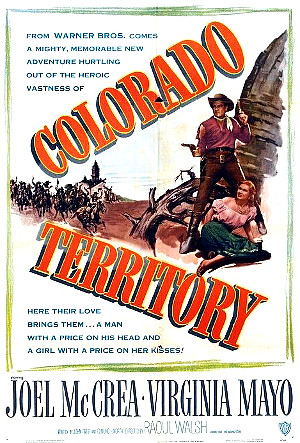 Joel McCrea plays Wesley McQueen, a bank robber sprung from jail to help a now-bedridden partner pull a train holdup. McQueen would prefer to go straight, buy a farm and settle down, but agrees to organize the job as a favor to the older man, who figures it will set him up for life.
But when he reaches the hideout, McQueen finds his gang includes Reno Blake and Duke Harris, a couple of hotheads who always seem to be sparring over something. And then there's Colorado Carson (Virginia Mayo), a girl Reno rescued from a saloon but who McQueen fears will be the fuel for more friction. He also meets the railroad employment who's providing the inside information, and wonders if he can be trusted.
Meanwhile, using the name Chet Rogers, McQueen has befriended Fred Winslow and his daughter Julie Ann (Dorothy Malone), who are moving to Colorado Territory from a worn out farm in Georgia. Winslow bought the new property sight unseen and it didn't turn out quite as advertised. McQueen helps the family and wonders if Julie Ann might be the girl he could settle down with.
Of course, that will have to wait until after the train holdup. And not too many of the people McQueen is tied in with prove to be trustworthy partners.

Review:
An excellent Western, from the imaginative jailbreak that opens the film to the memorable ending that's anything but fairytale. It sees McQueen holed up in an adobe city built into a cliff as Colorado negotiates for his life.
McCrea's laid-back acting style couldn't always be counted on to enliven his films, but he's excellent here as the outlaw who badly wants to go straight but agrees to do that "one last job." He's also haunted by memories of what might have been with a girl named Martha and is looking for someone to take her place.
But he's also suspicious of his partners, and those suspicions prove well founded, because there are double crosses at every turn. And not all of the people who turn on him are members of the outlaw gang.
This film is essentially the same director's "High Sierra" (1941), starring Humphrey Bogart, Ida Lupino and Joan Leslie. Henry Hull — Fred Winslow here — has a role in both films.
Cast:
Joel McCrea … Wesley McQueen
Virginia Mayo … Colorado Carson
Dorothy Malone … Julie Ann Winslow
Henry Hull … Fred Winslow
John Archer … Reno Blake
James Mitchell … Duke Harris
Basil Ruysdael … Dave Rickard
Ian Wolf … Homer Wallace
Harry Woods … Pluthner
Frank Puglia … Brother Thomas
Morris Ankrum … The Marshal
Runtime: 94 min.
Memorable lines:
Fred Winslow, after McQueen foils a stage holdup: "Look at that bullet hole." He indicates his hat. "If that stage had bounced up instead of down, that hole would have been right through my head."
Pluthner to McQueen: "Well, don't get any ideas you are through with us. You wouldn't last long cut off from the herd, McQueen. You're branded clean to the bone."
McQueen, when he meets his gang: "It reminds me of a little heist we planned in west Kansas about five or six years ago. One fella was smooth and slippery. The other was green and gabby. The third was just plain mean, from the top of his head to his boot heel. The next thing we know, there was a boxcar of soldiers coupled to that train. Too bad we never knew which one sent word to the soldiers. It would have been better for the other two if we had. Their monuments are right outside Boxville, Kansas. The prettiest little bone orchard you've ever seen. Little stone angels watching them."
Fred Winslow to McQueen, on how he was suckered in a land deal: "My boy, never buy a foot of land more than five miles from home and not until you've seen it felt it, tasted it and smelled it. And at that, you might get bamboozled."
McQueen: "I'll go up and cover the engine crew. I always wanted an engineer's watch."
Reno: "Why? They're never on time."
Colorado: "You can bust out of jails or mud holes like I was in, but you can't bust out of what you are."
McQueen: "You can if you're set on it."
Colorado: "Can, ya? Me. I was born under a chuck wagon. Never got much higher. Everything was a step up. Even getting hit by Reno was all velvet."
Lawmen as two robbers hang from nooses on the side of a boxcar: "That's a nice sight for anybody with a train-robbin' itch."
Colorado, spotting a smoke signal: "What does it mean?"
McQueen: "It means we're a couple of fools in a dead village dreaming about something that will probably never happen."
Tagged with:
Basil Ruysdael
•
Colorado Territory
•
Dorothy Malone
•
Frank Puglia
•
Harry Woods
•
Henry Hull
•
Ian Wolf
•
James Mitchell
•
Joel McCrea
•
John Archer
•
Morris Ankrum
•
Raoul Walsh
•
Virginia Mayo