Decision at Sundown (1957)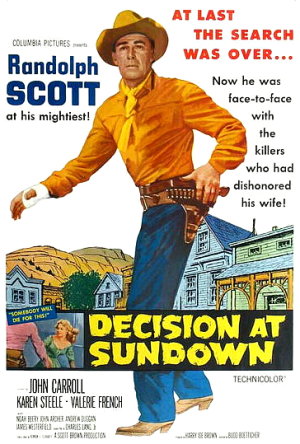 Randolph Scott is Bart Allison, a hardened man who arrives in the town of Sundown with his best friend (Noah Beery Jr. as Sam) intent on killing Tate Kimbrough (John Carroll).
He blames Kimbrough for seducing his wife; she eventually committed suicide. And in Kimbrough, he finds an adversary who runs Sundown and everyone in it. He also finds an adversary about to marry the prettiest girl in town, Lucy Summerton (Karen Steel).
Allison announces his intent to kill Kimbrough in the church where Tate's to be married. That stops the wedding. But instead of forcing an immediate showdown, Allison and Sam wind up taking refuge in a livery stable.
Early on, it's apparent most folks in Sundown are glad someone has finally challenged Kimbrough's authority. But that doesn't make the odds any better for Allison. Kimbrough has plenty of guns on his side, not to mention a sheriff who's bought and paid for.

Review:
Another of the solid films that resulted from the Scott-Boetticher collaboration. This one is a bit darker than most. Clay Allison is obsessed with vengeance, though it won't bring his Mary back and though his friend tries to tell him Mary wasn't the faithful type of that Kimbrough wasn't her first lover.
Valerie French plays the lover Kimbrough won't marry, but who probably cares for him more than the woman he will. Andrew Duggan is the sheriff obligated to fight Kimbrough's battles, and John Archer is the doctor who tries to spur the anti-Kimbrough faction in town to help Allison.
Cast:
Randolph Scott … Bart Allison
John Carroll … Tate Kimbrough
Karen Steele … Lucy Summerton
Valerie French … Ruby James
Noah Beery Jr. … Sam
John Archer … Dr. John Storrow
Andrew Duggan … Swede Hansen
James Westerfield … The Bartender
John Litel … Charles Summerton
Runtime: 77 min.
Memorable lines:
Allison to rancher Morley Chase: "Where I come from, we don't find it cause to celebrate when a man acts like a man."
Bart Allison, about Tate Kimbrough: "Glad to hear he's doing so well. When a man's riding high, the ground comes up and hits him a lot harder when he falls."
Sam: "Bart, I think you done a fool thing. After all that searching around, seems like you'd been satisfied to just kill him on sight."
Bart: "Even a rattler gives a warning."
Sam: "Yeah, well if they gave as much advance notice as you're giving that Kimbrough, rattlesnakes would be as out of date as them, dini-a-saurs."
Lucy Summerton, to Bart: "No man, including Tate Kimbrough, can take another man's wife away from him unless she wants to be taken. So maybe you didn't lose anything that was really very worthwhile."
Bartender: "Doc, if you'd been tending bar as long as I have, you wouldn't expect so much out of the human race."
Tagged with:
Andrew Duggan
•
Budd Boetticher
•
Decision at Sundown
•
James Westerfield
•
John Archer
•
John Carroll
•
John Litel
•
Karen Steele
•
Noah Beery Jr.
•
Randolph Scott
•
Valerie French