Dirty Dingus Magee (1970)
Frank Sinatra is Dingus Magee, part-time bronc buster for the stage line and a full-time, small-time scoundrel and crook.
He encounters old friend Hoke Birdsill (George Kennedy). Knowing Dingus' thieving ways, Hoke swears he only has $7 to his name.
Turns out that's not quite right, as Dingus finds out when he steals Hoke's derby hat, padded with lots of paper money.
So Dingus lights out and Hoke heads to Yearkey's Hole to demand that the law track down Dingus.
He soon discovers that bordello owner Belle Nops (Anne Jackson) is also the town mayor. She's more than happy to pin a badge on Hoke. And to share her bed with him.
So he sets out after Dingus, who's taken up with a pretty squaw named Anna Hot Wate. She loves to bim-bam and has a habit of calling him "Din-goose."
The chase only gets more intense when a stage driver — thinking he's about to be robbed by Dingus and his pretty accomplice — tosses a safe
off the stage and into the outlaw's hands.

Review:
Director Burt Kennedy piles on the jokes fast and furious in this comedy / sex farce of a Western. It works for the first 20 minutes of so. Then it all grows quite tiresome.
As of subplot, bordello owner Belle is urging lawman Hoke to find some way to stir up an Indian war. Seems the cavalry is thinking about moving out in search of more warlike Indians. And that would rob her girls of their best customers.
Jack Elam shows up midway through the film as John Wesley Hardin. He's mistaken as Dingus, prompting a prolonged shootout that serves little purpose other than to allow school marm Prudence Frost (Lois Nettleton) to bed a trio of aging actors.
Lovely Michele Carey winds up being the best thing about the film — but the production even flubs that by having a stunt double wear white leggings during long-distance action sequences so that it's oh-so-obvious that the film is using a stunt double.
If you're in the mood for a comedy Western, you can find much better.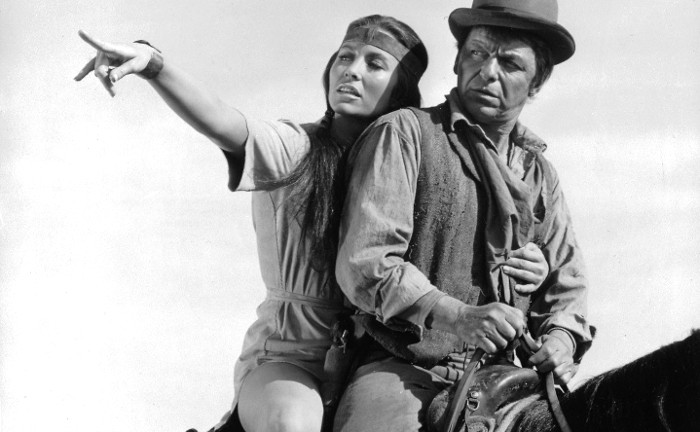 Directed by:
Burt Kennedy
Cast:
Frank Sinatra … Dingus Magee
George Kennedy … Hoke Birdsill
Anne Jackson … Belle Nops
Lois Nettleton … Prudence Frost
Michele Carey … Anna Hot Wate
Jack Elam … John Wesley Hardin
John Dehner …. Brig. Gen. George
Henry Jones … The Rev. Green
Harry Carey Jr. … Charles Stuart
Paul Fix … Crazy Blanket
Marya Thomas … China Poppy
Terry Wilson … Sergeant
Willis Bouchey … Ira Teasdale
Runtime: 91 min.
Title tune: "Dirty Dingus Magee"
performed by The Mike Curb Congregation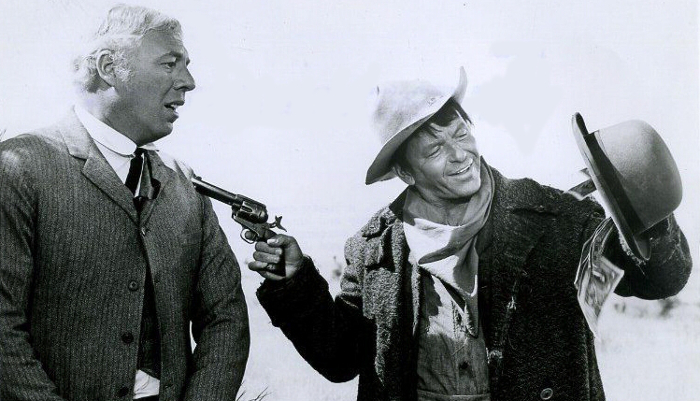 Memorable line:
One of Belle's whores to a cavalry trooper, as he rushes out of Bell's Place: "You forgot your cock." Then she hands him a chicken.
Anna Hot Wate, upon meeting Dingus: "You got a damn pretty face. We make bim-bam."
China Poppy: "Miss Belle say sheriff come see her."
Sheriff Hope Birdsill: "I can't right now."
China: "Miss Belle say you no come, she kick you in honorable ass."
Sheriff Hope Birdsill: "Why would the Army move?"
The Rev. Green: "To go where the Indians are. That's what they came out West for — to fight Indians."
Belle Nops: "What we need is a good massacre."
Sheriff Birdsill: "There ain't nothing but tame Indians around here, Belle."
Belle: "Well, stir 'em up."
Sheriff Birdsill: "How?"
Belle: "Break a treaty. Speak with a fork-ed tongue. How the hell should I know? I never started an uprising before."
Sheriff Hope Birdsill, practicing his shooting skills by shooting at a Dirty Dingus Magee wanted posted: "I got him right in the A."
Dirty Dingus Magee to Hoke: "Everytime I take my pants off, you come at me with a gun."
Brig. Gen. George: "Circle the wagons."
Sergeant: "We ain't got enough."
Brig. Gen. George: "Well, make a half moon."
Tagged with:
Anne Jackson
•
Burt Kennedy
•
Dirty Dingus Magee (1970)
•
Frank Sinatra
•
George Kennedy
•
Harry Carey Jr.
•
Henry Jones
•
Jack Elam
•
John Dehner
•
Lois Nettleton
•
Marya Thomas
•
Michele Carey
•
Paul Fix
•
Terry Wilson
•
Willis Bouchey