Django, the Bastard (1969)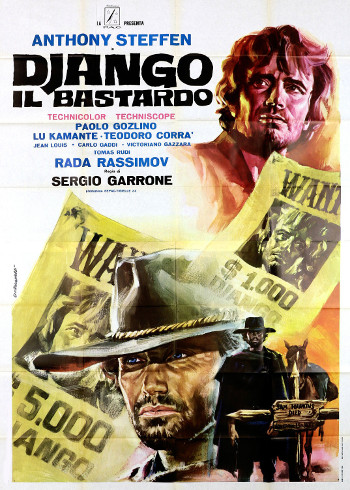 Anthony Steffen is Django, a former Confederate soldier who has spent 13 years tracking down the officers who turned traitor, allowing Union forces to trap the regiment with which he fought.
He finds two of those officers — Sam Hawkins and Ross Howard — announcing his presence in each case by delivering a grave marker emblazoned with their names and the date he arrived to gun them down.
Then he locates the third traitor, Rod Murdoch (Paolo Gozlino). He might be tougher to get to, since he's now a rich landowner who can hire all the guns he wants.
But Django nevertheless trails Murdoch to Desert City. It becomes a deserted city when Murdoch has all the residents forced out of town so he and his 20 hired guns can better defend themselves.
Django delivers his coffin.
Murdoch sends for reinforcements.
But even the man leading those reinforcements, an outlaw named Rowland, has a bad feeling about this job.

Review:
Not bad, not great Django film. It could have and should have been better, but the second half of the film is little more than a cat-and-mouse game. Except in this case the mouse is a ghostly presence with lots of tricks up his sleeves.
Luciano Rossi plays Murdoch's half-crazed younger brother Luke. He's a man who relishes doling out pain — like when he's dragging a man behind his buckboard — and is prone to fits of madness.
Rada Rassimov is his pretty blonde wife Alethea. She married Luke not out of love, but to get her hands on part of the Murdoch money. Rod doesn't trust her, but she's the one person with the ability to sooth Luke's troubled soul.
Rob Murdoch's mistrust is warranted. Alethea wouldn't mind siding with Django … if the price is right.
Directed by:
Sergio Garrone
Cast:
Antonio de Teffe … Django
as Anthony Steffen
Paolo Gozlino … Rod Murdoch
Luciano Rossi … Luke Murdoch
as Lu Kamante
Rada Rassimov … Alethea
Furio Meniconi … Sheriff Reagan
Teodoro Corra … William
Jean Louis … Ross Howard
Victoriano Gazzara … Sam Hawkins
Carlo Gaddi … Brett
Tomas Rudi … Rowland
Lucia Bomez … Whore
as Lucy Bomez
Emy Rossi Scotti … Howard's wife
aka:
The Stranger's Gundown
Django, Il Bastardo
Music: Vasco and Mancuso
Memorable lines:
William: "Stranger, tell me, who are you, anyway?"
Django: "The devil from hell. If you're lucky, you won't ever see me again."
Rod Murodch: "Why aren't you in bed?"
Alethea: "With him?"
Murdoch: "You got any complaints?"
Alethea: "That brother of yours is crazy. Crazy. I don't know why I agreed to marry him."
Murdoch: "You know perfectly well why you married him, my dear. Because you're a greedy little tramp who's ready to do anything when there's money in it."
Blonde: "The way Murdoch cleared out of here, you'd think the devil was after him."
Luke Murdoch, in Desert City: "Law and order is through. Finished! I've killed it!"
Alethea: "I'll show you where the money is if you help me get away>"
Django: "I told you, I ain't interested in money. Thanks."
Alethea: "You can't buy anything with hate."
Tagged with:
Anthony Steffen
•
Antonio de Teffe
•
Carlo Gaddi
•
Django il bastardo (1969)
•
Django the Bastard (1969)
•
Emy Rossi Scotti
•
Furio Meniconi
•
Jean Louis
•
Lu Kamante
•
Lucia Bomez
•
Luciano Rossi
•
Paolo Gozlino
•
Rada Rassimov
•
Sergio Garrone
•
Stranger's Gundown (1969)
•
Teodora Corra
•
Tomas Rudi
•
Victoriano Gazzra