Gun Glory (1957)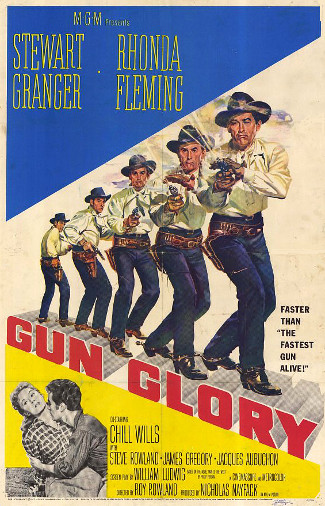 Stewart Granger plays Tom Earley, a gunman with a severe case of wanderlust. Finally, he decides home should be his home, but returns to his ranch to find his wife dead and his son (Steve Rowland as Tom Earley Jr.) with a deep sense of resentment toward a father who never seems to be around when he's needed most.
Tom Sr.'s return is complicated by the fact that a rancher named Grimsell (James Gregory) is gathering a large herd just outside town and intends to drive that herd right across Earley's land and right through the town.
And life at home is complicated by the presence of a pretty housekeeper named Jo (Rhonda Fleming), whom Early rescues from her job under the leering eyes of Sam Winscott, the crippled owner of the town's general store.
Led by Preacher (Chill Wills), town residents look for a peaceful solution to the threat posed by Grimsell. If they can send someone to Laramie to get proof that they own the land where the town is built, surely Grimsell will find another route for his herd, they reason.
But Tom Sr. knows there's no reasoning with a man who needs range land ot fatten his herd for market. Big bucks are at stake, and force is the only thing likely to deter the cattleman.
Preacher and the town's residents come to the same conclusion. But they opt to act while Tom Sr. is off trying to save the life of the messenger they've sent to Laramie.

Review:
Well done Western with Granger turning in a solid performance as the reluctant gunman, but one who knows a six-gun is still needed now and then to deal with the Grimsell's of the world.
The backstory of life at the Early ranch/farm helps make the film enjoyable, as Tom Sr. tries to win over and educate his son in ways a mother couldn't. Meanwhile, Rowland struggles with his feelings for his dad, his resentment toward his reliance on a gun and with the addition of a lovely woman to the household.
Rhonda Fleming is as lovely as always and we also get a better than normal performance from Chill Wills in the role of the preacher. Arch Johnson and Rayford Barnes play Grimsell's top gunhands.
Rowland was the son of director Roy and appeared in a handful of films. His other Westerns included "Silver Star" and "Gunfighters of the Casa Grande."
Cast:
Stewart Granger … Tom Earley
Steve Rowland … Tom Earley Jr.
Rhonda Fleming … Jo
Jacques Aubuchon … Sam Winscott
Chill Wills … Preacher
James Gregory … Grimsell
Arch Johnson … Gunn
Rayford Barnes … Blondie
Lane Bradford … Ugly
William Fawcett … Martin
Bud Osborne … Clem
Carl Pitti … Joel
Runtime: 89 min.
Theme song: "The Ninety and Nine"
sung by Burl Ives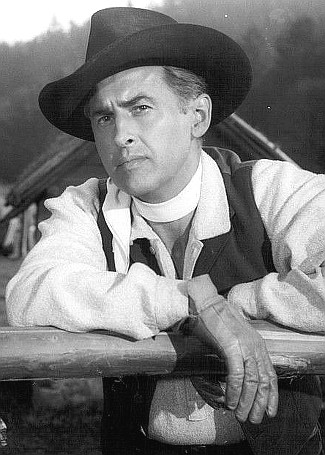 Memorable lines:
Tom Earley Jr. to Tom Earley Sr. on his arrival home: "This is your land. This is your house. But I didn't know it was your home."
Tom Early Sr.: "I reckon I became a sort of legend. You know what that is?"
Tom Early Jr.: "What is it?"
Tom Early Sr.: "It's a lie that grows like a snowball."
Preacher to Tom Earley Sr.: "Those who live by the gun die by the gun."
Earley: "That depends on what kind of shot you are."
Preacher, about keeping Grimsell's herd out of town: "When he (Grimsell) sees our titles (to the land), it's going to prove it."
Tom Early Sr.: "The only thing it will prove is that Grimsell can't read."
Tom Early Jr.: "You got a plan, preacher?"
Preacher: "Son, they say when an honest fool shoots a gun, God sometimes guides the bullet."
Tom: "But have you got a plan?"
Preacher: "Uh-huh. We find 'em and we fight 'em."
Grimsell after Gunn has shot down Sam Winscott: "What part of your gun do you notch for cripples?"
Tagged with:
Arch Johnson
•
Bud Osborne
•
Carl Pitti
•
Chill Wills
•
Gun Glory (1957)
•
Jacque Aubuchon
•
James Gregory
•
Lane Bradford
•
Rayford Barnes
•
Rhonda Fleming
•
Roy Rowland
•
Steve Rowland
•
Stewart Granger
•
William Fawcett