In the Valley of Violence (2016)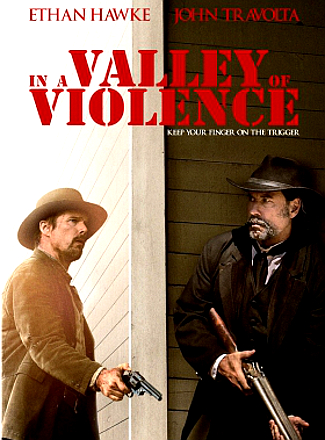 Ethan Hawke plays Paul, a veteran headed to Mexico to escape his past with his faithful canine companion Abbie by his side.
He stops in the town of Denton where he winds up punching out a loud-mouthed braggart named Gilly (James Ransome), who threatens Abbie.
What he doesn't know is that Gilly is the son of the town marshal (John Travolta). Or that the single punch will set off a firestorm of violence.
He leaves town, but Gilly and his three buddy bullies — Roy, Tubby and Harris — follow. They spring their trap in the middle of the night. Their only mistake — leaving Paul alive.
The mysterious stranger has vowed to stop killing. Now he heads back to Denton, knowing he's about to break that vow.

Review:
Better than average Western, with Hawke suitably haunted and capable of matching any violence the Valley of Violence can serve up. Especially for a film with an opening theme clearly inspired by Ennio Morricone's Spaghetti Western scores.
The problem is that the film falls awkwardly between brutal revenge flick and parody, because director Ti West certainly doesn't treat the material with reverence. As the main bad guy of the piece, Gilly comes of as more cartoon character than villain.
Taissa Farmiga turns in a cute performance as motor-mouthed Mary-Anne, the 16-year-old who doesn't like the way life is going in Denton and offers her help to the handsome stranger.
Karen Gillan plays her sister Ellen in another of the film's over-the-top performances. She sleeps with Gilly not because she loves him, but because it's the most practical route to a comfortable life in Denton.
Then there's the scene stealing dog Jumpy as Abbie. She snatches flies from mid-air, brings her master his cowboy hat when it's time to ride on and even rolls herself up in a blanket at bedtime.
Directed by:
Ti West
Cast:
Ethan Hawke … Paul
John Travolta … Marshal
Taissa Farmiga … Mary-Anne
James Ransone … Gilly
Karen Gillan … Ellen
Toby Huss … Harris
Tommy Nohilly … Tubby
Larry Fessenden … Roy
Michael Davis … Dollar Bill
James Cady … Bartender
Burn Gorman … Priest
K. Harrison Sweeney … William T. Baxter
Jumpy … Abbie
Runtime: 104 min.
Memorable lines:
Paul, to the priest: "I'm not a thief. But I am a killer. And I've killed better men than some drunk wandering around pretending to preach the word of God."
Gilly, to traveling salesman: "Do you know what they call this place? They call it the Valley of Violence. Now why don't you pack up? Before you find out why."
Marshal, about Abby: "She do any tricks?"
Paul: "She bites."
Gilly: "Ah, no, begging ain't gonna do you no good. It ain't a time for begging. It's a time for prayin'."
Paul: "Those men left me with nothin'. I'm goin' to leave them with less."
Paul: "What's a priest need so many bullets for?"
Priest: "Sinners."
Marshal: "If I come out, are you gonna talk or shoot?"
Paul: "I'm prepared for both."
Marshal: "Well that don't make me feel comfortable."
Tagged with:
Burn Gorman
•
In the Valley of Violence (2016)
•
James Cady
•
James Ransone
•
John Travolta
•
Jumpy
•
K. Harrison Sweeney
•
Karen Gillan
•
Larry Fessenden
•
Michael Davis
•
Taissa Farmiga
•
Ti West
•
Toby Huss
•
Tommy Nohilly