Kit Carson (1940)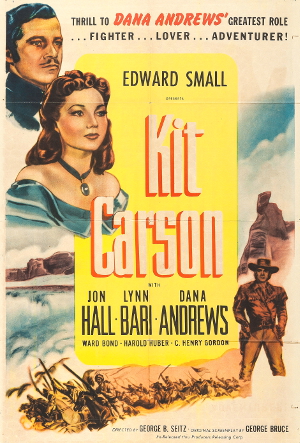 After two years trapping in the Western wilderness, Kit Carson (Jon Hall) and buddies Ape (Ward Bond) and Lopez (Harold Huber) barely escape a Shoshone attack with their own hides. That's partly because the Shoshone are armed with rifles.
Once back at Fort Bridger, Kit turns down a job as a wagon guide to California, until John Fremont (Dana Andrews) and pretty Dolores Murphy (Lynn Bari) convince him to change his mind. Well, in truth, it's mostly his concern for Dolores' scalp that changes it.
Fremont has been asked to find the quickest route to California. A wagon train led by Paul Terry — and including Dolores — tags along. Kit fears they're heading into trouble. He isn't wrong.
The Shoshone are on the warpath, but they're being armed by Spanish officials who rule the territory called California. Gen. Castro is giving the orders, and he wants to keep as many Americans out of California as possible.
He nearly succeeds when it comes to Fremont's command and the wagon train. They split up when Fremont insists on taking the most direct route west, through a dangerous canyon passage, and Carson refuses to follow with the wagon train.
Sure enough, it's a trap. The Shoshone pin the troops in the canyon with a manmade avalanche. Pretty soon, the wagon train is under siege as well.

Review:
Rousing action film about the early days of California. In addition to the canyon battle and attack on the wagon train, there's a well-staged attack on a hacienda by Mexican troops later in the film. Inside the hacienda are Carson, his two friends, Dolores and an army of fake U.S. soldiers.
All that action helps make up for the fact that Jon Hall, in his role as Kit Carson, is constantly spouting Western cliches and is never wrong about anything where Indians and strategy is concerned. That includes his decision to torture an Indian prisoner who turns out to be a Mexican officer!
Of course, with Lynn Bari around as Dolores, there's bound to be a romantic subplot. She's already being wooed by Fremont when Carson shows up. When he does, sparks fly, though they're the wrong kind at first.
And the complications don't end once they turn into the right. Carson wonders what kind of life a frontiersman like himself can offer a lady like Dolores Murphy.
Bari was a WWII pinup known as "The Woo Woo Girl" and "The Girl with the Million Dollar Figure." She'd already appeared in a couple of dozen movies, starring in 1939's "The Return of Cisco Kid" opposite Warner Baxter.
This marked one of the first starring roles for Dana Andrews.
Cast:
Jon Hall … Kit Carson
Lynn Bari … Dolores Murphy
Dana Andrews … John Fremont
Harold Huber … Lopez
Ward Bond … Ape
Renie Riano … Miss Pilchard
Clayton Moore … Paul Terry
Rowena Cook … Alice Terry
Raymond Hatton … Jim Bridger
C. Henry Gordon … Gen. Castro
Harry Strang … Sgt. Clanahan
Lew Merrill … Gen. Vallejo
Edwin Maxwell … John Sutter
Runtime: 97 min.
Memorable lines:
Kit Carson: "No use going back to someplace you've been when there's so many places you ain't been."
Ape, to Kit Carson: "You know what's wrong with you — you go horizon fever. You always want to see what's on the other side of the hill."
John Fremont: "You boys don't sound like you think much of soldiers."
Kit Carson: "We don't. Where you find soldiers, you find trouble. And when you find the trouble, you can't find the soldiers."
Jim Bridger: "Mighty spirited gal, that. Beautiful hair. I can just see it drying outside some Shoshone tee-pee."
Ape: "You don't need to worry about her hair. Some Shoshone will just take all of her up and lug her away."
Kit Carson, when Fremont ignores his hunch not to enter a pass: "I'm sure now — the only difference between a donkey and a soldier is the uniform."
Tagged with:
C. Henry Gordon
•
Clayton Moore
•
Dana Andrews
•
George B. Seitz
•
Harold Huber
•
Jon Hall
•
Kit Carson (1940)
•
Lynn Bari
•
Raymond Hatton
•
Renie Riano
•
Rowena Cook
•
Ward Bond