Light the Fuse … Sartana is Coming (1971)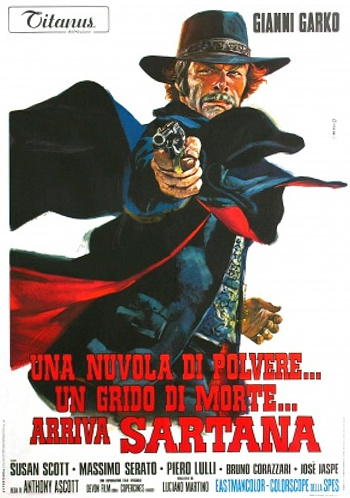 Once upon a time in Mansfield, there was a sheriff's son with $2 million in counterfeit cash he planned to trade to a Mexican bandit named Monk for $500,000 in gold. Johnson, co-owner of the gambling house where the swap is to take place, acts as intermediary.
All three wind up dead. The counterfeit money and the gold are missing. And Johnson's partner Grandville Fuller (Pierro Lulli) has been tossed in Everglades Prison by a sheriff who seems more concerned with where they loot is than who killed his son.
Toting the bodies of three dead lawman, Sartana (Gianni Garko) manages to break into Everglades prison and get himself locked up. Using darts hidden in his boot heel, he manages to help Fuller escape. They form a partnership to recover and split the money.
And so Sartana heads back to Mansfield where Sheriff Manassas Jim has posted a reward on his head and where all sorts of individuals are hoping to lay their hands on the missing money. They include Monk, Johnson's lovely widow (Nieves Navarro) and an undercover federal marshal.
Sartana finds one friend he can trust, Pon-Pon. He's an inventor who discovers where the gold is hidden, but dies before he can share the information. He manages to leave behind one clue for Sartana.
It might help. Because Monk, Manassas Jim and Granville Fuller all have different stories and different theories about what happened in that gambling house.

Review:
Director Guiliano Carnimeo and company seemed to find their footing on the third Sartana film, "Have a Good Funeral, My Friend — Sartana Will Pay" from earlier in the same year. For the most part, they lose it again here.
Garko's character seems less suave and more slueth, less mysterious and more mercenary this time around. Navarro is a delight with that wicked smile of hers, but she disappears for most of the film.
There's still plenty of doubles crosses and alliances that collaspe because of greed, but the clever tone of the former film is missing, replaced with an over-reliance on wickedness and gimmicks.
A prison guard urinates on thirsty prisoners in one scene. The sheriff tosses acid on Fuller in another. And Monk goes around whipping his followers like slaves, leaving one to wonder who would follow such a maniac.
As for gimmicks, Pon Pon invents a walking toy named Alfie that Sartana turns into a weapon. Our star also plays an organ that can double as a cannon or machine gun when necessary.
Burno Nicolai, who did such a remarkable job with "Funeral," returns with a score that — like the film — is mostly forgettable.
Director:
Guiliano Carnimeo
Cast:
Gianni Garko … Sartana
Nieves Navarro … Widow Johnson
as Susan Scott
Piero Lulli … Grandville Fuller
Bruno Corazzari … Polack
Frank Brana … One-Eye / Sam Putnam
Massimo Serato … Sheriff Manassas Jim
Jose Jaspe … Gen. Monk
Franco Pesce … Pon Pon
Giuseppe Castellano … Warden Hanson
Gennarino Paggagalli … Horace Johnson
Luis Induni … Sandy Creek sheriff
Mara Krupp … Hotel owner
Francisco Sanz … Judge Ericson
Salvatore Borgese … Hotel traitor
aka
Cloud of Dust … Cry of Death … Sartana is Coming
Gunman in Town
Run, Man, Run … Sartana is Coming
Una nuvola di polvere … un grido di morte … arriva Sartana
Score: Bruno Nicolai
Memorable lines:
Grandville Full to Sartana: "In that town, even the sun doesn't dare set unless Manassas Jim tells it to."
Sartana to three dirty lawman: "Long as I'm at it, guess I ought to pray for your souls, too. Good book says, pray not only for the virtuous. Pray for the sinners also. They need it most." Whereupon Sartana guns down all three.
Sartana, when it's suggested that he escape from a hotel via the garbage shute: "Better a live stink than a dead one."
Monk to widow Johnson: "Promises made to a woman last only as long as the bed stays warm."
Sam Putnam: "Are you for the law?"
Sartana: "Other way around. I mean, the law is for me."
Trivia:
This marked the third Sartana sequel. For the fourth — "Sartana's Here … Trade Your Pistol for a Coffin" (1972) — George Hilton took over the role of Sartana. Garko went on to appear in other Spaghettis, "His Name was Holy Ghost" (1972) and "Those Dirty Dogs" (1973). He continued acting into his 80s.
Longtime actor Jose Jaspe had minor roles in a number of Spaghettis after this, including "Man Called Noon" (1973) and Red Sun (1971). He died in 1974 at age 67.
Tagged with:
Bruno Corazzari
•
Cloud of Dust ... Cry of Death ... Sartana is Coming (1971)
•
Francisco Sanz
•
Franco Pesce
•
Frank Brana
•
Gennarino Paggagalli
•
Gianni Garko
•
Giuseppe Castellano
•
Gunman in Town (1971)
•
Jose Jaspe
•
Light the Fuse ... Sartana is Coming (1971)
•
Luis Induni
•
Mara Krupp
•
Massimo Serato
•
Nieves Navarro
•
Piero Lulli
•
Run Man Run ... Sartana is Coming (1971)
•
Salvatore Borgese
•
Susan Scott
•
Una nuvola di polvere ... un grido di morte ... arriva Sartana (1971)