Massacre at Sand Creek (1956)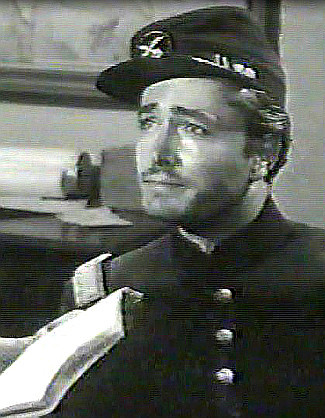 John Derek plays Lt. Tucker, fresh out of West Point, sent to serve under glory-hungry Col. Templeton (Everett Sloane), hero of the Battle of Valverde.
Problem is, Col. Templeton has run out of battles, so he decides to stir up trouble with the Comanche.
First, he demands they give up there home for a reservation at Sand Creek. Then he allows his men to steal their horses.
And when the Comanche sneak into camp at night and take the horses back, he marches to Sand Creek, hoping for a battle he can't lose, hoping for a victory that will restore his former glory and secure him a place in military history.
Tucker suspects what he's up to, but winds up being court-martialed for his attempt to interfere with Templeton's plot.
His hopes for justice lie in an Indian commissioner named Collier, a sympathic sergeant named Maddox (Gene Evans) and a friendship with Free Horse, a son of a chief and a man whose life Tucker once saved.

Review:
A largely fictional account of the Massacre at Sand Creek, with the name of the commanding officer changed from Chivington to Templeton. That said, the official findings of an investigation into the attack, read at the end of the film, are fact.
As for the film, we get solid performances from Derek, Sloane and Evans, helping breathe life into a tired tale, at least until the massacre concludes.
After that, the script writers seemed to run out of gas, presenting us with a ridiculous plot twist involving a court transcript that could shed light on the truth about the attack on the Cheyenne village and a downright silly final scene.
This was apparently an early television movie, not a feature film.
Cast:
John Derek … Lt. Norman Tucker
Everett Sloane … Col. John Templeton
Gene Evans … Sgt. Maddox
William Schallert … Defense attorney
Roy Roberts … Col. Collery
Robert Bice … The Chief
Ben Wright … Prosecuting officer
Marshall Bradford … Presiding officer
Runtime: 71 min.
Memorable lines:
Col. Templeton: "When you've been around these copper-hided horse thieves as long as I have, you'll learn one thing — the friendlier they seem, the less they can be trusted."
Lt. Tucker: "My mistake, colonel. I was under the impression we wanted peace with the Indians."
Free Horse: "Soldiers would not trust us to move ourselves."
Lt. Tucker: "We're just here to see that no one interferes with you."
Free Horse, holding a handful of dry dirt: "Who would interfere with us at Sand Creek? If there's any trouble, it will come from your soldiers."
Lt. Tucker: "They won't bother you. As long as you stay at Sand Creek, you're safe. I promise your chiefs that. I promise you."
Free Horse: "The great white chiefs promised us safety at Cherry Creek. You promise us safety at Sand Creek. I think my people are safe — from everything but broken promises."
Col. Templeton: "Don't fondle those guns. Fire 'em. That's what you've got them for."
Tagged with:
Arthur Hiller
•
Ben Wright
•
Everett Sloane
•
Gene Evans
•
John Derek
•
Marshall Bradford
•
Massacre at Sand Creek (1956)
•
Robert Brice
•
Roy Roberts
•
William Schallert