Oh! Susanna (1951)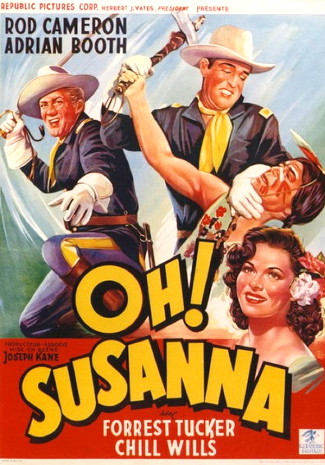 Rod Cameron is Capt. Calhoun, a cavalry officer trying his best to make whites live up to a previous treaty with the Sioux, even though gold has been discovered in the Black Hills.
His view of Indians brings his scorn from his superior officer, Col. Unger (Forrest Tucker), who would love the chance at glory an Indian war would bring.
And it doesn't set well with Ira Jordan (Jim Davis), a businessman who hopes to get rich when the Black Hills are opened to prospectors.
Nor does it make him popular with the residents of Dawson. They've converged on the town as a gateway to the fortune in gold that lies in the hills. Now the cavalry is holding them back from the pursuit of that fortune.
But Calhoun is respected by his men, most of whom are misfits assigned by his troop by Unger, who figures he won't miss them while Calhoun is "playing ring around the treaty."
Jordan finally hatches a plan to draw the two sides into war. And Calhoun and his misfits might be the only thing that stands between the Sioux and complete disaster.

Review:
Snappy dialogue and a well-filmed assault on the cavalry post make this otherwise predictable story worth watching.
The cast is full of familiar faces, with Chill Wills and Douglas Kennedy in supporting role, helping make this one of Cameron's better Westerns.
One of the film's neater twists: Calhoun greets his misfits by sharing a story about the bravery they showed during a previous assignment.
The stories are made up, but the misfits try to live up to them, becoming better troopers in the process.
The love interest here is provided by Lorna Gray (under the name Adrian Booth). She's the girl from the other side of the tracks whom Calhoun loves, but who hesitates to return his love for the impact it might have on his military career.
Complicating matters, she works in Jordan's saloon, isn't above keeping the company of Col. Unger when he buys drinks there and also spends time on the arm of a smitten young lieutenant.
Cast:
Rod Cameron … Capt. Calhoun
Lorna Gray … Lia Wilson
as Adrian Booth
Forrest Tucker … Col. Unger
Chill Wills … Sgt. Barhydt
William Ching … Cpl. Donlin
Jim Davis … Ira Jordan
Douglas Kennedy … Trooper Emmers
John Compton … Lt. Cutter
Wally Cassell … Trooper Muro
Jimmy Lydon … Trumpeter Benton
William Haade … Trooper Riorty
Marshall Reed … Trooper Murray
James Flavin … Capt. Worth
Charles Stevens … Charlie Grass
Al Bridge … Jake Ledbetter
Marion Randolph … Mrs. Worth
John Pickard … Rennie
Louise Kane … Mary Bannon
Runtime: 90 min.
Memorable lines:
Charlie, the scout: "Siouxs? There no Sioux around here. I got a nose for Siouxs."
Capt. Calhoun: "You've got a nose for whiskey, Charlie."
Capt. Calhoun, checking out Ira Jordan's supplies: "Better equipment than the army has."
Ira Jordan: "That's the army for you — always not taking care of its fighting men."
Capt. Calhoun: "This won't be any close-order, Johnny-shoot-me-nicely war. This will be hide-and-seek, slaughter out of nowhere — the Sioux kind of war."
Col. Unger to Capt. Calhoun: "I don't care a bubble in a dirty river what you think of me. The big thing is, I don't like the way you let your school boy ideals stand in the way of doin' a man's job. These are Indians, Calhoun."
Tagged with:
Adrian Booth
•
Al Bridge
•
Charles Stevens
•
Chill Wills
•
Douglas Kennedy
•
Forrest Tucker
•
James Flavin
•
Jim Davis
•
Jimmy Lydon
•
John Compton
•
John Pickard
•
Joseph Kane
•
Lorna Gray
•
Louise Kane
•
Marion Randolph
•
Marshall Reed
•
Oh Susanna (1951)
•
Rod Cameron
•
Wally Cassell
•
William Ching
•
William Haade