Ride a Crooked Trail (1958)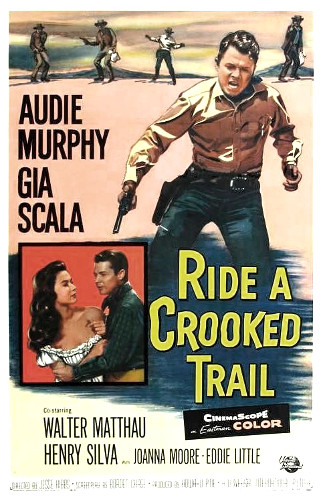 Audie Murphy plays Joe Maybe, a small-time outlaw on the run after a botched bank holdup. He's cornered, on foot and about to be captured when a marshall on his trail slips and falls off a cliff.
Maybe takes his horse and rides into Webb City, where the shotgun-toting Judge Kyle (Walter Matthau) is on the lookout for a clean-shaven outlaw. He thinks he's found his man when Maybe rides into town.
Then he discover a marshal's badge, missing one point, in Maybe's jacket. It's the badge of a well-known marshal named Noonan. So the judge assumes Maybe is Noonan and hires him to be sheriff of Webb City for $10 a day.
Maybe's interested, partly because he has his eye on the town bank. But things keep getting more complicated. A lady friend (Gia Scala as Tessa) shows up and calls Maybe Maybe. The judge overhears. Maybe says she's calling his baby, because they're husband and wife. So the judge sits them up in a house.
Turns out Tessa is scouting out the town for another outlaw named Teeler (Henry Silva), so Tessa and Maybe settle into a forced co-existance, less they blow their cover. Then the judge sends an orphan boy named Jimmy to live with them. Soon, Jimmy and the judge come to learn the truth.
And when Teeler comes to town, he wants Maybe to help plan the bank robbery. But the respectable life is growing on Maybe and Tess.

Review:
Murphy wasn't a top Western actor. But given a smart, unique script, he could make it work, and that's what happens here.
Along with the drama, Hibbs serves up some nice touches of huor, like the way Murphy is startled everytime he hears the word "maybe" and like the morning he wakes up with a hangover on the judge's house boat and wonders why everything keeps swaying.
There's a neat ending, too, and Matthau turns in a splendid performance as the judge who takes a liking to Maybe, in spite of his outlaw past.
By this point, Matthau had done some TV work and his first two credited roles were in Westerns — "The Kentuckian" and "The Indian Fighter" — both released in 1955 and starring Burt Lancaster and Kirk Douglas, respectively. He'd, of course, go on to bigger and better things.
Gia Scala's story didn't have as happy an ending. This marked her lone Western. Best known for her role in "Guns of Navarone," she fell into depression after her mother died and her marriage ended, began to drink heavily and twice attempted suicide before being found dead in her bedroom in 1972 at age 38.
Her death was ruled an accidental overdose, though some sites says there were bruises on her body and blood on her pillow when she was found.
Cast:
Audie Murphy … Joe Maybe
Gia Scala … Tessa Milotte
Walter Matthau … Judge Kyle
Henry Silva … Sam Teeler
Joanna Cook … Brandy
Eddie Little Sky … Jimmy
Leo Gordon … Sam Mason
Mary Field … Mrs. Curtis
Mort Mills … Pecos
Frank Chase … Ben
Bill Walker … Jackson
Ned Wever … Attorney Clark
Runtime: 87 min.
Memorable lines:
Judge Kyle, as he admires the badge of Sheriff Noonan, with the names of two deceased sheriffs carved into the back: "How come your name's not on there?"
Joe Maybe: "I'm not dead."
Joe Maybe to the deputy, after the wounded judge invites him to have a drink: "Why doesn't he fall down?"
Deputy: "I've seen him shot six times, and he never does. Lessen he's drunk."
Tessa Milotte, as the judge shows Maybe the home he can live in, rent free: "A house like this is going to take a lot of furniture."
Judge Kyle: "It's all there. When Miss Prentiss died, she didn't take nothing with her."
Saloon girl to Tessa: "What's the matter, dearie, can't you train your husband?"
Tessa: "No, but I'm good at training cats. Especially alley cats."
Tagged with:
Audie Murphy
•
Bill Walker
•
Eddie Little Sky
•
Frank Chase
•
Gia Scala
•
Henry Silva
•
Jesse Hibbs
•
Joanna Cook
•
Leo Gordon
•
Mary Field
•
Mort Mills
•
Ned Wever
•
Ride a Crooked Trail (1958)
•
Walter Matthau