Rose-Marie (1936)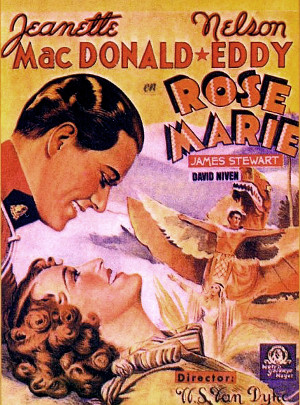 Jeanette MacDonald plays Maria de Flor, a temperamental opera singer who cares for just one man, her brother John Flower (James Stewart).
Unfortunately, that man is in trouble. He's been imprisoned for armed robbery, something Maria hopes to can smooth over by playing up to the premier of Quebec after one of her performances.
Then comes news that John has escaped from prison, killing a Mountie in the process. He needs her help — and money — to make a clean break. So she sets off for the Canadian wilderness with a half-breed named Boniface as her guide.
He doesn't exactly prove trustworthy, making off with her money as she's purchasing clothing for the long journey. That's how to gets to know Mountie Sgt. Bruce.
He helps her survive the wilderness, but he never forgets his main mission: tracking down a killer named John Flower. In fact, he quickly suspects that helping Maria might also help lead him to his prey.

Review:
Jeanette MacDonald is a delight as the temperamental opera singer, but the plot is a razor thin excuse to tie together a series of musical numbers.
This film marked the biggest commercial success of the eight movies MacDonald and Eddy made together. It marked their second film, following 1935's "Naughty Marietta."
It was marked just the second credited film role for James Stewart. But he doesn't show up until the end of the film. David Niven also has a tiny role as one of Maria's suitors.
The film was remade, with a pretty dramatically altered plot, in 1954 with Ann Blyth in the lead role. It was also the basis for a 1928 silent film.
Cast:
Jeanette MacDonald … Marie de Flor
Nelson Eddy … Sergeant Bruce
Reginald Owen … Myerson
Allan Jones … Romeo
James Stewart … John Flower
Alan Mowbray … Premier
Gilda Gray … Belle
George Regas … Boniface
Robert Greig … Hotel manager
Una O'Connor … Anna
Lucien Littlefield … Storekeeper
Daivd Niven … Teddy
Herman Bing … Mr. Daniells
Runtime: 113 min.
aka: Indian Love Call
Memorable lines:
Maria's maid, of the admirer Maria has just rejected: "He's a very good match, madam."
Maria: "What do I want of a good match? I have everything. I have my work. I have fame. I have money. "
Maid: "Everything but …"
Maria: "But what?"
Maid: "I was going to say love, madam."
Maria: "You think I could fall in love with that silly boy. Why I could twist him around my little finger like that."
Maid: "But I did not mean him, necessarily."
Maria: "But they're all alike — stupid idiots."
Maria, about her brother: "Imagine, putting a boy in jail just because he carried a gun."
Maid: "But he held up a man with that gun."
Maria: "But he didn't shoot him, did he?"
Sgt. Bruce as Maria encourages him to paddle faster: "Every time I realize I'm taking you to another man, it takes the heart out of me."
Tagged with:
Alan Mowbray
•
Allan Jones
•
David Niven
•
Eddy
•
George Regas
•
Gilda Gray
•
Herman Bing
•
James Stewart
•
Jeanette MacDonald
•
Lucien Littlefield
•
Nelson
•
Reginald Owen
•
Robert Grieg
•
Rose-Marie (1936)
•
Una O'Connor
•
W.S. Van Dyke