Run for Cover (1955)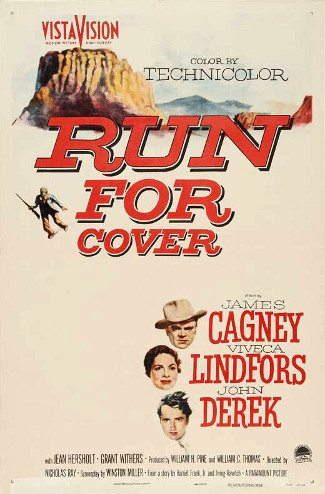 James Cagney plays Matt Dow, a man who is riding along one day when he meets up with young Davey Bishop (John Derek).
The two watch a train approach, and show off their shooting skills while a hawk flies overhead. The men on the train mistake them for robbers and throw out the payroll.
Next thing you know, Matt and Davey are ambushed by a posse from a nearby town. Matt suffers a slight gunshot wound; Davey is injured far more badly and taken to a nearby ranch by the repentant posse.
Matt stays by Davey's side during his long recovery; Davey reminds him of his own son, who died years earlier.
And when Matt learns that one of Davey's legs will be crippled for life, Matt is determined to make Davey feel useful in spite of his handicap. The town offers Matt the job of sheriff. He accepts and immediately makes Davey his deputy.
But Davey has trouble from the start. He allows one prisoner to be lynched. Given the job of taking a second prisoner to a nearby town, he returns with a wound to his head, apologizing to Matt for allowing the man to escape.
After that, he settles into a less demanding job as store clerk. Then, on an Easter Sunday, a gang of outlaws ride into town and take $85,000 from the bank. Matt forms a posse and takes off after them. Davey tags along.
Turns out Matt is in for another surprise in his efforts to track down the gang, following a trail that leads right into Indian territory.

Review:
James Cagney appeared opposite William Bogart in the very mediocre "Oklahoma Kid" in 1939, then didn't make another Western until this film. This one is much better, thanks to a fresh storyline and a fine supporting performance from Derek in a not-so-heroic role.
Cagney is the father figure who gives Derek one chance after another to prove himself. Derek is the ward of the town who can't quite get over what happened to him during the posse's ambush.
Viveca Lindfors plays Helga Swenson, the daughter of the man in whose home Davey recovers from his wounds. At first, she fears Matt's being too tough on Davey. Then she fears he's being too trustful of a young man with hate in his heart.
Of course, her heart falls for Cagney's Matt Dow and vice versa. Cagney was 20 years older than Lindfors at the time, and the age difference is evident.
A Swedish actress brought to the U.S. with hopes of becoming the next Greta Garbo, Lindfors never reached that sort of fame, but did continue acting into the 1990s when she was in her 70s. This marked one of three Westerns she appeared in, the others being "The Raiders" (1952) and "The Halliday Brand" (1957).
Cast:
James Cagney … Matt Dow
John Derek … Davey Bishop
Viveca Lindfors … Helga Swenson
Jean Hersholt … Mr. Swenson
Grant Withers … Gentry
Ernest Borgnine … Morgan
Ray Teal … Sheriff
Jack Lambert … Larsen
Irving Bacon … Scotty
Trevor Bardette … Paulsen
John Miljan … Mayor Walsh
Gus Schilling … Doc Ridgeway
Runtime: 93 min.
Title tune: Run for Cover
Memorable lines:
Matt Dow: "You're not sore because I pointed a gun at you. You're sore because you got scared. Well, anybody that don't get scared looking down the wrong end of a gun barrel ain't very bright. But if you want to feel like Billy the Kid and get tough about it, go ahead. That is, unless you happen to be Billy the Kid. In which case, I withdraw my offer."
Townsman, after the ambush: "Mister, we owe you an apology."
Matt Down: "I'll tell the boy (Davey Bishop). He'll be real touched."
Mr. Swenson: "In the old country, children do not say 'in a minute' when the father speaks."
Helga, his daughter: "That's why I like America."
Doctor, about Davey not being able to walk again: "It's a miracle he lived at all. Miracles don't come in twos."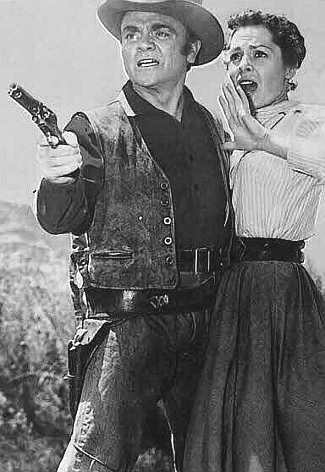 Davey, watching Matt push some rolled dollar bills into a chamber of his pistol: "What's that for?"
Matt Dow: "A decent burial. Where I come from, all the peace officers carry around their own burial money."
Davey: "Suppose you need that chamber."
Matt: ""I'm not that fast. If I haven't hit what I'm aimin' at by the time I squeeze off the first five, I'll be needin' a pine box instead of another bullet."
Helga Swenson to Matt, upon learning Davey will be his deputy: "You think putting a gun in his hand will cure what's in his heart?"
Matt Dow: "Why don't you stop feeling sorry for yourself? You think you're the only one who ever got a raw deal."
Davey: "I know: You spent six years in jail."
Matt: "Yeah. You know something else? There's a lot of people in this world who've had a tougher time than either you or me. It comes with the ticket. Nobody guarantees you a free ride. The only difference is, most people don't run for cover. They keep right on going, picking up the pieces the best way they can. But you never hear of them. It's the ones who can't take it, like you, the ones looking for the free ride who cause all the trouble everywhere."
Tagged with:
Ernest Borgnine
•
Grant Withers
•
Gus Schilling
•
Irving Bacon
•
Jack Lambert
•
James Cagney
•
Jean Hersholt
•
John Derek
•
John Miljan
•
Nicholas Ray
•
Ray Teal
•
Run for Cover (1955)
•
Trevor Bardette
•
Viveca Lindfors